Red Sox
Chad Finn: Valiant in defeat, these Red Sox were anything but boring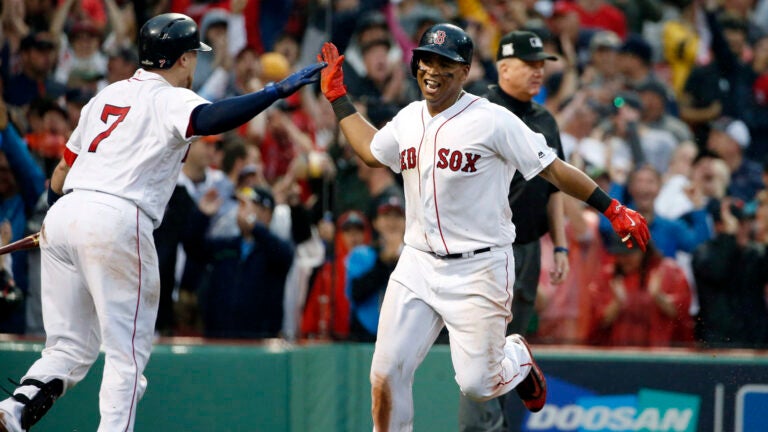 Playing Nine Innings (Game 4 edition) while getting 2009 Jonathan Papelbon-versus-the-Angels flashbacks from Craig Kimbrel . . .
1. So this is how it ends. With Chris Sale being great, but not quite great enough, and for not quite long enough. With Kimbrel, who struck out nearly every other batter he faced this year, giving up the go-ahead hit to Josh Reddick, an outfielder who grew as a prospect in the Red Sox organization but never convinced management that he'd develop enough plate discipline to become a big league regular. With Kimbrel, who allowed 11 runs all season, giving up an insurance run on a single by ageless Carlos Beltran to make it 5-3. With Rafael Devers circling the bases on a Little League home run to start the ninth, adding just a little more suspense. And with that suspense extinguished as Dustin Pedroia grounded to second for the final out, cuing an Astros celebration on the wet Fenway lawn.
2. It's tempting to say there's no justice. The Red Sox, accused of being baseball bores en route to a 93-win season and a second straight American League East title, were often accused of lacking charisma, or style points, or obvious camaraderie, or some other intangible. It was unfair, and they proved it in this series, even in defeat.
Returning home down, 2-0, they got four crucial bridge innings from the maligned David Price to win Game 3, then another 4⅔ innings on three days' rest in relief from Chris Sale. It doesn't seem right that Sale, late in his valiant effort, gave up a tying home run to Alex Bregman, then was charged with the go-ahead run after Kimbrel relieved him. He was the losing pitcher, but that was anything but the performance of a loser.
3. But there is justice, if we're being honest. The Astros, winners of 101 games in the regular season and three more in this series, are a superb baseball team, and a superior one. This is their justice. They deserved to win.
There are no consolation prizes in major league baseball (Red Sox fans learned this often from 1919 through 2003). But the Red Sox went down fighting. They never backed down. And these last two days, they were anything but boring. I wish we had one more game of this team. Don't you?
4. The wiseguys among us, representing a loud majority, of course, were quick to proclaim John Farrell's ejection in the second inning as the best managerial move of his five years in Boston.
That's clever and biting for sure, and there's so much to second-guess from this series and its final game, but I thought he had a pretty capable series all in all.
Hanley Ramirez, a disappointment all season, was at his best after his Game 1 benching. Farrell stuck with David Price for longer than he was expecting to in Game 3 and it paid off. Flipping Xander Bogaerts and Dustin Pedroia in the lineup in Game 4 worked for the former, at least.
Perhaps he did stick with Sale a few pitches too long Monday — come on, you know he was still running the show after the ejection — but how can anyone argue that, even in retrospect? The Red Sox made the Astros beat their best. It's a tribute to the Astros, rather than an indictment of the Red Sox or their manager, that they did so.
5. Probably shouldn't admit this, but I was beginning to wonder whether Andrew Benintendi should he batting third going forward this postseason. He had a terrific rookie year by non-Aaron Judge standards (.271/.352/.424, 20 homers, 90 RBIs), and he was arguably the Red Sox' best hitter in the brief postseason stay last year (3 for 9 against the Indians, including a home run).
But he had just a .397 OPS through the first three games of this series, and with Ramirez coming off a 4-for-4 performance and carrying a career .373 postseason batting average into Game 4, I thought it might have been time to move Benintendi down and Ramirez up.
I'll get back to this subject as soon as Benintendi's two-run bomb off Justin Verlander, which put the Red Sox up, 3-2, in the fifth, returns to this atmosphere.
6. Rick Porcello's final line: 3 innings, 5 hits, 2 earned runs, 3 walks, 4 strikeouts, a wild pitch, and a hit batsman. Nine baserunners in three innings? About what we might have expected from the Red Sox starter, who followed up his 2016 Cy Young Award season (when he was 22-4 with a 3.15 ERA and had roughly 23 runs of support per start, give or take a grand slam) with an 11-17, 4.65 line, along with a major-league high 38 home runs allowed.
To put it another way: Porcello allowed 14 more home runs this season than the Red Sox' home run leader, Mookie Betts, hit (24). The pleasant surprise — perhaps shocking surprise — is that he did not allow a home run in the playoffs, especially since the Astros had five in the first inning alone through the first three games of this series.
7. Devers is an adventure at third base, occasionally in a good way. The 20-year-old made a barehanded play on a slow roller in the top of the fifth that Adrian Beltre would have been proud to call his own. On the downside, he also had an error in the sixth, his first of the series, and probably could have been charged with one in Game 3 as well.
During 58 games in the regular season, Devers had 14 errors on 149 chances. That's a .906 fielding percentage. While that's not quite 1978 Butch Hobson stuff (43 errors, .899 fielding percentage, elbow full of bone chips), it at least explains Deven Marrero's spot on the roster.
Devers's play on the slow roller was a hint that he has all the attributes to become a terrific third baseman. The error was a reminder that there's a long way to go.
8. At some point, we have to collectively acknowledge Dustin Pedroia's prolonged postseason struggles, right? It's overdue. He entered Monday's game 2 for 11 in this series, then promptly went 0 for 5, including the final out of the season.
I'm sure there are health reasons; the knee problem that plagued him for much of the season isn't going to miraculously heal in October. But this isn't just a 2017 thing. Pedroia has been a subpar offensive performer in the postseason since the 2009 ALDS loss to the Angels.
In five series and 26 games in that span, he has gone 21 for 103 (.204) with six extra-base hits — all doubles. He's had an OPS of .536 or below in five of those six series, including this one.
Pedroia's last excellent postseason series — heck, his last above-average postseason series — came in the 2008 ALCS against the Rays, when he slashed .346/.469/.731 with 3 homers in 32 plate appearances.
9. Go, Cleveland Titos, go. I think this much we can all agree on, right?