Red Sox
Here's what the Red Sox had to say after their season-ending loss
"They won three games, and we didn't."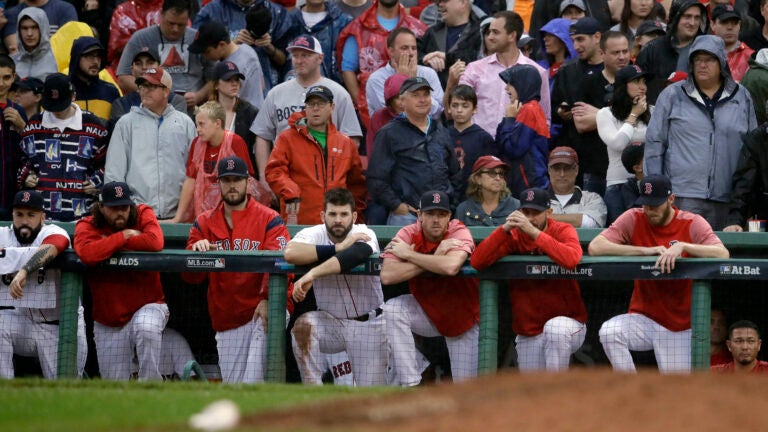 Despite a glimmer of hope from Rafael Devers' invigorating, ninth-inning, inside-the-park home run, the Red Sox couldn't supply the necessary game-tying run on Monday, dropping a hard-fought 5-4 battle to Houston. Much to the disappointment of both the fans and the players, Boston's postseason comes to an end in the divisional round for the second straight year.
As the rain poured down on Fenway, a somber team entered the clubhouse following their defeat. Although a portion of their sentiment appeared to match the gloomy weather that the Astros were celebrating in, the group also appeared optimistic about what's to come.
Here's what some of the players had to say:
Craig Kimbrel
On his ninth-inning pitching: "I went out there and gave it everything I had. It just wasn't good enough today."
On how tough the loss was: "It's always tough. It felt that we had the momentum going our way, and we let it slip away from us. It's unfortunate. We have a great group of guys in here. We fought hard. It's tough to come up short like we did today."
On ending the season in the same fashion as 2016: "I mean, any time you don't move on —obviously every team's goal is to go as far as they can in the playoffs and win the World Series — any time you get knocked out, you always wanna go back and ask yourself, 'What could I do?' and then do this and do that.
But I felt like this ball club, we went out there, and we got two games down and came back yesterday and fought hard, came back today and fought hard. I mean, in games like this, that's all you can really ask for. Ask your team to go out there and give everything they have, and unfortunately, it wasn't good enough today."
On Chris Sale's Game 4 performance: "It's phenomenal. Coming in, keeping it close, taking the lead, all on the short day's rest that he's had. Like I said, everybody gave it everything they had today."
On the impact Rafael Devers' inside-the-park home run had on morale: "I think we always have a chance in any game. You can look at how many games we've come back late in the season. We thought we were going to do it. It just didn't happen."
On what the team needs for the 2018 season: "We got a good team, and there's always, you know, what can we do different? That's not really my job. All I can really do is sit back, take this in, and take in the season, and get ready to dig in. Making moves, and any things like that, that's not my job."
I think we have a lot to be proud of as well. We played a long season. We won our division … If we hadn't done that, we wouldn't even be in the playoffs."
On whether he felt any rust coming in to pitch on Monday: "No, I mean, I wouldn't say a few days off wasn't anything like . You gotta go out there ready to go and be sharp. I let some balls get away, and some balls dropped that were unfortunate. That bloop in right and that kind of set up Carlos [Beltran.] We had a good battle and then he blew one off the wall."
On John Farrell: "He was there for us. He came out, and we were just getting down on losing a hard game, and he came out and told us how proud he was of everything and everything that we did this year. He watches all year long. He knows each and every guy in here. He knows what we're made of.
For him to go out every night, put it together, and try to help put the best team on the field… We won the East. Unfortunately, we didn't come up in the playoffs, but he did a great job."
On his thoughts about the future with the current team: "I mean, you always want to look forward, but I think right now, I'm just going to take in today."
On how many outs he anticipated being available for: "However many I was asked. You know, phone rings, I get asked to warm up, that's what I do."
On whether he thought he was going to pitch in the eighth: "Not with the way that Chris was throwing the ball. He was on a roll, and I think that's one of the reasons he went out there for the eighth because as well as he was throwing the ball, it's hard to take someone like that out."
Mookie Betts
On what he thought the difference in the series was: "That's tough to say. We got down early. When we were down, they kept the gas on the pedal. We had a lead here in this game, but we just didn't keep on it."
On Devers' inside-the-park home run in the ninth inning: "After that, you gotta think we can manufacture a number of runs some way, somehow. But [Ken] Giles did a great job of shutting it down."
On Sale's ability to pitch so many innings on short rest: "He did awesome. He kept us in the game. He kept putting up a lot of zeros. By the time, you know, the seventh, eighth, rolls around, we have to score some more runs. Especially with a time like that because you got to think at some point they can put together an inning. It's just one of those things where we have to say thank you for everything he's done and just know that we got to score some more runs."
On whether he credits Houston's pitching or Boston's lack of offense for the loss: "I think they did a great job pitching. They did a great job of throwing the ball. We also just got to hit some more. We showed them that we could do it. We were just a little inconsistent, especially early in the first couple games. We had some opportunities to score, and we didn't. But you know, gotta give both sides credit there."
On his disappointment levels about not moving on to the ALCS: "It's tough, it's tough. Knowing that we have what it takes to make it there. They did a great job."
On why the team hasn't been able to transfer some of the regular-season success into the postseason: "I'm not sure. I haven't been past the ALDS, so I don't necessarily know what it takes and what not. I think we did better this year than last year, so hopefully we can continue to get here. I know it's tough getting here. As long as we continue to put ourselves in this position, something's going to break through."
On what he thinks is needed in the offseason: "That's not on me. I can only control what I can control. I think everybody in the front office knows what it takes to win, and I'll leave that in their hands."
On John Farrell: "He's done a great job. No manager has won back-to-back titles, which just kind of shows that he's done a great job in managing personalities and putting us in positions to me. He listens to us when we talk, we listen to him when he talks, it's just one of those dynamics that just kind of fits well."
Andrew Benintendi
On his go-ahead home run: "He was just throwing me all fast balls, and from facing him the first time this year, in the back of my mind, I knew he was probably going to go to a slider at some point, so I think he just left it up a little bit, and I put a good swing on it."
On whether the series leaves a bitter taste in his mouth: "It always is unless you win the last game, but we battled until the end. I think Pedey's last at-bat kind of was like our entire season, just grinding out at-bats, just grinding games out. They're a good team, and they played better than us this year."
On Devers' inside-the-park home run in the ninth inning: "Yeah, I mean, it kind of got the crowd into it again, and puts us within a run, so at that point, anything is possible. We've come back before this season plenty of times, so we never thought that we were out of it."
On what was lacking for the Red Sox this series: "They won three games, and we didn't."
Xander Bogaerts
On frustration from the loss: "I mean, we battled. This is one heck of a team that we have right here. I would totally do it again with all the guys that are in here — one of the best teams I've been around, especially towards the end.
We were 0-2. To come from behind… The energy, the motivation that especially the veterans gave us, that definitely helped us with the comeback that we tried to do. It was a fun year. We were down. We didn't want to be down, but it was fun to try and come back."
On what he learned from the series: "We could have been 2-2, you know? It didn't happen. We came close, we came close. I know a lot of people doubted us that we would probably go down 0-3, but we fought, got a lot of confidence coming into today.
Benny's go-ahead home run was huge. Those guys kept battling over there also. They didn't give up and just give us the win. They battled also, and they're a good team also."
On Devers' inside-the-park home run in the ninth: "You gotta think you're going to tie it, at least. You got to stay positive. We had some big hitters coming up, Jackie, Vasquez. Vasquez has come up big a lot this year for us. And obviously, you got Pedey, the captain. You know you got three good hitters that can hit it out. Rafi hit an insider the parker, that made the game much more exciting for us and the fans, so we definitely gave them a show, and we did the best that we could."
On his levels of disappointment: "It's tough, man. It's tough. It's probably one of the toughest losses I've had in my career so fan. We were so close to doing something special. But as I said, I would do this again with these guys in here, same exact group of guys, I would do it 100% every day."
On the Astros' roster: "They have guys that have just been killing us the whole series. Bregman, swinging a hot bat right there. I mean everyone in their lineup is basically pretty hot. You know, they're swinging good. We still stayed right in there with them. We had our chances, but you gotta give them credit. They fought back, man. Sometimes just give in and give us the win. We can go back there 2-2, but they fought back."
On the 2018 season: "I haven't even processed this loss right, so I don't know. I could maybe be able to answer that in a few more days. The team that we had this year was a fun one. I made a lot of new friends that are great characters. Moreland, a guy I never played with, you know, stepped up as one of the leaders. The veterans, you gotta give them a lot of credit in the effort we had in coming back."
On what it takes to win three games in a row: "We didn't want to have to take it to three games, you know, we want to win every game. Playing on the road, that's obviously a disadvantage. But we've played great on the road lately, especially the last trip, we played greatly. But credit to them, they were swinging the bat real hot at home. As I said, when you play at your home, you tend to have a lot more confidence and the fans cheering you on. Just the atmosphere is something that you're used to."
On his own season: "I mean, I got a lot to improve. I finished it better, but I'm looking forward to a lot more improvements. I got a lot of work to do. This is definitely going to be a fun offseason for me with all the work I'm going to put in. Not right now, but as soon as it's go time, I'll definitely have a lot of work to do."
On Sale's performance out of the bullpen: "Man, you have to give him a lot of credit. That's a work horse. I didn't even know he was going to pitching today. For him to come in and put up all those zeros, that gave us a lot of chances to score some runs also. That was a performance we needed, guys putting up zeros, and he did it for us today. We should have got him a few more runs and separated the game early on, but we just couldn't do it."
Chris Sale
On how he felt during the game: "I felt good. I felt strong. I wish I could've got it done."
On how he felt coming out of the eighth: "Fine, felt good. Like I said, felt good. Felt strong throughout. Didn't get it down. Just made a bad pitch."
On the differences between preparations for starting versus relieving: "I was given plenty of time to get loose. You know, I've been there before, so I made use of some of the old tricks I used to use out there, so it was fine."
On how he felt passing the ball over to Kimbrel: "Any time he steps on the mound, you have all the confidence in the world. He's one of the best ever to step out there. Obviously I never want to come out, but handing it over to him makes it a little easier."
On his levels of disappointment: "It's tough, we come here to win. Worked hard, came down to the wire, it was a close game. This one definitely sucks."
On his first experience with postseason baseball: "This is what we show up to spring training for. This is what we work all offseason for. Ups and downs, all around the country. This is what we live for. This is what we're here for. Take a little time off, get back to the drawing board, and make another run at it next year."
On his levels of optimism for next year: "I mean, if you look around here, look at the names, we got a lot of guys coming back. A lot of the guys who carried this team are young guys, who are going to be here for awhile, so it's hard not to be optimistic about this team for the next… long time."
On the team fighting with its back against the wall: "I've said it all the time. This team's got good character, got good leadership, and some guys that aren't afraid to fight. We've been around it all year. We know who we are, we know what we can do, and we never lose that confidence."
On whether he had a pitch target today: "No, they had me the ball, I go out there and pitch until they take it out."
On John Farrell: "This is a game that you can second guess anything. Every game, every inning. We plan 162 games, nine innings every time, sometimes extras, so there's a lot of room for debate and woulda shoulda's. He gave me every opportunity to succeed, and same for everybody on this team."