Red Sox
Pedro Martinez is hosting a baseball gala for hurricane relief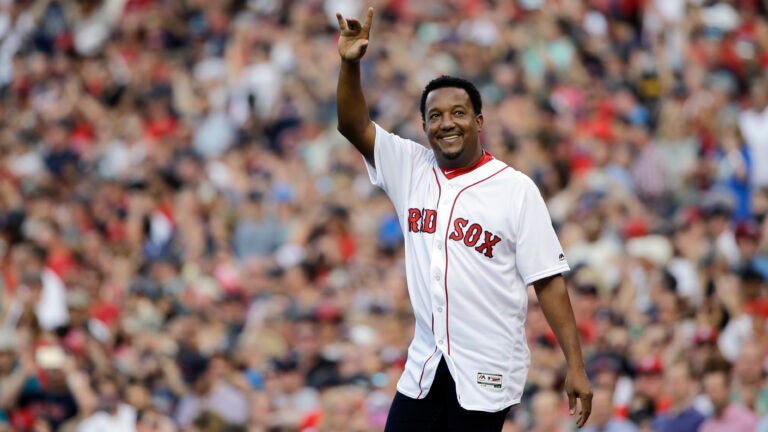 As old clips of Pedro Martinez on the mound resurfaced for Red Sox nation this postseason, fans were hit with a wave of nostalgia watching the team's retired ace strike out batter after batter after batter.
In one of his most unforgettable playoff outings, Game 5 of the 1999 ALDS, Martinez entered the game with an 8-8 score as a relief pitcher. Still aching from an injury that sidelined him in Game 1, he proceeded to throw six no-hit innings and logged 8 K's en route to a Red Sox win. While Boston ultimately fell to the Yankees in the ALCS, that season proved to be a memorable one for Martinez. He not only set the single-season record for most strikeouts in team history, but also was the league leader in strikeouts, ERA, and wins.
The accolades from his illustrious career are certainly undeniable — three-time Cy Young Award winner, World Series champion, eight-time All-Star — but there's another reason why the 45-year-old has become such an icon in Boston.
Since his departure after the 2004 season, Martinez and his wife, Carolina, have remained active in the city with the Pedro Martinez Charity. Earlier this year, they hosted a feast at Fenway Park with Boston athletes and chefs to raise money that will go towards providing a brighter future for underprivileged children.
So what's on deck? The couple's second annual charity gala. Or as Carolina likes to put it, "a baseball gathering with Pedro and his friends."
Among those that will be in attendance this year are Red Sox of the past and present: David Ortiz, Jason Varitek, Rafael Devers, and Eduardo Nunez. The group is coming together for a cause that is near and dear to the Martinez's hearts.
"We're really excited about it because besides raising funds to help sustain our after-school program that we have in the Dominican Republic, there's an extra motivation this year to help the victims of all the hurricane devastation in the Caribbean and in Florida," Carolina told Boston.com.
In addition to an evening of schmoozing with baseball players, the event will feature a three-course dinner prepared by chef Nick Calias of Brasserie Jo, live entertainment, and a silent auction. Set to take place on November 3, Carolina hopes that the spirit of the event will inspire others to follow in Pedro's footsteps.
"One of the reasons why I think this gala is going to be so special is that we want to pass the baton to this next generation of young players," she said. "Yes, you can be great on the field, but what's going to preserve your legacy is what you did with the platform you have."
"I think we want to model to them and their wives that they should continue to do this off the field because God has given them a platform to shine not only for themselves but for others, too."
Some of the Martinez's other charity work in Boston includes collaborating with The BASE, a year-round after-school baseball program in Roxbury, and with Lindos Suenos, a Red Sox program that brings 10 American teenagers to the Dominican Republic to perform community service and play baseball alongside 10 Dominican teammates.
"We think between Boston and the Dominican, there's a special connection through baseball," Carolina said. "That's one of the reasons why we've stayed connected with the city."
"One of Pedro's dreams has always been for Bostonian and Dominican teenagers to interact, and we believe one of the ways we can continue to do that is through the work of the charity," she continued. "Some of his essence, and part of the DNA of the charity, is to give back, empower the generation, and also have a globalized perspective."
Ultimately, the couple's work with their charity always comes back to one word: opportunity.
"Because Pedro is a result of an opportunity that different people gave him along the way in his baseball career," Carolina explained. "And me, being born and raised in the Dominican Republic and coming to the states to get a college education, I was also the product of an opportunity that somebody gave me."
"We are both convinced that it doesn't matter where a child is born," she said. "It's still deserving of good education and people that would extend a hand to help develop him or her. That's what we've be doing through the charity over these years is helping under-served children and teenagers and offering different opportunities for them to grow, either through English, arts and crafts, sports, career training, and other avenues that we believe every child should have."