Red Sox
Alex Rodriguez tried to put a Yankees jacket on David Ortiz. It didn't go so well.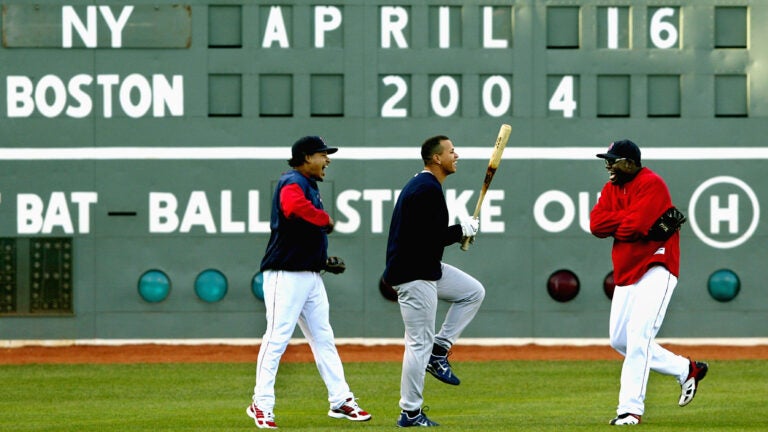 Baseball analysts David Ortiz and Alex Rodriguez may be colleagues now at FOX Sports, but Ortiz has no intentions of supporting his former rival's team any time soon.
While in the studio for the network's postseason coverage, Ortiz was lounging in a chair and using his phone when Rodriguez snuck up behind him with a navy blue Yankees jacket. As the former New York third baseman tried to drape Big Papi with the coat, a confused Ortiz didn't appear to be too bothered by the gesture. Until he looked down at the logo.
"Hey! Hey! Hey!" the retired slugger shouted upon realizing Rodriguez's prank.
Ortiz promptly shook off the jacket, as other analysts laughed at A-Rod's antics. Rodriguez shared a video of the incident on Twitter, asking his followers: "Hmmm, this Yankees jacket looks pretty good on David Ortiz, don't you think?"
Hmmm, this #Yankees jacket looks pretty good on @davidortiz, don't you think? #SneakAttack @FS1 pic.twitter.com/LtOk0ZNDtx

— Alex Rodriguez (@AROD) October 19, 2017
The Yankees have a 3-2 lead over the Houston Astros in the ALCS. Game 6 will be played on Friday at Minute Maid Park.