Red Sox
Five things to know about new Red Sox manager Alex Cora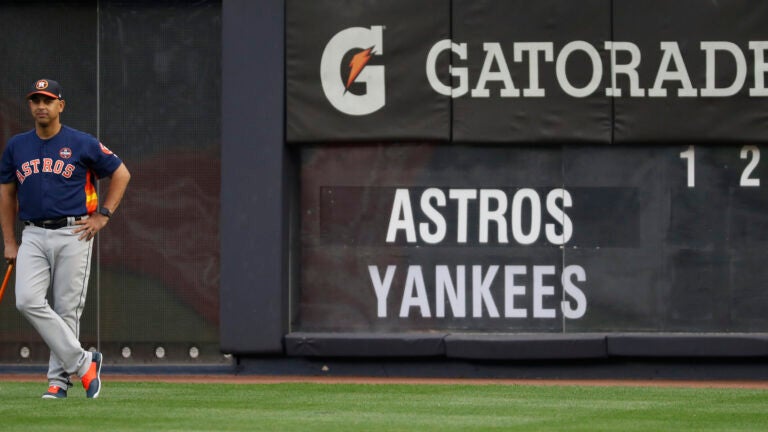 Here is a closer look at Alex Cora, who was named manager of the Boston Red Sox on Sunday.
■ Cora was inducted into the University of Miami Sports Hall of Fame in 2006 — Cora was drafted by the Minnesota Twins in the 12th round of the 1993 MLB draft while he was in high school. Rather than sign with the Twins, he attended Miami, where he played shortstop and helped lead the Hurricanes to three College World Series appearances. He made the All-College World Series teams in 1995 and 1996, and in the 1996 title game against LSU, he went three-for-five with a triple and three RBIs.
[fragment number=0]
He made his Major League debut against his brother — Cora was drafted by the Los Angeles Dodgers in the third round of the 1996 MLB draft and made his debut in the big leagues in 1998 at Seattle. His older brother, Joey, was the second baseman for the Mariners that day.
He is persistent — On May 12, 2004, Cora had an 18-pitch at-bat against Matt Clement of the Chicago Cubs. After working the count to 2-1, Cora proceeded to foul off the next 14 pitches before he eventually prevailed with a two-run homer.
Legendary Dodgers broadcaster Vin Scully had the call that night
"It is the rare time that you can be in the ball park, and everyone is counting the pitches,'' Scully said as the at bat reached 17 pitches.
When Cora finally ended the battle with a home run, Scully marvelled at the accomplishment.
"What a moment! 9:23 on the scoreboard, if you want to write it down for history. What an at-bat!'' Scully exclaimed. "That's one of the finest at-bats I've ever seen, and to top it off with a home run, that is really shocking.''
[fragment number=1]
He played for the Red Sox — After playing seven seasons with the Dodgers, he signed as a free agent with the Cleveland Indians in 2005. In July of that season, Cleveland shipped him to the Red Sox for Ramon Vazquez. In three-plus seasons in Boston, Cora appeared in 301 games, batting .252 with six home runs and 61 RBIs. He played 83 games for the 2007 World Series Champions, batting .246.
He and his family reside in Puerto Rico in the offseason — Cora has four children. As bench coach with the Astros, he missed a three-game series in Baltimore this summer because of the birth of his twin sons, Xander Gabriel and Isander Manuel. During his playing career, Cora represented Puerto Rico in the 2006 and 2009 World Baseball Classic. He now serves as Puerto Rico's general manager. The 2017 team finished runner-up to the United States in the WBC.