Red Sox
5 momentous trades from Dave Dombrowski's three decades as a baseball executive
Since first becoming a general manager at age 32, Dombrowski has never been afraid to roll the dice.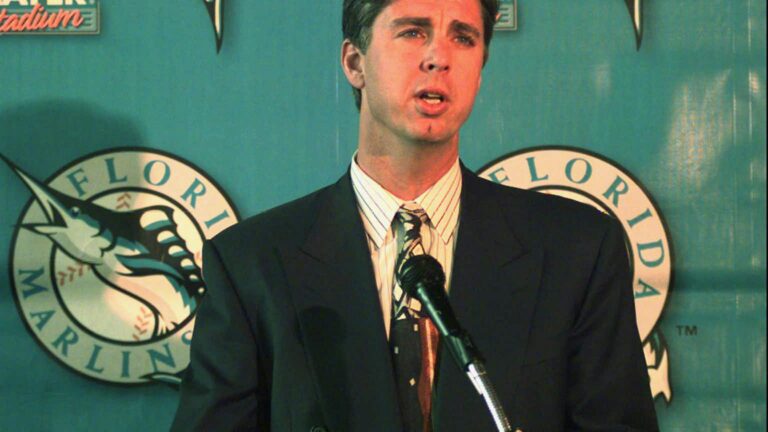 When Dave Dombrowski was named general manager of the Montreal Expos in 1988, he was just 32 years old. Already showing what would become a trademark self-assuredness, the future Red Sox executive wasn't afraid to make bold moves. In his first three seasons, the precocious GM made 23 trades, involving 62 players.
Three decades later, the Red Sox President of Baseball Operations hasn't changed in his basic philosophy. With Major League Baseball's General Managers' Meetings happening in Florida (through Nov. 16), Dombrowski's Red Sox are once again rumored to be in the mix for several possible additions.
Over the course of his tenures in Montreal, Florida, Detroit and now Boston, Dombrowski's work has been marked by high profile trades. Almost a year ago, Dombrowski completed arguably the most prominent Red Sox trade for a pitcher since Pedro Martinez. And in the case of Chris Sale, the gamble of trading prospects for an established ace has so far paid at least a one year dividend.
Yet Dombrowski has been making impactful moves since his earliest days as a top level baseball executive. Here's a look back at some of the notable ones:
May 25, 1989: The Montreal Expos trade Randy Johnson, Brian Holman and Gene Harris to the Seattle Mariners for Mark Langston and Mike Campbell.
In his first full season as a GM, Dombrowski saw that his Expos were stuck in neutral. So near the end of May, he completed one of his first major trades. To shore up the starting rotation, Dombrowski acquired 28-year-old Mark Langston, who would post an impressive 2.39 ERA in 176.2 innings for the Expos in 1989.
Unfortunately for Montreal, Langston's quality work didn't improve the team's fortunes. The Expos were 23-23 on the day that Dombrowski made the trade, yet finished the season at exactly 81-81. More importantly, the decision to trade the erratic 26-year-old Randy Johnson would, quite obviously, prove a poor choice in retrospect. Adding to the Expos' loss was the disappointment in seeing Langston leave after the season in free agency for the California Angels.
June 23, 1993: The Florida Marlins trade Trevor Hoffman, Jose Martinez, and Andres Berumen to the San Diego Padres for Rich Rodriguez and Gary Sheffield.
Dombrowski was hired away from Montreal to help launch the expansion Marlins in 1991. In the team's inaugural season two years later, he made another bold trade to land the Floridian franchise's first high profile talent (and one of its first All-Stars), Gary Sheffield. The third basemen-turned-outfielder would become a cornerstone of the surprise World Series run in 1997. In exchange, Dombrowski surrendered yet another prospect who flourished elsewhere.
Trevor Hoffman, a rookie in 1993, would eventually become the Padres' closer, finishing his career with the most saves in MLB history (a mark eventually eclipsed by Mariano Rivera).
Sheffield would depart Florida in another – arguably flashier – trade following the team's World Series win. Still, that deal, as well as many others like it in the post-1997 fire sale, was driven out of necessity to cut payroll. Dombrowski was forced to tear down his meticulously sculpted championship roster by the financial concerns of Marlins owner Wayne Huizenga.
December 5, 2007: The Detroit Tigers traded Andrew Miller, Cameron Maybin, Mike Rabelo, Burke Badenhop, Dallas Trahern and Eulogio De La Cruz to the Florida Marlins for Dontrelle Willis and Miguel Cabrera.
By the end of his sixth year leading the Tigers organization (a circuitous span of time that included a 119-loss season in 2003 and an American League pennant three years later), Dombrowski once again made a blockbuster trade. This time, the end result was the acquisition of a once-in-a-generation talent: Miguel Cabrera.
To pry Cabrera – already a known quantity, having driven in over 100 runs in four straight seasons – away from the Marlins, Dombrowski dangled his top prospects. Andrew Miller was a top-10 pick by the Tigers, and was promoted to the Major League level after a mere five (scoreless) innings of minor league work in 2007. Cameron Maybin was also a top-10 pick, and debuted spectacularly by hitting a home run off Roger Clemens.
The trade ultimately worked in the Tigers' – and Dombrowski's – favor, as essentially only Cabrera lived up to his billing with his new team. In 10 seasons with Detroit so far, he's hit .319 while averaging 32.4 home runs a year. Miller would eventually find his home as a reliever, but not with the Marlins. Dontrelle Willis, the other player Detroit acquired, would never recover the form that had once made him the 2003 NL Rookie of the Year.
December 8, 2009: The Detroit Tigers traded Curtis Granderson to the New York Yankees and Edwin Jackson to the Arizona Diamondbacks in a three team deal for Phil Coke, Austin Jackson, Max Scherzer and Daniel Schlereth.
In a departure from some of his other high profile moves on this list, Dombrowski decided to trade established MLB talent in the winter of 2009.  The 28-year-old Granderson was coming off a season in which he hit a then-career high 30 home runs along with 20 stolen bases. He was a prized commodity in the prime of his career.
Yet in exchange for Granderson and relief pitcher Edwin Jackson, Dombrowski acquired a decent centerfield replacement (Austin Jackson) as well as a future Cy Young winner in Max Scherzer. The combination of Scherzer and Justin Verlander would almost prove enough to get Detroit back into the World Series in 2013 (falling short in the ALCS to the Red Sox).
Interestingly, neither the Yankees nor the Diamondbacks were left empty-handed either. Granderson would develop into an even better power hitter in New York, belting 41 and 43 home runs in 2011 and 2012, respectively. And Arizona, acquiring Ian Kennedy from the Yankees, watched as the young starter won 21 games in 2011.
December 6, 2016: The Boston Red Sox trade Luis Alexander Basabe, Victor Diaz, Michael Kopech, and Yoan Moncada to the Chicago White Sox for Chris Sale.
The most recent of Dombrowski's blockbuster deals is certainly still fresh in the minds of Red Sox fans. It erupted onto the already crowded stage of Boston sports news last December, defined once again by Dombrowski's unflappable ability to take risks. Recognizing that the team needed an ace, Sale was the obvious trade target. Yet in order to get him, a bold offer was needed.
Yoan Moncada, the top prospect in baseball, was the centerpiece of Boston's offer. He was described by one scout in simple but powerful terms: "There's not much he can't do." Additionally, Boston packaged minor league pitcher Michael Kopech, notable for having hit 105-mph on the radar gun.
While the jury is still out on the full ramifications of the trade (prospects take years to either develop or not), Sale clearly lived up to his potential in year one. Though he faltered towards the end of the year, he struck out 308 batters in a historic season.