Red Sox
Here's a reasonable offseason to-do list for the Red Sox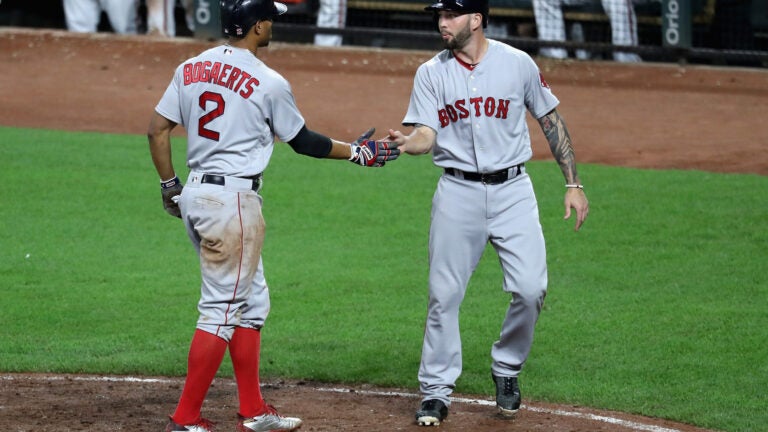 COMMENTARY
The Red Sox won 93 games last season. The season before, they also won 93 games. While the season seemed like a failure and cost the team's manager his job, the team is on relatively sound footing as we head into the offseason. The Sox still have a great core of talent, and unless they really decide to something unforeseen like conduct a fire sale, they will enter 2018 on track to win 90+ games for a third straight season. As such, the offseason shopping list is relatively short, but before we get to that, let's look at some housekeeping items first.
The battle for second base
Last month, we learned that Dustin Pedroia won't be in the lineup at the start of the season. He will probably miss the season's first two months, and could miss more if there is a hiccup in his rehab. As such, the team will need to start the season with someone else manning the keystone.
While there is a natural temptation to acquire someone externally for the job, the team has plenty of solid internal options. Between Marco Hernandez, Tzu-Wei Lin and Deven Marrero, the Sox have solid options internally. If he proves he's fully recovered from his shoulder surgery, Hernandez is likely the best option, with Marrero as his backup and Lin back in Triple-A. Lin could be a good option as well, but given that he had more success at Double-A than he did at Triple-A, the optimal scenario involves him getting more reps with Pawtucket.
Dump Brock Holt
It's no secret that I'm not a huge Brock Holt fan. In years past, he was a reliable utility man, but his significance to this Red Sox team is muted. For one, the team no longer has giant holes at third base and in the outfield like they did when Holt rose to prominence. Furthermore, Holt was terrible in 2017. He was literally one of the worst second basemen on a good Red Sox team ever. The only reason to keep him around is sentiment, and sentiment isn't going to help the team fend off the Yankees.
Give Blake Swihart a chance
At this time last year, Sandy Leon looked like a lock for the catching rotation after his breakout 2016 season. Unfortunately, as we would learn throughout the 2017 campaign, his 2016 hitting was less breakout and more fluke. Enter Blake Swihart.
Swihart didn't exactly hit the ball on the screws in 2017 himself, but the team felt they saw enough to give him a call-up at the end of the season. Swihart deserves one more chance to see if he can be a viable back-up. Leon is no more than a replacement-level backup, and shouldn't stand in Swihart's way if the 25-year-old has a good showing in Spring Training.
Contract extensions?
It'd sure be nice to head into the spring with new contract extensions for at least one of Mookie Betts, Xander Bogaerts or Jackie Bradley Jr. I wouldn't hold your breath though.
Offseason shopping list
Now for the exciting stuff. Here are the items on the team's offseason shopping list.
Acquire a big bat

Acquire a reliable starting pitcher who can work in relief

Acquire a fifth outfielder

Acquire a left-handed reliever
One note is that there is some potential for overlap here, particularly with items three and four.
Acquire a big bat
This one will depend on how creative the team wants to get. Do they want to work out a trade for Giancarlo Stanton, Brandon Belt or some other slugger who may find himself on the market, or do they want to simply sign a free agent? I'd choose the latter route. The Sox are not teeming with depth, and in order to acquire Stanton it's a near certainty that the team would need to send major league players in the deal, and depending on that package they might not be better off than they were.
That might seem worth it to get a star like Stanton, but we need perspective. In all likelihood, Stanton just played his best season. That's why the Marlins are shopping him. He has also has an opt-out clause in his contract. He's also only played in 130+ games (out of 162) in two of the past six seasons, so him getting injured in 2018 wouldn't be outside of the norm.
Add all those factors together and the team is better off pursuing J.D. Martinez or another slugger, such as Jay Bruce or Carlos Santana. Players like Logan Morrison or Yonder Alonso could also be on the radar, but if Martinez proves too expensive for the team's tastes, I would focus on Bruce, who has a more proven track record of quality play and can log time in the outfield corners, lessening the need for that fifth outfielder.
Acquire a reliable starting pitcher who can work in relief
The hardest thing to acquire is reliable pitching depth. Last year, the Sox didn't do it, and ended up needing 25 starts from Doug Fister, Brian Johnson, Hector Velazquez and Kyle Kendrick. This was not a desirable outcome. Sure, Fister managed to put together a few good starts, but the group as a whole produced a 5.18 ERA in those 25 starts. That's sub optimal, to say the least.
Given that almost all of the team's six current starting pitchers — Chris Sale, David Price, Rick Porcello, Drew Pomeranz, Eduardo Rodriguez and Steven Wright — have injury concerns, having a solid seventh option would be prudent planning. Someone like Jhoulys Chacin or Jaime Garcia would fit the bill. If you want someone who has a history of pitching in relief as well so that you could keep them on the active roster, Francisco Liriano is an interesting proposition, though he hasn't been as good the past two seasons.
Acquire a fifth outfielder
With Bryce Brentz slated as the fourth outfielder, you can bet that the Sox aren't going to ask too much of their outfield backups. You would hope for someone who does one thing really well, be it hitting, fielding or baserunning. Rajai Davis could again be a consideration. Other interesting names include Melky Cabrera, Curtis Granderson, Austin Jackson, Hyun-Soo Kim, Peter Bourjos, Cameron Maybin, Craig Gentry and Jon Jay.
Someone who can contribute on the basepaths like Davis or Maybin is probably the most sensible pick for the fit of the roster, but there is another consideration. If Hanley Ramirez logs 497 plate appearances next season, his $22 million contract option for 2019 will automatically vest. That would be a nightmare scenario for the Sox given the money they need to set aside for the Killer B's (as mentioned above) and the 2018-19 free-agent class (we'll mention them below). As such, a left-handed hitting DH/corner outfielder would be a sensible addition.
I am the most intrigued by Kim. Kim was a spectacular hitter in Korea, and hit at an above-average rate in his first season with the Orioles. He fared poorly last season, but Baltimore also treated him pretty poorly, and there's an argument to be made that he's still a plus hitter who could be had for a bargain basement price.
Acquire a left-handed reliever
The team certainly doesn't need a right-handed reliever. Between Craig Kimbrel, Carson Smith, Joe Kelly, Brandon Workman, Matt Barnes, Heath Hembree, and the long-awaited Sox debut of Tyler Thornburg, the Sox already have too many right-handed relievers. Smith, Workman and Thornburg should be good set-up men, and Kelly had his moments last season. If not, the price for relievers at the deadline should be cheap once again.
Given the number and quality of the team's right-handed relievers, the team might not need a left-handed reliever to pair with Robby Scott, but having a second one around certainly is a good idea. I certainly wouldn't pay a lot for one, but if the price is right, pitchers like Mike Minor, Jake McGee and Tony Watson would be very useful.
One pitcher who should come a little cheaper, but with plenty of upside, is Zach Duke. Duke returned last season incredibly quickly from Tommy John surgery, but didn't pitch that well on his return. Pitchers usually pitch better in their second season back from Tommy John surgery though, and if Duke can return to his pre-TJ form — he posted a 2.74 ERA and 3.25 FIP from 2014-2016 — he would be a significant asset.
Putting it together
So, let's add it all up. I'm going to be conservative and not put J.D. Martinez in a Red Sox uniform. He's a great hitter, but I'd rather save my chips for next winter's free-agent class. Next winter, stars like Bryce Harper, Josh Donaldson, Manny Machado, Andrew McCutchen and Dallas Keuchel will reach free agency, and Clayton Kershaw will have the opportunity to opt out of his contract as well. I'd save my chips for one of them, or barring that, signing all three of Betts, Bogaerts and Bradley to fair extensions.
Here's how I would put together the roster for Opening Day in 2018:
There's no additional starting pitcher listed. If I had to guess, the Sox will either not sign one or not have one on the active roster to start the season, given the depth and quality of the relief corps. Heath Hembree didn't even make the cut, and Barnes might not either if the team signs a second lefty.
Adding two or three new players — Bruce, Kim and possibly Duke — and dumping two (Holt and Leon) would certainly not make for a sexy, headline-grabbing offseason. But games are not won in December and January, and the Sox have a great core that doesn't need to be broken up. Perhaps they will make the big splash for Stanton, but they certainly don't have to. The Sox are going to be a contender next year, and with a couple of tweaks and a return to form from players who struggled in 2017 like Rick Porcello and Jackie Bradley Jr., they could find themselves playing deep into next October.