Red Sox
Yankees, Marlins agree to Giancarlo Stanton deal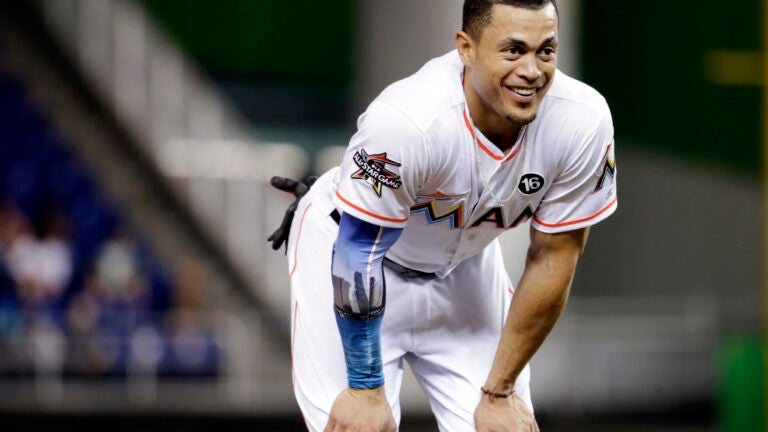 MIAMI — After helping the New York Yankees to five World Series titles, Derek Jeter might help them win another.
The Yankees and Jeter's Miami Marlins have agreed to a trade that would send NL MVP Giancarlo Stanton to New York, pending a physical, a person familiar with the negotiations said Saturday. The person spoke to the Associated Press on condition of anonymity because the teams hadn't announced the agreement.
Second baseman Starlin Castro would go to Miami as part of the trade, a second person familiar with the negotiations said. A third person said the Marlins would also receive prospects Jorge Guzman, a righthander, and Jose Devers, an infielder and cousin of Red Sox third baseman Rafael Devers.
The third person said the deal calls for the Marlins to send $30 million to the Yankees if Stanton doesn't exercise his right to opt out of his contract and become a free agent after the 2020 season.
Stanton has a no-trade clause in his record $325 million, 13-year contract and has indicated he will approve the trade, one of the people said. St. Louis and San Francisco said Friday that Stanton had vetoed deals to them.
As for the physical, injuries curtailed Stanton's season in four of the past six years, but he played 159 games in 2017.
If the Yankees complete the trade with a team run by their former captain, the new Marlins CEO, they would acquire a slugger who hit a major league-high 59 home runs last season and pair him with Aaron Judge, who led the AL with 52 in his rookie season. That would give them a 1-2 punch to rival Ruth-Gehrig or Mantle-Maris, making for must-see batting practice.
[fragment number=0]
Judge sent a tweet to Stanton showing a clip from the movie ''Step Brothers'' with Will Ferrell saying, ''Did we just become best friends?''
Stanton and Judge hit all nine home runs this year that left the bat at 117 m.p.h or faster, according to MLB's Statcast. Stanton also led the majors with 132 RBIs.
Obtaining the 28-year-old Stanton would be reminiscent of the Yankees' acquisition of AL MVP Alex Rodriguez from Texas after the 2003 season for second baseman Alfonso Soriano. Rodriguez signed a $275 million, 10-year contract after the 2007 season that ran through age 42; Stanton's deal runs through age 38.
An eight-year veteran with 267 homers, Stanton has never played on a winning team and might now go to a club that hasn't had a losing record since 1992. The Yankees reached Game 7 of the ALCS this season in the first full year of a youth movement.
[fragment number=1]
New Yankees manager Aaron Boone, along with the front office, would have to sort where Stanton will play. He has played his whole big league career in right field, as has Judge. The Yankees also have the option of using one of them as a designated hitter.
Stanton is owed $295 million over the final decade of his 13-year contract. The All-Star right fielder led the majors in homers and RBIs, but his salary will rise to $25 million in 2018.
Jeter is expected to reduce payroll by at least 20 percent to $90 million or less. The Marlins shed $38 million of salary through 2020 by trading two-time All-Star second baseman Dee Gordon to the Seattle Mariners on Thursday for three prospects.
Castro, who hit .300 with 16 home runs this year, could replace Gordon at second base — or might also be dealt by Miami because of his contract. He's due $10 million in 2018 and $11 million in 2019 plus a $16 million club option for 2020 with a $1 million buyout.
Gary Denbo, the Marlins' new vice president of scouting and player development, spent the past eight years with New York and oversaw a farm system that ranks among the best in baseball.
Guzman went 5-3 this year with a 2.30 ERA for Class A Staten Island. Devers batted .245 with 16 steals in 53 games in the low minors.
More Marlins deals are possible at the Winter Meetings beginning Sunday in Lake Buena Vista; Castro and outfielders Christian Yelich and Marcell Ozuna possibly are on the trading block.
[fragment number=2]
The Yankees' payroll for purposes of baseball's luxury tax was about $209 million this year, and owner Hal Steinbrenner has vowed to reduce it below next year's $197 million threshold, which would reset the team's base tax rate from 50 percent to 20 percent in 2019. That would put the Yankees in better position for next offseason's free agent class, which includes Bryce Harper, Manny Machado and possibly Clayton Kershaw.
Stanton counts as $25 million for the luxury tax, but trading Castro cuts New York's tax payroll by $8,801,786. Rodriguez­ ($27.5 million) came off the payroll this year, and five high-priced Yankees have become free agents: CC Sabathia ($20 million), Matt Holliday ($13 million), Michael Pineda ($7.4 million), Todd Frazier ($4,918,033), and Jaime Garcia ($4,961,721).
New York could also trade third baseman Chase Headley ($13 million), expendable because of prospects Gleyber Torres and Miguel Andujar.
Jacoby Ellsbury appears to be superfluous in an outfield that includes Stanton, Judge, Aaron Hicks, and Brett Gardner. Ellsbury is owed $21,142,857 in each of the next three years.
After missing out on Japanese righthander Shohei Ohtani, the Yankees are expected to seek starting pitching to bolster a rotation currently projected to include Luis Severino, Masahiro Tanaka, Sonny Gray, Jordan Montgomery and Luis Cessa.
Stanton would take a cut in take-home pay for his games in the Bronx. While Florida has no state income tax, New York State has an 8.82 percent top rate on income and New York City a 3.876 percent top rate. But he might make up the difference in new endorsements.
[fragment number=3]