Red Sox
Morning sports update: Dave Dombrowski says Red Sox tried second push for Stanton
"When we called at the end, we were not on his list."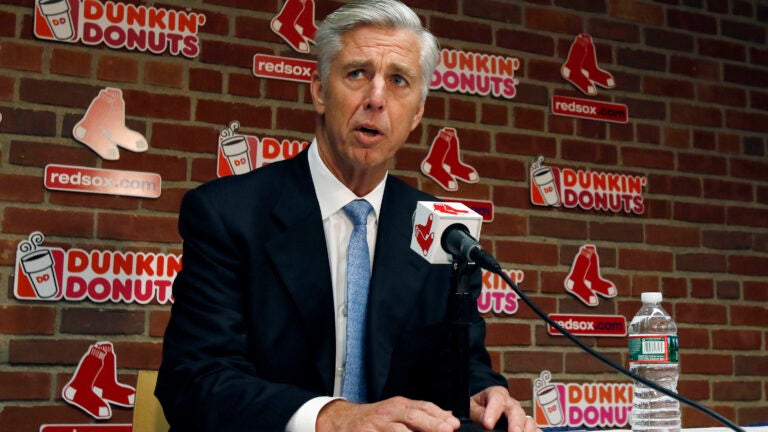 The Patriots lost in Miami on Monday night, while the Celtics fell to the Bulls.
Here's a look at a few other stories from around the world of sports:
Red Sox' Dombrowski says attempts were made to "re-enter" Giancarlo Stanton talks: In the aftermath of the Yankees' trade for the Major League home run leader, Giancarlo Stanton, Red Sox president of baseball operations Dave Dombrowski admitted Boston tried to get back into the hunt at the last minute.
"When we called at the end, we were not on his list. So they were going somewhere else. . . . We did all our homework on Stanton. I knew exactly where everything was, what they were looking for, dollars that were involved. Just was not where we were at that particular time." (Boston Globe)
From 'castoff to King Kong': What you need to know about possible Red Sox target J.D. Martinez: After seeing the Yankees acquire a slugger of Stanton's capacity, the Red Sox are now scrambling to answer. One player who could be on Boston's radar is free agent J.D. Martinez.
The man who hit a combined 45 home runs for two teams in 2017 has had quite a circuitous route to stardom. (ESPN)
Tom Brady says "hopefully it never happens again" in regards to Gronkowski hit: Speaking on WEEI's Kirk & Callahan, Tom Brady addressed how he feels about Rob Gronkowski's suspension and having to miss the Dolphins game:
No, like I said, he said what he had to say, and I think he knows it was a mistake. It is unfortunate, but you learn from it and move on. Hopefully it never happens again. I think that is what you take from it.
Bill Belichick was not happy about a Steelers question: Following the Patriots' loss in Miami, Bill Belichick was not in a speculative mood. When asked about if his team lost because players might have been looking ahead to the all-important Steelers game next Sunday, Belichick bristled. (Boston.com)
Bulls' TV postgame show makes unfortunate reference: After defeating the Celtics for a surprising win, the Bulls' postgame show called top scorers Bobby Portis and Nikola Mirotic "a 1-2 punch."
The only problem is that Portis earned an eight-game suspension in October for reportedly punching Mirotic. (Bleacher Report)
1️⃣-2️⃣ ? pic.twitter.com/G1LuuBxtev

— NBC Sports Chicago (@NBCSChicago) December 12, 2017
Daily highlight: 37-year-old David West threw down a thunderous dunk on the Trail Blazers Monday night. His teammates on the bench loved it:
https://twitter.com/BleacherReport/status/940454560467902464