Red Sox
Before Derek Jeter, Dave Dombrowski oversaw the original Marlins fire sale
Forced by ownership to cut payroll, Dombrowski scattered his 1997 World Series winner to the wind.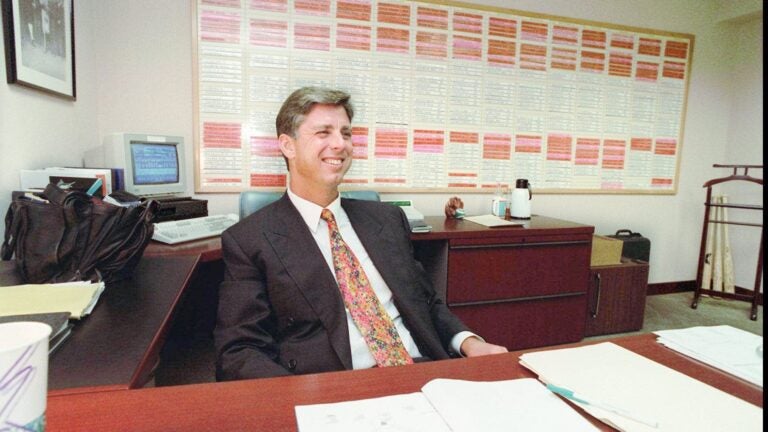 Miami Marlins CEO Derek Jeter, a title the former Yankee is only just settling into, hasn't exactly been the most popular person in South Florida following the recent trade of Giancarlo Stanton to, of all teams, the New York Yankees. Other prominent Marlins have also been traded in the offseason, prompting agent Scott Boras to label Jeter's Floridian franchise a "pawn shop."
In other words, another Marlins "fire sale" appears to be underway.
Simultaneously, Red Sox president of baseball operations Dave Dombrowski has been criticized for a lack of activity. Specifically, Dombrowski was seen as having not pushed hard enough for Stanton, or for having kept tabs on the availability of another former Marlin, Marcell Ozuna (recently traded to the Cardinals).
Dombrowski has rebuffed that analysis, saying that he not only tried to make a second push for Stanton, but was also "in the mix" for Ozuna.
And it seems unlikely that Dombrowski would be caught off guard by the Marlins' 2017 fire sale, considering he helmed the original version 20 years ago.
More than its latest iteration, the first great Marlins sell-off was a dramatic moment in baseball due to its timing. On Oct. 26, 1997 – in just the fifth season of the team's existence – the Marlins won the World Series.
Yet even before victory, speculation was mounting about an expected offseason of salary dumps.
"Tonight, the champagne," wrote columnist Jayson Stark prior to Game 6. "Tomorrow, the fire sale?"
Two weeks later, Moises Alou was dealt to the Astros, formally opening the floodgates.
"It's not what you prefer to be doing, but we understand the situation," an understated Dombrowski explained.
The "situation" behind the original fire sale was – as it apparently is in 2017 – due to financial concerns. Loading up in the previous offseason in order to build a winning team, Marlins owner Wayne Huizenga signed $89 million in contracts, bringing the team payroll into the league's top-10 for the 1997 season.
Aware that his financial push had consequences, Huizenga claimed $34 million in losses and put the team up for sale in June (future Red Sox owner John Henry would eventually buy them in 1998). He openly petitioned for a publicly-financed new stadium.
"If the politicians don't want to build a new stadium, who in their right mind would continue to lose $34 million a year?" asked Huizenga. Or, as economist Andrew Zimbalist put it in a New York Times article a year later, "Huizenga's Marlins were even more profitable losing in 1998 than they were winning in 1997."
For Dombrowski, who painstakingly built the Marlins from an expansion team into World Series winners, the prospect of tearing down his creation left a lasting scar.
"I never thought of the 1998 Marlins as a defending world champion club," he bluntly told ESPN's Scott Lauber earlier in 2017.
By opening day in 1998, the Marlins were minus 12 players from a team that only six months earlier had won a championship. More would soon go out the door, including Charles Johnson and Gary Sheffield.
The seeds for a second World Series, won in 2003, were planted in the prospects gathered from trades (though maybe not as directly as first appeared). And subsequent Marlins fire sales have followed a similar script, with 2017 being only the most recent. It's been labeled a cynical model for running a baseball team, though it's nothing if not familiar by now.
Still, the boom-bust nature of Marlins baseball periodically jolts the rest of the league with its overt financial motivations. But if there's one person who understands the salary dumps without surprise, it's the original author, Dave Dombrowski.