Red Sox
Red Sox' Steven Wright has domestic assault case retired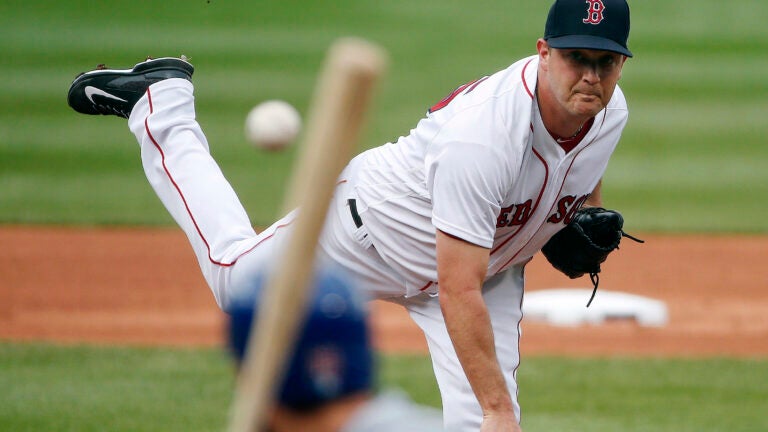 BOSTON (AP) — A domestic assault case involving Red Sox pitcher Steven Wright has been retired for one year, according to a Boston Herald report.
Citing a court clerk, the newspaper reported the case was retired Thursday by the Williamson County Courthouse in Tennessee. Wright was initially due in court this week following an arrest on Dec. 8, the Herald said.
According to the law firm representing him, a retirement is the first step toward a dismissal, and Wright's case can be dropped if no additional offenses occur within the next 12 months, the Herald reported.
A spokesman for Major League Baseball told the Herald that MLB is investigating on its own and there is no timetable for a resolution.
In accordance with baseball's domestic violence policy, Wright could be disciplined regardless of the outcome of his criminal case.
Wright and his wife, Shannon, released a joint statement through his law firm saying they are "pleased" the case was retired and they "were able to resolve this matter quickly," the Herald reported.
"We regret the attention this has caused our family, the Red Sox, and Major League Baseball. We remain committed to working together to improve our relationship," the statement said.
Statement from Steven Wright and his wife Shannon says that his domestic assault case is in "the first phase toward a dismissal, which will come in twelve months, assuming no other offenses occur in the meantime." pic.twitter.com/74SK6v5yDv

— Evan Drellich (@EvanDrellich) December 21, 2017
One of the few knuckleballers in the majors, Wright was an All-Star in 2016 when he went 13-6 with a 3.33 ERA in 24 starts for Boston.
He was 1-3 with an 8.25 ERA in five starts this year, missing most of the season following left knee surgery. The 33-year-old right-hander is eligible for salary arbitration this winter.
Wright was arrested after an argument with his wife this month. He was charged with domestic assault and preventing a 911 call, both misdemeanors in Tennessee, and released on a $2,500 bond, according to the Herald.
His lawyer, Alex Little, initially released a statement from the Wright family saying he "did not raise his hands at anyone during the incident, and the situation was purely emotional," the Herald reported.
The Red Sox have repeatedly declined to comment, the newspaper said, deferring to MLB.