Red Sox
Chad Finn: I doubt the Red Sox are in on Yu Darvish, but I wish they were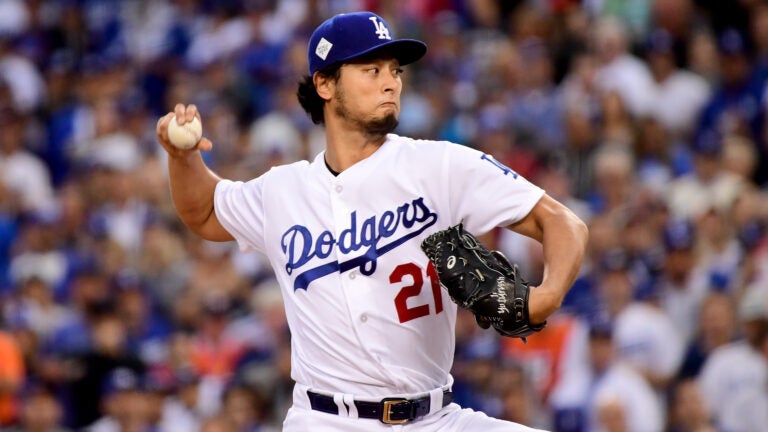 Yu Darvish, one of the premier strikeout pitchers in baseball history, remains a free agent in this winter when the hot stove is in desperate need of a spark.
According to a report in the Fort Worth Star-Telegram Wednesday, five teams are in contention for the 31-year-old righthander's services: The Yankees (of course), Astros (reigning champs), Cubs (champs once removed), Rangers (his former team), and Twins (what?).
On Twitter, Darvish offered his own addendum to the report, saying that "one more team is in.'' Maybe he's playing the Mystery Team game to try to drive up the rates, or perhaps he does have a half-dozen genuine suitors.
I know this much: If there is a sixth team, I hope it is the Red Sox. And I seriously doubt it is.
Current circumstances on Yawkey Way don't allow for it, which is too bad. Darvish has come back from Tommy John surgery that cost him the 2015 season to be essentially what he was before his elbow gained a scar: One of the most electric and enjoyable pitchers in baseball.
Yeah, he was lousy for the Dodgers in the World Series last year (8 runs in 3.1 innings over two starts) after a July 31 trade from the Rangers, with whom he'd been with since coming stateside in 2012. That's what happens when you're tipping your pitches to vicious lineup like the Astros'.
It's not a concern. Because when Darvish manages to avoid telegraphing his killer slider, he is a genuine front-of-the-rotation menace to opposing lineups. His career similarities are somewhat underwhelming because he didn't come over from Japan until he was 25, but his top comp through age 30 still manages to be two-time Cy Young Award winner Corey Kluber.
How good is Darvish's stuff? He's struck out 1,021 batters in 832.1 innings, a strikeout rate of 11.0 per 9 innings. If Darvish can maintain that rate until he hits the 1,000-inning threshold required to officially rank on baseball-reference.com's all-time leaderboard, it will be the highest K/9 in baseball history.
The current top five? Randy Johnson (10.61), Chris Sale (10.55), Stephen Strasburg (10.54), Kerry Wood (10.31), and Max Scherzer (10.20). Pedro Martinez is sixth (10.04). Nolan Ryan is ninth (9.55). Sandy Koufax is 12th (9.28). Pretty good company, right? And Darvish already owns the highest strikeout rate in history (29.7 percent) among pitchers who have thrown at least 500 innings.
That's someone I think we'd all enjoy watching pitch for the Red Sox every fifth day. Unfortunately the team's current salary and roster structure does not appear to allow for any chance that daydream could become reality.
The Red Sox are paying David Price $30 million this year and another $128 million beyond that if he doesn't opt out of his contract following the upcoming season. He has not been the ace. Chris Sale has, but he is woefully underpaid ($12.5 million this year) for what he provides, and that bill is coming due soon.
I suspect the Red Sox are currently underrating the strength of their starting rotation. Sale is magnificent, but Price's most enduring on-field moments in his two seasons here came as a relief pitcher in the first round of the playoffs. What is he going to be going forward?
Rick Porcello has a 101 career adjusted ERA, meaning he is one percent above league average in that time. Take out his outlier 2016 season – heck, call it a fluke – when he won the AL Cy Young Award, and he's this decade's Matt Clement.
Drew Pomeranz was Bruce Hurst-like in '17, but given his injury history, can he be trusted to do it again? The Red Sox need him to. Eduardo Rodriguez is a tease. Steven Wright is a knuckleballer with baggage.
The Red Sox are paying Price and Porcello very well, and Sale is as worthy of a nine-figure deal as any lefty east of Los Angeles. Darvish is going to get his own nine-figure deal in a matter of weeks if not days. The Red Sox simply cannot commit that much money to the rotation, as much as he would help.
Besides, even if you're wary as I am of their rotation beyond Sale, it's indisputable that the Red Sox' greater need is for a middle-of-the-order hitter. They're apparently stuck in a stalemate with J.D. Martinez, who slugged 45 home runs for the Diamondbacks and Tigers this past season. He wants more than five years. The Red Sox have offered five years. Now we wait and wait and wait for someone to blink.
While the Red Sox are trying to get the player they need most without meeting the player's steepest demands – a wise strategy right up until he signs elsewhere – one can't help but wonder if their chief rival is about to get even better in the interim. The Yankees have already added slugger Giancarlo Stanton to a roster that won 91 games last year, two fewer than the AL East champion Red Sox.
Now they're apparently circling Darvish. Michael Kay, the Yankees television play-by-play voice, said on his radio show Thursday that the Yankees had offered Darvish a seven-year deal for $160 million, but that the offer was pulled after it was not accepted within a 48-hour window.
Darvish refuted that the offer was made, but you know how these things go. Yankees general manager Brian Cashman acknowledged on Kay's show that they have been in contact. The Yankees usually brandish enough cash to get who they want.
The Red Sox? In a perfect world, they'd be the mystery team in this, with a real shot at adding one of the most compelling pitchers in the game. But right now, there's no mystery at all. Darvish would be an excellent fit on a better-constructed roster and payroll. Martinez remains a necessary one.