Red Sox
Brad Stevens showed up at Red Sox spring training
The Celtics coach seems to be making the most of a few days off.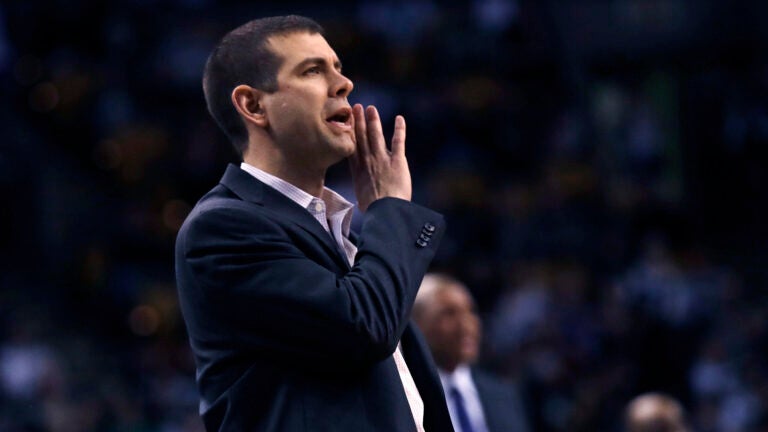 Brad Stevens is making the most of the NBA's midseason All-Star break.
Wearing a cap, shades, and polo shirt, the Celtics coach made a surprise appearance Monday at Red Sox spring training in Fort Myers, as the team held its first full-squad practice. Stevens explained to WEEI that his mother lives in the area, so his family decided to visit during the Celtics' week of downtime.
And what better way to spend a Monday morning than taking his son over to JetBlue Park?
"I came over a little bit early, and they were nice enough to show us around," Stevens told WEEI. "It's great for my son. It was a really cool experience for him, and it's always fun for me. I mean I loved baseball growing up. Not as much as I liked basketball. But I'm a baseball fan, and it's been fun following the Red Sox."
Brad Stevens says he's down on vacation visiting his mother. Did sit down and talk with Cora for about 20 min pic.twitter.com/3iUF78yHre

— Rob Bradford (@bradfo) February 19, 2018
The Celtics, who last played Wednesday, don't play again until Friday's game in Detroit.
In addition to taking in batting practice and fielding drills, Stevens toured the facilities and met the team's new manager, Alex Cora, who got the stamp of approval from his fellow coach.
"It's exactly what was advertised," Stevens told WEEI. "You can tell he's extremely down to Earth. He's got a great way about him. Just being around the players and being in that locker room, there's a great vibe."
The Boston Herald reported that Cora persuaded Stevens to give the team a five-minute pep talk.
"He shared a couple of stories about when he was younger and he played baseball. Just to go out and play, enjoy it," right-fielder Mookie Betts told the Herald.
Alex Cora on Brad Stevens' visit to #RedSox camp: "When it's the first day, everybody has that extra hop, everybody's energized. He wanted to come down here, not only to hang out with us and be part of it, but to have that feeling again. Hopefully it helps out." pic.twitter.com/nKk2TNIUiI

— Scott Lauber (@ScottLauber) February 19, 2018
Stevens also caught up with the NBC Sports Boston crew to joke about former Celtics player-turned-commentator Brian Scalabrine.
Camera Guys Moose and Glenn at it again. This time with @celtics coach Brad Stevens talking about @Scalabrine ? pic.twitter.com/pWPXLIY4Gi

— Celtics on NBC Sports Boston (@NBCSCeltics) February 19, 2018
Stevens seems to be making a habit for showing support for other local teams. The coach made a similar, unannounced appearance at Patriots training camp last summer and has lavished praise on coach Bill Belichick.