Red Sox
Morning sports update: How the Red Sox lineup looks with the inclusion of J.D. Martinez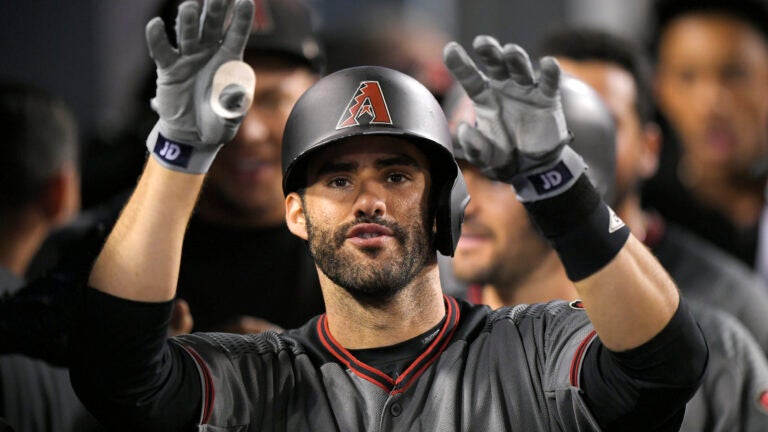 The Bruins found a 2-1 victory in overtime against the Flames on Monday night, while the Celtics enjoy their remaining time off during the All-Star break.
Here's a look at a few other stories:
What the Red Sox lineup now looks like with the addition of J.D. Martinez:
So now #RedSox will look something like this:

Betts RF
Benintendi LF
Bogaerts SS
Martinez DH
Ramirez/Moreland 1B
Devers 3B
Nunez 2B (until Pedroia returns)
Bradley CF
Vazquez C

— Pete Abraham (@PeteAbe) February 19, 2018
Red Sox add J.D. Martinez to a team they already loved: The Red Sox' signing of slugger J.D. Martinez makes them a theoretically more potent team than the one that won 93 games and the A.L. East a season ago. Of course, in a division that includes an upgraded "muscle-bound Yankees" roster, things might be a little more complicated. (Boston Globe)
USA men's hockey advances to quarterfinals: USA men's hockey advanced to an Olympic quarterfinals matchup with the Czech Republic thanks to a 5-1 win over Slovakia. Garret Roe's third period goal highlighted a quality team performance:
What a goal by @TeamUSA!

The fight from Brian O'Neill. The dish to Broc Little. Garrett Roe finishes to put the @usahockey men up 4-1! #WinterOlympics https://t.co/g0eF7oJMvJ pic.twitter.com/dCKVxjHK0p

— NBC Olympics (@NBCOlympics) February 20, 2018
Kevin McHale's conversation with Larry Bird is a worthwhile trip down memory lane: Two Celtics legends recently sat down for NBA TV's Players Only conversation. The interview between Kevin McHale and Larry Bird was informal, and a must-watch for fans of Boston basketball. (Boston.com)
What Red Sox spring training was like 100 years ago: The 1918 Red Sox won the World Series. A century later, the 2018 Red Sox will be looking to do the same. Here's a look at how things were for Boston's team in spring training when there was no artisan gelato being served at "Fenway South." (Boston.com)
Assessing the Patriots' priorities at linebacker: The 2017 Patriots made the most of their abilities at linebacker, despite enduring crucial injuries to players like Donta' Hightower. Heading into the offseason, the team has a number of questions at linebacker, and several possibilities for improvement. (NESN)
Patriots unlikely to use franchise tag in 2018 offseason: Tuesday is the first day that NFL teams can apply the franchise or transition tag. According to ESPN's Mike Reiss, the Patriots are unlikely or unable to apply a tag to any of their possible free agents.
The Patriots haven't used the tool since 2015, when kicker Stephen Gostkowski eventually signed an extension. The last Patriot to play out the season on a franchise tag was Wes Welker in 2012, who left as a free agent. (ESPN)
Daily highlight: Manchester City's bid to win four major trophies in a single season was ended by an unlikely loss to Wigan Athletic in the F.A. Cup on Monday. Will Grigg scored for the third division side in a 1-0 win:
https://twitter.com/TimesSport/status/965702924730077184