Red Sox
What Red Sox reporters are saying about the J.D. Martinez signing
"For as perfect a marriage as this is on paper, though, there's still plenty to figure out to make it a truly harmonious coupling."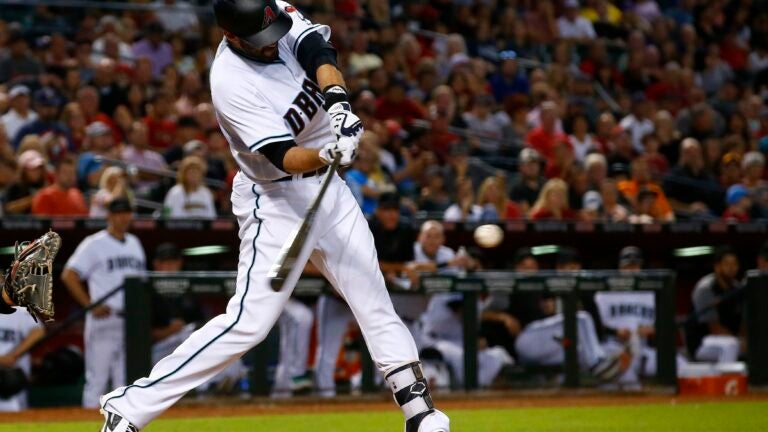 The Red Sox and J.D. Martinez reportedly agreed to terms Wednesday on a deal that will pay the 30-year-old slugger $110 million over five years, with opt-out clauses after the second and third years.
Martinez, who hit 45 home runs in 2017, will be a welcome addition to a Boston lineup that finished the season with the second-lowest slugging percentage in the MLB.
Here's what the national media and Sox beat writers are saying about Dave Dombrowski's big splash:
On how Martinez fits into the Red Sox lineup
Jason Mastrodonato and Michael Silverman, Boston Herald
New manager Alex Cora has said he wants Mookie Betts to hit leadoff and Andrew Benintendi to hit second, leaving the 3-hole wide open for Martinez to provide some lineup protection for the two young outfielders after the Sox finished last in the American League with just 168 homers last year.
Jon Tayler, Sports Illustrated
For as perfect a marriage as this is on paper, though, there's still plenty to figure out to make it a truly harmonious coupling. There's the presence of Ramirez, who was set to be the regular DH because of his poor defense at first base. Boston will have to see if a Ramirez/Moreland platoon at first makes sense, or if rotating Martinez into the outfield—the position he'd prefer to play—every now and then to give Ramirez time at DH isn't too much of a disaster.
Martinez has been a corner outfielder in his career but projects to be the designated hitter for the Red Sox as it stands. Where that leaves Hanley Ramirez is uncertain. The righthanded-hitting Ramirez could platoon at first base with Mitch Moreland and get occasional starts at DH on days Martinez plays the outfield. The other alternative would be to trade Ramirez. If Ramirez remains on the roster, his playing time could become a thorny issue for rookie manager Alex Cora. Ramirez needs 497 plate appearances to trigger a $22 million option for 2019. Of far greater importance is that the Red Sox now have a legitimate power hitter in their lineup for the first time since the retirement of David Ortiz after the 2016 season. Martinez should fit neatly into the cleanup spot.
So now #RedSox will look something like this:

Betts RF
Benintendi LF
Bogaerts SS
Martinez DH
Ramirez/Moreland 1B
Devers 3B
Nunez 2B (until Pedroia returns)
Bradley CF
Vazquez C

— Pete Abraham (@PeteAbe) February 19, 2018
Now all that has to be done is figure out whether Martinez will like being a DH, because that's where he'll play predominantly. We suppose there will be times when the Red Sox want to sit a lefthanded-hitting outfielder against tough lefthanded pitching, so Martinez could play left field over Andrew Benintendi if Benintendi moves to center while Jackie Bradley takes a seat. As Martinez mulled over his situation, according to major league sources, he had to get used to the fact that he would no longer be a full-time outfielder. That's always tough for a positional player to accept, but he certainly is aware of the adulation Ortiz received over the years in Boston. He knows that if he does what he did in Arizona, he will be beloved in Boston. Fenway Park is built for a righthanded slugger.
Martinez becomes the everyday DH, which means that Hanley Ramirez has to play first base, which means pine time for good guy Mitch Moreland.
With Martinez, the Red Sox's Opening Day lineup March 28 at Tropicana Field could look like this: Betts, Benintendi, Martinez, Hanley Ramirez/Mitch Moreland, Rafael Devers, Xander Bogaerts, Eduardo Nunez, Christian Vazquez, Jackie Bradley Jr.
On the Red Sox stepping up to match the demands of the Boston market
Given time, Martinez might even emerge as a Stanton-sized draw for a franchise that needs an infusion of star power to increase its market share after falling behind the Patriots and, lately, the Celtics in sports-obsessed Boston.
The sensitive, image-obsessed Red Sox have done right by the fans on this one. They have spent big dough to try to improve the team and bring a championship to Boston. They have provided the fireworks and the buzz we crave. Let the games begin. All of a sudden, the Sox roster and lineup look pretty darned good.
On the reasoning for and potential fallout from Martinez's front-loaded contract
Martinez's contract will be heavily front-loaded, guaranteeing him $50 million in the first two seasons before the first of two opt-out clauses…That kind of arrangement could start to catch on, as a way for players to earn high salaries for the years in which they are likely to perform best. If they continue to play well, they could opt out and hit the open market again. If they stay for the full term, their teams would lower salaries for their declining seasons.
The market for J.D. Martinez appeared to comprise just one team — the Boston Red Sox, who had the means, motive and opportunity to sign the outfielder/DH whom no other team seemed to come close to in terms of offers. That may have contributed to the lengthy stalemate. I think the Red Sox blinked, giving Martinez a five-year, $110 million deal that is certainly too long (the deal includes an opt-out after two years), but does improve their offense in a way no other free agent this year could have, and directly boosts their chances of repeating as division champs. In the short term, Martinez is exactly what the Red Sox need: a power hitter to insert into a lineup that hit the fewest homers of any American League team last year — 168, 18 home runs behind the next lowest total.
Jon Tayler, Sports Illustrated
On Monday evening, reports broke that Boston had signed Martinez to a five-year deal worth $110 million. That figure is complicated somewhat by the presence of two opt-outs—one after year two, the second after year three—and the frontloading of a majority of the money, turning it into a two-year, $50 million guarantee before Martinez can again try his luck on the open market. Whichever numbers you use, though, it's a coup for Dave Dombrowski and the Red Sox, who got their much-needed man at a fraction of what he should have cost.
On the Red Sox' chances in 2018 with Martinez on board
I love the 2018 Sox' chances now…The Sox just became deeper and more threatening. They are coming off a 93-win season and they have their whole team back, PLUS a guy who hit 45 homers last year. How does that not make them the favorites in the American League East?
The Red Sox had been just one player away from being back in the game. The one player's name was J.D. Martinez. And now he belongs to the Sox, even if, and let's get this right out the way, he's not David Ortiz. But Martinez is definitely an Ortiz-type, and that's what the Red Sox are going to need to contend with Aaron Judge, Giancarlo Stanton and the rest of the Bronx Bombers. But we all know what this team needed, and now they have it. They needed a bopper, a presence. They needed a masher who could take pressure off Mookie Betts, Xander Bogaerts, Andrew Benintendi and others, and that's what they have.
But don't presume the Red Sox are settling for Martinez because they were unable to get Giancarlo Stanton to waive his no-trade clause or produce the upper-level pitching prospects the Baltimore Orioles want in exchange for Manny Machado. Martinez might not look as powerful as Stanton or be as recognizable, at least to casual fans, as Machado. But if you don't think he's every bit as fearsome a slugger — and maybe even a better pure hitter — than those two, well, you haven't been paying attention.
Watch: Hanley Ramirez on J.D. Martinez