Red Sox
The rivalry with the Yankees is back, but the Red Sox have the edge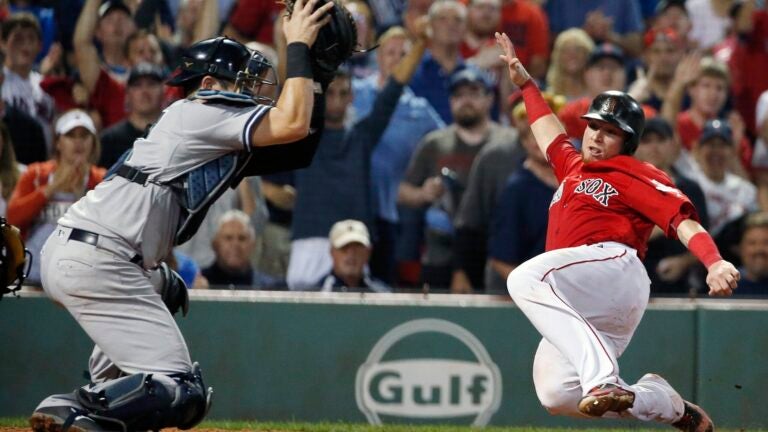 As the presence in my personal library of "Psychoanalysis'' by the great American wordsmith Steve Lyons confirms, I'll buy or accept pretty much any baseball book. I even read most of them. "Psychonalysis'' was actually entertaining in a haphazard way, sort of like Lyons's playing career that brought him to the Red Sox four times. Don't judge me.
So I was interested to discover Tuesday, via excerpt on TheAthletic.com, that Bryan Hoch has a new book coming out on the Yankees, the team he covers insightfully for MLB.com. The excerpt, on Aaron Judge's experiences at the 2017 Home Run Derby, where new Yankee Giancarlo Stanton also hit some baseballs very far, was compelling. I'm an easy sell, sure, but it sold me, and I bet "The Baby Bombers'' sells plenty of copies.
I look forward to peeking behind the scenes of the Red Sox' rival and reading "The Baby Bombers'' cover to cover. It's just that I'm not sure about the cover – specifically, the subtitle it carries: "The Inside Story of the Next Yankee Dynasty.''
Come again? We're counting dynasties before they've hatched now? We're doing this?
I recognize the Yankees have an abundance of talent – Judge and Stanton doing their Ortiz/Ramirez longball routine, a fierce young ace in Luis Severino, a premiere prospect in Gleyber Torres, and more. They should be an excellent team this year, maybe even a World Series contender if everything falls right and the Astros' championship hangover lingers.
But as Red Sox fans learned annually from 1919 through 2003, the road to a single championship is often marked by unexpected detours. Even the Yankees, winners of 27 World Series, should know this. Just one of those championships has been won this century despite spending $403.7 gazillion on payroll since 2000 (rough estimate).
Know why I really can't get on board with the premature proclamation of the next Yankees dynasty? Because the two-time defending American League East champion Red Sox are still better and will remain that way for the foreseeable future.
Before we get to the differences – and the Red Sox' advantages — let's acknowledge the various similarities with the teams. It's downright weird that the two big-spending, perennial playoff contenders haven't met in the postseason since the universe-altering 2004 ALCS. But in recent years they have ascended and descended the AL East standings on different escalators. Now they're at roughly the same level of expectation.
Both teams have replaced successful but outwardly rigid old-school managers with communicative recent ex-players in Alex Cora and Aaron Boone.
Both acquired a prolific masher for the middle of the order, with J.D. Martinez and Stanton finishing third and fifth in the majors in OPS last season.
Both have bullpens that feature hard-throwers and closers – Craig Kimbrel and Aroldis Chapman — with cruel stuff.
Both have center fielders with fly-trap gloves and capable but maddening offensive inconsistency. Jackie Bradley's most similar player through age 25 was Aaron Hicks. Entering their age-28 seasons, they remain similar in their uneven deployment of their skill.
As excellent as Severino was last year (230 strikeouts, 5.3 bWAR), he is not Chris Sale (308 strikeouts, 6.0 bWAR despite a late fade that probably cost him the Cy Young award).
David Price can exasperate, and his salary might as well be in big carmine numbers on the back of his jersey, but he was outstanding down the stretch and in the postseason last year; he's a better bet to excel this year than the Yankees' Masahiro Tanaka, who had a 4.76 ERA in '17 and always seems on the verge of adding a scar to his elbow.
Drew Pomeranz (17-6, 3.32 ERA last year) delivered a season that belongs on Bruce Hurst or Jon Lester's ledger. With good health, that is a heck of a big three, and the fourth starter, Rick Porcello, was the 2016 Cy Young Award winner.
The Yankees feature a more fearsome heart of the order. But Martinez gives the Red Sox exactly what they were missing in the first post-David Ortiz season – a genuine force to anchor the lineup. With Martinez slotted in right where he belongs, the Red Sox now have more lineup depth than the Yankees.
They have some hitters reasonably due for bounce-back years (Xander Bogaerts, even Mookie Betts, the most complete player on either team) and others for outright breakouts (Andrew Benintendi is going to win a batting title sooner rather than later).
The Yankees, meanwhile, have a few players coming off career years – Stanton among them. If you believe Brett Gardner and Didi Gregorius are going to combine for 46 homers again, I've got some Hensley Meulens rookie cards to sell you.
Prospects? The Yankees will tout Torres, Baseball America's No. 6 prospect, as one of the best young players in the game. But he is yet to dig in to a big-league batter's box, whereas Rafael Devers – the Red Sox' 21-year-old third base phenom – has already succeeded in the majors, walloping 10 homers in 224 at-bats last year to culminate his rapid rise through the farm system. Give me the hot prospect that has shown up and delivered over the hot prospect yet to arrive.
Of course, the Yankees have their advantages, too. I probably have to admit that Judge, who went cold with a .680 OPS in August only to reignite with a 1.320 OPS in September, is not the second coming of Kevin Maas. (Greg Bird, however, might be.)
Catcher Gary Sanchez – 33 homers last year and 53 in 177 career games – would be the most feared slugger in most lineups, but pitchers can practically exhale when getting to him after navigating Stanton and Judge. The Yankees also have more power than the Red Sox in the hard-throwing arms of their bullpen.
The Yankees have a lot going for them. Just not quite as much as the Red Sox. This is no time to anticipate a dynasty, for either side. What we should be anticipating is the overdue possibility of an October Red Sox-Yankees showdown for the first time since everything changed 14 years ago. Whatever the outcome there, you know it will be worthy of a book.