Red Sox
Red Sox wear #LydiaStrong shirts to support Craig Kimbrel's hospitalized daughter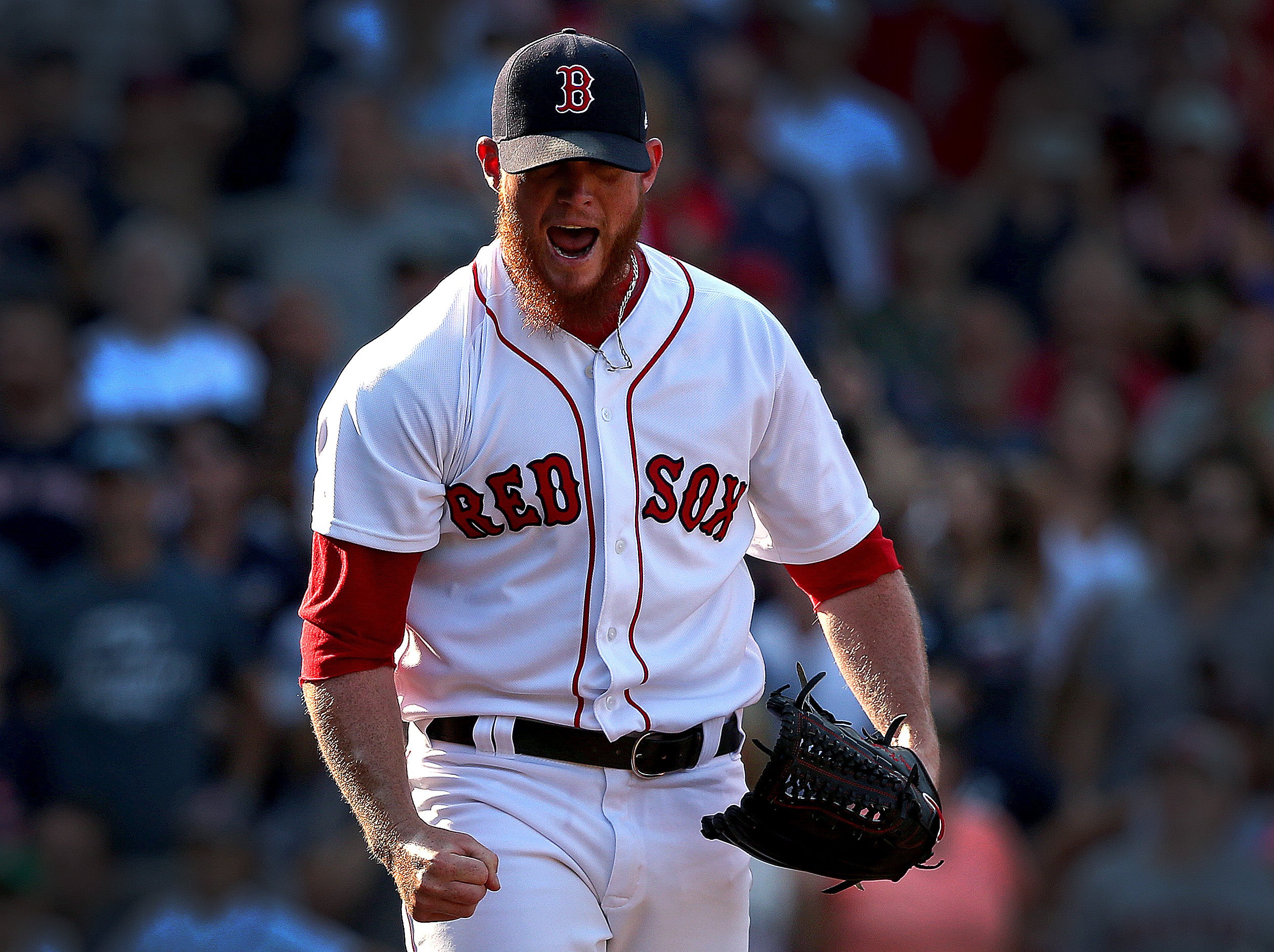 FORT MYERS, Fla. — Lydia Joy Kimbrel, only four months old, is at Boston Children's Hospital recovering from what is already the third heart surgery of her life. Her parents, Ashley and Craig, have been at the hospital every day for what is now nearly two weeks.
On Sunday, the Red Sox let the family know they remain very much in their thoughts. Before the game against Baltimore, every player and coach wore a red T-shirt that read, "We are #LydiaStrong,'' across the front in white letters. Robby Scott came up with the idea and had enough shirts made for everybody. Manager Alex Cora immediately approved.
"Big fan of Lydia,'' Cora said. "She's a fighter. We keep praying, and our thoughts are with the Kimbrel family.''
Craig Kimbrel left camp Feb. 28 to be with his family. He has been working out in Boston when possible and staying in touch with the team.
"As a father, it's something that you think about, and it's like, wow, he's going through this,'' said Cora, who has four children. "But I think he has the support not only of this organization but of the fans. Everybody is pulling for her, and they're going to be fine. She's part of the family.
"We need to take care of each other, and we're doing that.''
Lydia was born Nov. 3 with a congenital heart condition and had her first surgery four days later. There was a second procedure in December.
Cora spoke to Kimbrel a few days ago. Lydia is doing better, but it's uncertain when Kimbrel will return to camp.
"We talked for like 25 minutes, and I think I was the Red Sox manager for five of them,'' Cora said. "It's not easy. But we're here for them.''
Kimbrel has been able to continue a throwing program indoors, and the Sox believe he is not too far off schedule.
"If that's not the case, I understand . . . we understand,'' Cora said. "But he's working. The other day he threw a bullpen. I think he hit 94 [miles per hour] that day.''
Roster trimmed
For his first time as a manager, Cora made some cuts.
Lefthanders Jalen Beeks and Williams Jerez were optioned to Triple A Pawtucket, along with righthanders Ty Buttrey and Chandler Shepherd.
Outfielder Jeremy Barfield, infielder Michael Chavis, righthander Kyle Martin, infielder Esteban Quiroz, catcher Austin Rei, and righthander Fernando Rodriguez were reassigned to minor league camp.
The Sox now have 45 players in camp.
"I had flashbacks when I got cut,'' Cora said. "That was a learning experience.''
It was a tough 24 hours for Beeks.
He made an unexpected start against the Twins on Saturday, when the Sox changed their rotation because of rain. Beeks didn't get an out and was charged with seven runs. Then he was demoted.
Cora believes Beeks will pitch in the majors at some point given his ability to change speeds and willingness to pitch inside.
"Everything that happened [Saturday], he kept fighting,'' Cora said. "I was very pleased with what I saw throughout camp.''
Porcello's progress
Rick Porcello allowed two runs on four hits in the first inning Sunday against the Orioles, in part because the infield missed a chance to turn a double play. He then retired seven in a row after regaining command of his fastball.
Porcello nearly escaped further damage but allowed a two-run single by Alex Presley with two outs in the fourth. The ball wasn't hit well, but it left Porcello charged with four runs on seven hits over four innings.
"Got to get better in the first inning for sure,'' Porcello said. "Other than that, the rest of the game felt pretty good.''
Porcello had a 6.55 earned run average in the first inning last season and is working to correct that.
"I attribute a lot of what happened a year ago to failure to command the ball,'' he said. "Even at this point in the spring, and the line I gave up today, I commanded the ball much better than I did at a lot of different points last year.''
Pitchers lined up
Hector Velazquez will start Monday against the Blue Jays on Monday. The team is off Tuesday, but Brian Johnson will stay on turn by pitching in a minor league scrimmage. Chris Sale starts Wednesday, with David Price on Thursday, then Porcello on Friday. The rotation to start the season could well be Sale, Price, Porcello, Velazquez, and Johnson . . . Drew Pomeranz is back on a throwing program after straining his flexor tendon March 2 but has not yet been cleared to start. Pomeranz is lined up to throw live batting practice later this week. "It's a day-by-day thing with him,'' Cora said . . . Andrew Benintendi, Rusney Castillo, Rafael Devers, Deven Marrero, Blake Swihart, Sam Travis, and Christian Vazquez are among the players on the travel roster for Monday's game in Dunedin.