Red Sox
Christian Vazquez, Red Sox reach deal through 2021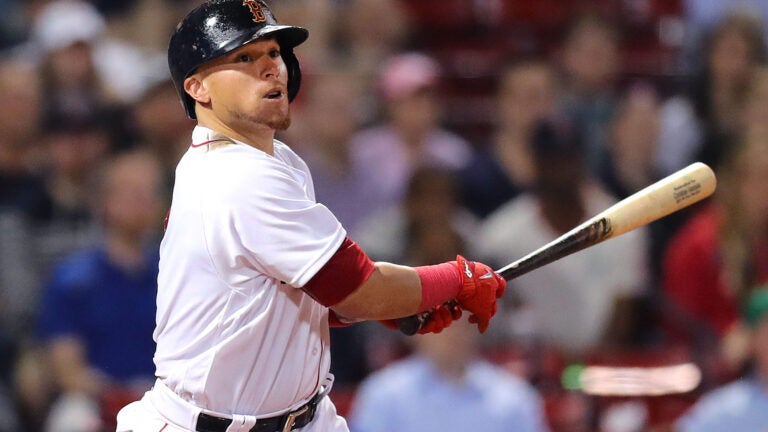 FORT MYERS, Fla. (AP) — Catcher Christian Vazquez and the Boston Red Sox have reached agreement on a new contract that takes him through the 2021 season.
The deal announced Saturday includes a team option for 2022. Media reports said Vazquez, who had been signed for 2018, was assured more than $13 million with the three extra guaranteed years.
The Red Sox have long regarded the 27-year-old Vazquez, a ninth-round draft pick in 2008, as their catcher of the future.
Strong behind the plate, he has thrown out 42 percent (42 of 100) of would-be basestealers in 211 major league games. That's the best rate among catchers with at least 200 games in the last 30 years.
"I feel awesome here in Boston," Vazquez said. "It's a great team, a great staff. I came (up through) the minor leagues here and it feels like a family here so it feels good."
Vazquez hit .290 with five home runs and 32 RBIs last season, starting 85 times at catcher.
Vazquez made his major league debut in 2014, impressing the Red Sox with his strong arm. He missed the 2015 season after having Tommy John surgery.
"This is a kid that he's worked hard at it," manager Alex Cora said. "I know him from back home (in Puerto Rico) and, all sentiments apart, I think this is great. This is a guy that he can catch . I think he's a good hitter."
Vazquez, a right-handed hitter, will split time behind the plate with Sandy Leon, a switch-hitter.
"I still feel that on a daily basis we're going to make decisions based on matchups and how they fit in the lineup," Cora said.
Red Sox ace Chris Sale applauded the move.
"That's huge," Sale said. "He's a younger guy, too, so having him around, he's been around a while, around here a while, so we all love him. Well worth it. He earned it, every last penny of it."