Red Sox
Theo Epstein on leaving the Red Sox for the Cubs: 'Happy to say it worked out well for everybody'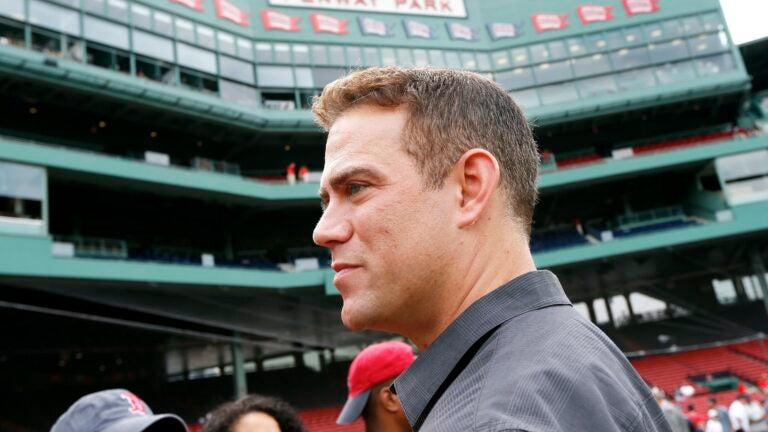 The championship droughts for the Boston Red Sox and the Chicago Cubs lasted a combined 194 years before Theo Epstein came along. The World Series wins he delivered both cities were enough to earn the Chicago Cubs president the top spot on Fortune magazine's 2017 World Greatest Leaders list, as well as Alex Cora's respect.
"I think he's the most powerful man in the world, or something like that?" Cora joked.
Epstein brought the current Red Sox manager to Boston as a player in 2005, and according to The Boston Globe's Nick Cafardo, identified him as managerial material early.
"[Cora's] just got great feel for people and for the game," Epstein said. "It's genuine. He's a genuine sort of non-stop curiosity about the game of baseball. Conviction in his opinions, but he's open-minded. If he respects somebody, he's willing to talk baseball and grow. And then his feel for people, as I said, he's very convicted and can even be stubborn at times, but it doesn't come off that way because he treats everyone so well and just has a natural sense of how to treat people and interact and empower the other person."
Epstein spoke to reporters Monday at JetBlue Park ahead of the Cubs spring training game against Cora's Sox on Tuesday. Cora, who played for 3.5 seasons under the general manager in Boston, said that if it weren't for Epstein's decision to bring him to Fenway, "I might not be where I am today."
Today, Cora has players at his disposable that date back to the Epstein era in Boston. In the 2011 draft, Epstein's last with the Sox, the team selected Mookie Betts, Jackie Bradley Jr., and Blake Swihart, among others.
"I didn't anticipate Mookie being second in the MVP voting and one of the best players in the game, but he's gotten the most out of his ability," Epstein said, noting that he still keeps tabs on his former picks.
The 44-year-old franchise architect talked about the importance of gleaning insights from creative scouting and confidential analytics. He added that to implement the advanced data, teams need fluid communication between the front office and the field, as well as chemistry between the human beings who actually play the game. Both the Cubs, who won the World Series in 2016 with a young core (Kris Bryant, Anthony Rizzo, Addison Russell, etc.), and the Red Sox, coming off a second straight AL East title, would appear to have followed his plan.
"Time flies. Things move on without ya," Epstein said. "Happy to say it worked out well for everybody. Both franchises are in a good place. Everybody is excited about the young nucleus in place in Boston. They are one of the best teams in the American League. We have one title and we're in the middle of a competitive window."