Red Sox
Red Sox reliever Joe Kelly calls his Opening Day effort 'pathetic'
Kelly and Carson Smith combined to give up six runs in the eighth inning.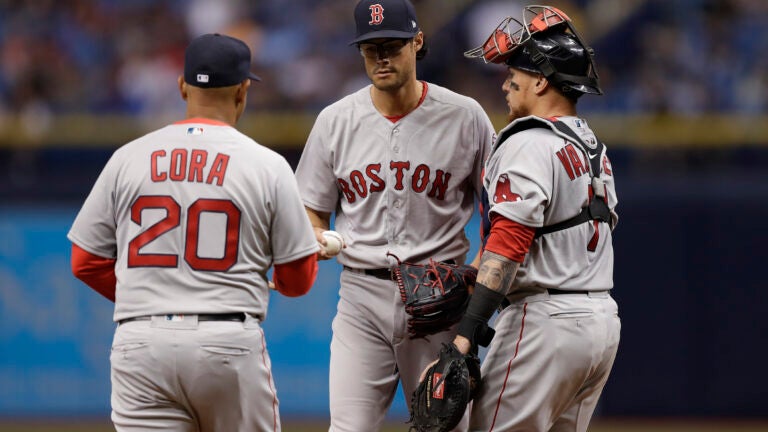 The Red Sox were cruising through seven-and-a-half innings against the Rays on Opening Day at Tropicana Field. Then, with Chris Sale out of the game, things fell apart.
Leading 4-0 in the bottom of the eighth, Boston relievers Joe Kelly and Carson Smith combined to allow six runs in the inning.
Kelly was unsparing in his self-analysis afterward, calling his effort "pretty pathetic."
Kelly: "It was pretty pathetic what I did out there. You can't do that."

— Sean McAdam (@Sean_McAdam) March 29, 2018
Kelly began the eighth by giving up a leadoff walk, followed by a strikeout. He then surrendered an RBI double to Matt Duffy. From there, Kelly walked the next two batters to load the bases.
New Red Sox manager Alex Cora then called for Smith, who walked in a run, making it 4-2.
After a strikeout to the next hitter, Smith had a chance to get out of the inning with the Sox still leading, but gave up a bases-clearing triple to Denard Span, and the Rays took a 5-4 lead. An Adeiny Hechavarria infield single added another run, and that's how it ended, 6-4.
The 2017 Red Sox never endured a collapse like this one:
The Red Sox never lost a game all last year when they took a lead larger than 2 runs. They've just made a 4-0 lead disappear in the 8th, behind Joe Kelly and Carson Smith.

So how's Alex Cora enjoying this manager gig so far?

— Jayson Stark (@jaysonst) March 29, 2018
Cora offered an explanation as to why Red Sox closer Craig Kimbrel wasn't called into the game during the eighth inning:
Alex Cora said decision before the game was a clean inning for Kimbrel. Said bringing him in for the eighth he would have to bring him back out for ninth.

— Evan Drellich (@EvanDrellich) March 29, 2018
The Red Sox resume their series with the Rays in Tampa on Friday at 7:10 p.m.