Red Sox
This Hanley Ramirez is just what the Red Sox needed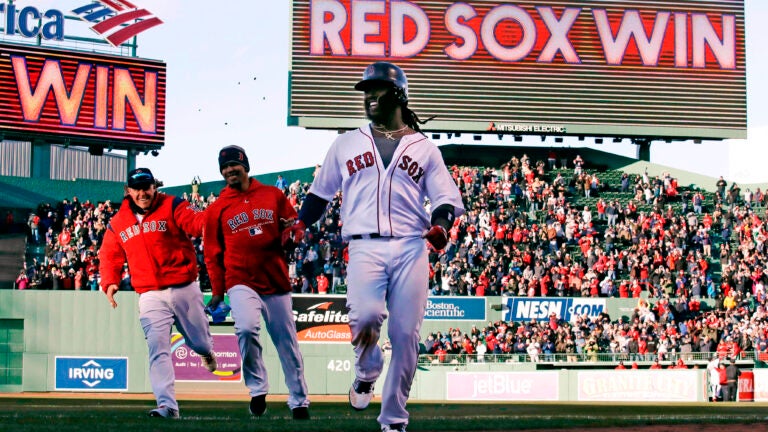 The easy comparison for Hanley Ramirez is Manny Ramirez. Sometimes it's even a favorable one.
Even at his best, of course, Hanley is a tier or two below Manny as a hitter, and there's no shame in that. Virtually all mortals are. But he has the shared surname, and a similar hairstyle, and the don't-worry-about-a-thing personality when his mood is sunny, and the rare sweet righthanded home-run swing.
He's also too often absent-minded, and sometimes absent from the lineup for curious reasons when the team sure could use him. It's easy to forget how dynamic and fun he can be when he's locked in and engaged, because too much time is spent tapping your toes, sighing, waiting for him to get to that point.
The aggravating side of dealing with an enigma makes it easy to overlook the good times. You're always anticipating the next curious injury, the next mistake of indifference, the next downturn. It's hard to root for an enigma.
So it should be noted that one of the satisfying subplots of the 2018 Red Sox – winners of six in a row now after Thursday's 3-2, 12-inning victory over the Rays in Fenway's opener – is Ramirez's excellence. He sent everyone home – or at least indoors to relative warmth – with a rocketed walk-off, bases-loaded single.
It wasn't his first huge clutch hit of the season. He drove in the eventual winning runs in the 13th inning Tuesday, the Red Sox' previous game, to defeat the Marlins.
It wasn't even his only clutch hit of Thursday's game. He drove in the Red Sox' first run in the ninth inning off Rays closer Alex Colome as they rallied from a 2-0 deficit. Other than David Price's apparent return to ace form, Ramirez's fast start has been the best thing about the Red Sox' fast start.
It's funny, though. Comparing the Ramirezes is easy and obvious. But it has seemed since the beginning of last season, if not further back, that Hanley has desired a comparison to the other iconic slugger of the franchise's glorious early 2000s. I got the sense during the 2016 season that he ached for the approval of David Ortiz, which in part might have been one of the things that fueled him toward a genuinely excellent season (30 home runs, 111 RBIs, .866 OPS, a three-homer game along the way).
When Ortiz walked off into retirement after that season, it seemed like Ramirez tried – a little too hard, and without the necessary on-field results – to act like Ortiz. He was often gregarious and upbeat, and by my unscientific observation, he signed more autographs for kids than anyone other than Brock Holt and Jackie Bradley Jr.
Few who have come through here can match Ortiz's charisma. But Ramirez tried, in a surface kind of way. A natural skeptic had to wonder how authentic it was since he didn't always do what was best for the team (he played just 18 games at first base). Maybe fancying himself as strictly a designated hitter was an unintentional misguided homage to Ortiz.
So it felt appropriate in a way Thursday that Ramirez ended the day with an Ortiz moment – a walkoff hit, followed by the joyous absurdity of sprinting away from teammates trying to douse him with assorted beverages – after the day's festivities began with Ortiz flashing his trademark charm. After seven Olympic athletes threw out the first pitch, Ortiz strutted to the mound to declare "Play Ball!'' with a past New England Olympic athlete, gymnast Aly Raisman. Before completing the assignment, Ortiz tore open his Red Sox jersey to reveal a black Girl Power t-shirt, then engulfed Raisman, a hero in ways so much larger than sports, with a hug. He might be done playing baseball, but he still knows how to deliver a home run.
Ramirez has a chance to be remembered well here, and he doesn't need to go out and get his own Girl Power t-shirt to do it. He just needs to maintain over the long haul what he's done in a small but believable sample so far this season.
He must keep rewarding Alex Cora for batting him in the No. 3 spot, keep treating young fans with kindness, keep lining winning hits into the gaps, keep hitting like the accomplished player (264 homers, .852 career OPS) we sometimes forget that he is. And he cannot let that contract situation – his $22 million option for next year vests if he has 497 plate appearances – interfere with the right frame of mind.
Acting like Ortiz might win Hanley Ramirez some fans. Hitting like a reasonable facsimile of him in big situations will keep them. So far, so good.