Red Sox
Amid Yankees-Red Sox chaos, a moment of base-running chivalry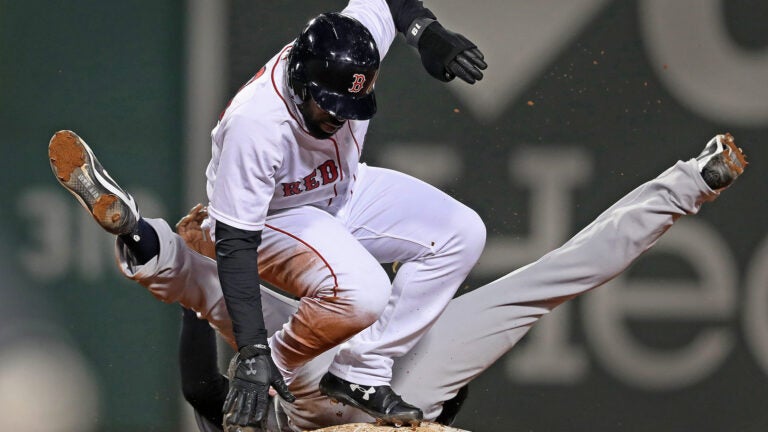 BOSTON — Amid the fisticuffs and the pointed words and gestures between the New York Yankees and Boston Red Sox, there was proof at Fenway Park on Wednesday night that chivalry was not yet dead.
The rogues may have won the day — and the tabloid back pages — when Tyler Austin slid late and wide, Joe Kelly fired high and tight, and a bench-emptying brawl commenced. But there was, lost amid the testiness, some gentlemanly behavior.
In the bottom of the sixth inning, Jackie Bradley Jr. of the Red Sox took off from first toward second on a ground ball, just as Austin had done three innings earlier.
As Yankees shortstop Didi Gregorius prepared to field the throw from first baseman Neil Walker, he lost his balance and fell, his legs splayed wide near the bag. It was a compromising position for a fielder — Gregorius leaving a rather sensitive area exposed with a runner bearing down on second.
If Bradley Jr. had followed Austin's lead, there is no telling the damage he might have wrought. But Bradley Jr. slid early and directly into the bag, and although Gregorius managed to get off a throw to first from the seat of his pants, it was late.
"A lot of people get caught up in their emotions, whether it's the fans, the media, the players and I think they lose a sense of the game itself," Bradley Jr. said Thursday after batting practice.
He continued: "Everybody is out here trying to play the game and make a living for themselves and their families. There's no need for the extra stuff. At the end of the day you don't want anybody hurt. I was just trying to play the game the right way and that was that."
Whether that is indeed that is not certain.
On Thursday night, Hanley Ramirez of the Red Sox was hit on the wrist by a pitch from Sonny Gray, and Giancarlo Stanton of the Yankees was nicked on the arm by Rick Porcello. Although both benches were warned after Ramirez was hit in the first inning — he left the game — neither incident caused a renewal of tensions, and the Red Sox went on to a 6-3 victory.
Just before the game, Major League Baseball suspended Kelly for six games and Austin for five on Thursday, but both players were in uniform after filing appeals. Undisclosed fines were handed down to Red Sox manager Alex Cora, Yankees third-base coach Phil Nevin and a handful of players on the disabled list who entered the field: C.C. Sabathia of the Yankees, and Dustin Pedroia, Marco Hernandez and Xander Bogaerts of the Red Sox.
Neither Cora nor Nevin backed down Thursday from their confrontation the night before, when Cora, from the dugout railing, drew a box with his hand and waved for Nevin to get back in it. The gesture further riled Nevin.
"Out of character for me," Cora said. "But I still didn't like the fact that he was pointing at me and screaming at me."
Nevin called it unprofessional.
"You want to talk about chain of command, though, to tell somebody to go back and get in their little box," Nevin said. "Everybody saw that."
The Yankees' comportment will again be tested in the coming days.
By quirk of the schedule, the Yankees will head back to Detroit on Friday — the first time they have played the Tigers since an episode late last August that made Wednesday night's dust-up seem quaint.
Four batters were hit by pitches that day — including James McCann of the Tigers, who took a 98-mph fastball from Dellin Betances square to the head — and a fight at home plate between Miguel Cabrera of the Tigers and Austin Romine of the Yankees sparked a full-scale melee. In all eight players and coaches were ejected and another — Yankees catcher Gary Sanchez — drew a three-game suspension for throwing punches.
The Yankees and Tigers met five times this spring without incident.
In another quirk, the Yankees on Friday night will face Detroit pitcher Mike Fiers, who hit Stanton flush in the face with an 88-mph fast late in the 2014 season, sending him to the hospital with a broken nose, cheek and orbital bone, a broken incisor and a half-dozen chipped teeth.
It will be the first time Stanton and Fiers have met in a regular-season game, although they did meet in an exhibition game last year with Fiers striking out Stanton.
The injury prompted Stanton to wear a protective flap on his batting helmet.
There is no malice between the two, who exchanged texts shortly after the incident, which required extensive dental and plastic surgery for Stanton.
Last year, after the fracas in Detroit, Brett Gardner — who had turned 34 that day and had gotten into a jawing match with then-Tigers manager Brad Ausmus — suggested that maybe he was getting more ornery with age.
But on Thursday, Gardner said of incidents like that one or the one at Fenway: "Ultimately, you don't like to see that kind of happen and hopefully that's the end of it."
Baseball players, though, have long memories. Yankees manager Aaron Boone could recall in vivid detail the rage he felt in the minor leagues when a fastball purposefully whistled over his head. And at least one Red Sox player, catcher Christian Vazquez, was sure the Yankees would attempt to even the score — if not Thursday night, then some other time this season.
Asked what it is that settles a matter or stokes it, Boone said: "Professionalism."
"At some point things have to end, you have to put things behind," he continued. "You've always got to try, obviously, to protect your own, but you've got to be a pro, too. At the end of the day, the biggest thing is we're trying to win ballgames. Our guys know that."
Or so we shall see.