Red Sox
Joe Kelly had two words to describe the reception he got from fans Friday at Fenway Park
"Freaking badass."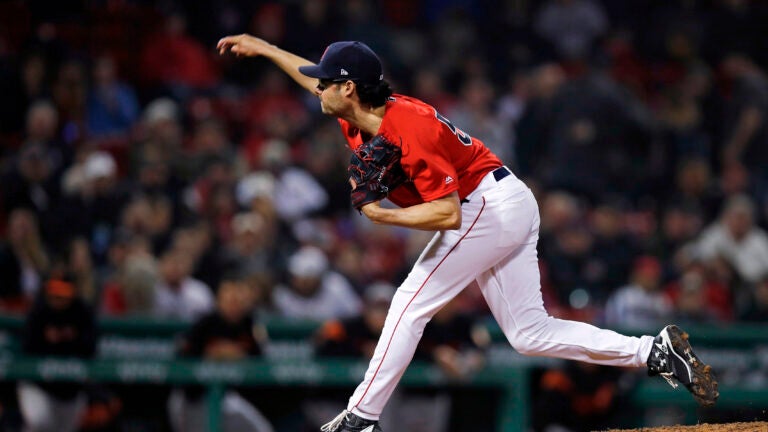 Have a question about the Red Sox? Email us at [email protected]. 
Joe Kelly's approval rating among Red Sox fans may be at an all-time high. Apparently, when you stand up for your teammates against the rival New York Yankees, all else is forgiven.
Kelly made his first appearance Friday since his brawl-inciting beaning of Tyler Austin on Wednesday, after the Yankee designated hitter slid spikes-up into Red Sox shortstop Brock Holt earlier in the game. Kelly is appealing his six-game suspension for the benches-clearing altercation, so the heat-throwing reliever is still allowed to pitch until the MLB makes a ruling on the appeal.
Kelly's eighth inning appearance Friday against the Baltimore Orioles reportedly brought the Fenway faithful to their feet in appreciation. "Joe Kelly Fight Club" shirts were even seen in the crowd.
Smokin' Joe Kelly comes in and is cheered like Marvin Hagler at the Garden.

— Pete Abraham (@PeteAbe) April 14, 2018
Joe Kelly getting a standing ovation on April 13 was not something I expected. But it just happened.

— Rob Bradford (@bradfo) April 14, 2018
.@JosephKellyJr is officially a Boston icon pic.twitter.com/FYpw8Cj2xu

— Dan O'Mara (@Dan_OMara) April 14, 2018
Kelly would go on to strike out Adam Jones and retire the next two Orioles batters in order. Asked about the standing ovation after the game, he told WEEI that it was "freaking badass."
"It got me hyped," Kelly said. "It's one of those moments I will remember forever."
The 29-year-old righty's season got off to a rough start when he gave up four earned runs in a third of an inning in Boston's Opening Day loss to the Tampa Bay Rays. Kelly called the performance "pretty pathetic" and his 108 ERA at the time did not look great on the stat sheet.
But since then Kelly has been virtually lights out, allowing zero runs and just one hit in five and a third innings. And his role in Wednesday's brawl only further endeared the beleaguered reliever to Red Sox fans in what has been dizzying two-week turnaround.
Joe Kelly saying "let's go" is my new spirit animal pic.twitter.com/KKXVXqxUHj

— Red (@SurvivingGrady) April 12, 2018
Kelly's teammates say he is due the appreciation. According to WEEI, fellow reliever Matt Barnes said it was "awesome" to see the crowd's response Friday. Right fielder Mookie Betts concurred.
"That was pretty cool," Betts told MassLive following the game. "He deserves it."