Red Sox
Here's how the Red Sox tried to land Shohei Ohtani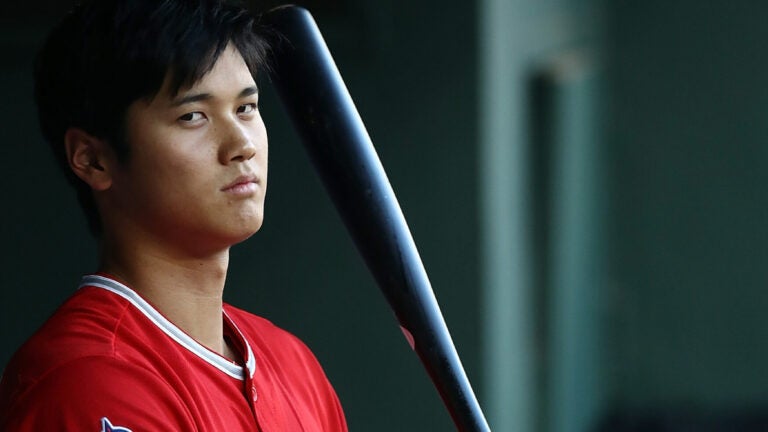 On Tuesday night, the Red Sox will get an up-close view of Shohei Ohtani, the Japanese sensation who is taking the baseball world by storm as a two-way force of nature for the Angels. As the 23-year-old pursues life as both of a front-of-the-rotation starter and middle-of-the-order hitter, he is challenging baseball's norms.
A few months ago, he tantalized not just the Angels, but also the Red Sox and the rest of the baseball world with a different sense of possibility. The announcement last December that the Hokkaido Nippon Ham Fighters would post Ohtani set in motion pitches from all 30 teams hoping to claim an unprecedented jackpot.
Ohtani's skill set, track record in Japan, and youth suggested a player who might be worth $200 million or more on the open market. Yet he was available for a $20 million posting fee plus a relatively modest bonus that might range from a few hundred thousand to the low seven figures, a figure capped by hard limits on the amount teams can spend in any given year on international players under the age of 25.
A transcendent talent was available for dimes on the dollar. All 30 teams wanted in. The Red Sox were ready.
"The buildup to this had been since 2012 in terms of how we're going to prepare, how we're going to make our presentation,'' said Red Sox senior vice president of player personnel Allard Baird, recalling the origins of the team's scouting efforts with Ohtani dating back to his time in high school, when there seemed a possibility he might bypass Nippon Professional Baseball and start his pro career in Major League Baseball. While Ohtani instead elected to start his career in Japan, from the moment he was drafted by Hokkaido with the first pick of the 2012 draft, the baseball world prepared for his eventual posting.
"I'm sure three-quarters of the teams in baseball had been building up for the same time,'' Baird said.
Starting when Ohtani was in high school, Eddie Romero (now the Sox assistant general manager) and Jon Deeble (then the team's Pacific Rim scouting coordinator) pursued him aggressively as an amateur. Once Ohtani stayed in Japan to start his pro career, the Sox took what multiple Red Sox officials described as "countless'' looks from several evaluators at Ohtani during his five-year NPB career. Baird initially oversaw the process, but that primary responsibility was passed a couple of years ago to vice president of player personnel Jared Banner, who is now in charge of the team's international professional scouting efforts in Japan, Korea, Cuba, Mexico, Taiwan, and Italy.
Related: Red Sox hitters will be watching Ohtani's split-fingered fastball
Baird, Banner, and Shun Kakazu, the team's area scout in Japan, as well as special assignment scouts Eddie Bane and Steve Peck and international pro cross-checker Edgar Perez were all extensively involved in the evaluation process.
"As with everything we do, it was a big group effort,'' said Banner. "We had a lot of people see him over the course of time.''
Of course, by the time Ohtani made himself available, his potential was no secret. A pitcher who complements a triple-digits fastball with a devastating splitter — and who stood out as Japan's foremost slugger when he wasn't pitching — would improve any team. The real challenge for teams was to come up with a pitch that would compel Ohtani to want to sit down for a face-to-face meeting and hear more.
The task of how to convince a player to come to the States required a fascinating, long-term exercise in organizational reflection, with Banner serving as project manager reporting regularly to Baird and Dombrowski while also drawing upon colleagues from across the organization. The collaboration also included members of the marketing and video production departments in an effort to highlight the franchise's history, the city's sports tradition, and the Red Sox' resources for a star coming from Japan.
Here's the pitch
The presentation cuts to the chase pretty quickly. Twin images of Ohtani in a Red Sox uniform — one throwing a splitter, another hitting — are followed quickly by a video on why "Boston is made for Shohei.''
The video rolls through a succession of iconic Red Sox — David Ortiz, Carl Yastrzemski, Ted Williams, Pedro Martinez, Roger Clemens, and Luis Tiant — before fixing on a final, singular figure. Grainy video captures Babe Ruth emerging from behind a door in a Red Sox uniform before footage of a forming legend pitching and then hitting with the team for whom he made his pre-Yankees mark.
The idea of highlighting Ruth came from Kakazu and immediately resonated as a way of highlighting a singular connection between Red Sox history and Ohtani's intentions to test MLB's boundaries.
"Only one player in history impacted a franchise as both a pitcher and hitter, leading Boston to three World Series titles in six seasons. The Babe revolutionized baseball, dominating on the mound and at the plate,'' a narrator intoned, referencing Ruth's 1914-1919 run in Boston that included championships in 1915, 1916, and 1918. "Fenway Park was the home of baseball's last true two-way star. Now, Boston is ready for its next baseball pioneer.''
The glimpses of The Babe gave way to an image of Ohtani superimposed over the Green Monster scoreboard.
"Boston is made for … '' the video pronounced before giving way to a succession of nouns dissolving into one another: "legends … history … champions … Shohei.''
After the video, the presentation — which was prepared in both English and Japanese — continued by outlining how the Red Sox envisioned using Ohtani and why the club believed it represented a good fit for him. Among the elements:
■ The team offered a detailed outline of a two-way workload as a member of a five-man rotation and lineup semi-regular, offering details on projected innings and plate appearances. It also offered its scouting evaluations for Ohtani and its player development plans for him as both a hitter and pitcher.
■ The Sox outlined their financial resources and willingness to spend aggressively in pursuit of championships.
■ The Sox' young core — Ohtani's expected teammates for years to come – was introduced.
■ The Sox have Japanese-born staffers who are part of the team's training (Masai Takahashi), strength and conditioning (Kiyoshi Momose), massage therapy (Shinichiro Uchikubo), and media relations (Mikio Yoshimura) staffs. "All played a big role in our preparation,'' said Banner. "They are a unique and talented group that make our organization special.''
■ With the help of that staff, the presentation outlined a specific schedule that started on Jan. 1, 2018, to begin the cultural preparation as well as physical training program to prepare Ohtani for his transition to MLB.
■ A "Title Town'' slide highlighted the winning culture in Boston with pictures of stars of all four local teams winning championships. Koji Uehara appeared in an image of a Red Sox title — no coincidence, given that the presentation outlined the Sox' history with Japanese players. Daisuke Matsuzaka offered a thoughtful reflection on the unanticipated on- and off-field adjustments he faced in coming to the Sox as an established NPB star in 2007, how the team helped him through that transition, and what he considered the unparalleled experience of pitching in Fenway Park. All of those elements were meant to highlight what the organization considered one of its best selling points: The Boston baseball experience.
"Fenway Park is a special place, obviously — the oldest ballpark in the big leagues, a lot of history there, our fans show up on a nightly basis. They're loud and energetic. Baseball is in many ways No. 1 in Boston,'' Banner explained. "Our organization is committed to winning, as our ownership group has shown since they took over in 2002. We wanted to highlight our winning tradition. We wanted to highlight our engaged fan base. And we wanted to highlight how much fun it is to play in Boston, a city that cares about baseball a lot.''
■ Among quotes from several of the organization's leaders (including principal owner John Henry and Dombrowski), manager Alex Cora conveyed not only his respect for Ohtani's abilities but also how his own cultural transition from Puerto Rico to the States would allow him to relate to the player.
It was, Red Sox officials thought, a strong case for Ohtani's potential fit in Boston.
"I can't even tell you the number of man-hours that were involved in it between Jared and the various individuals,'' said Dombrowski. "Jared and the group that worked on it did a phenomenal job.''
Yet while the Red Sox felt good about what they'd produced, they also knew this was in some respects a message in a bottle that had been dropped into a sea. The Sox were optimistic when they sent the presentation to Ohtani's agents at CAA Sports, but also clear-eyed that the work that had been invested in the process was no guarantee of a meeting with the pitcher.
"We didn't have expectations. We just tried to put our best foot forward,'' said Banner. "Dave and Allard always stress that we have a full, thorough process. That's what scouting is all about. From back in my amateur days, you might go see 80 guys in a year and you might get one of them. Were the other 79 guys a waste? No. I think that's part of the process, doing your due diligence, doing the work, because that one time you do get the player, it's worth it.
"It was great to see our whole organization come together,'' he added. "A lot of people throughout baseball ops and other departments helped put us in position to deliver a presentation that we as an organization were proud of.''
The aftermath
When CAA informed teams of the seven clubs that would meet with Ohtani, the Red Sox were not among them.
"I will say I was just short of shocked based upon the presentation that we didn't make the final round because it was so well done,'' Dombrowski said.
The inevitable reality of a singular talent coming to the big leagues at a bargain price was that 29 teams would be disappointed by the outcome. The Angels were alone in celebrating Ohtani's choice of destinations.
Their celebration hasn't stopped.
Entering his start on the mound against the Red Sox on Tuesday, Ohtani has gone 2-0 with a 2.08 ERA, 18 strikeouts, and two walks in 13 innings while also hitting .367/.424/.767 with three homers among his five extra-base hits in eight games.
"I'm intrigued to see how we'll match up against him,'' said Dombrowski. "He's a rare talent. He's great for the game. That's why we, as well as other organizations, were so aggressive trying to sign him . . . Our people believed in him a great deal. So, yeah, I'm interested to see him.''
With a Red Sox team that has looked as talented as nearly any through the season's early paces while starting the year with the best record (13-2) in baseball — a half-game better than the 13-3 Angels — that interest is now almost academic, if it exists at all. Asked if he was intrigued to see how the skills he'd seen on display by Ohtani in Japan would translate to the big leagues, Banner was direct.
"No,'' Banner said. "I'm excited about watching our guys. I'm excited about Red Sox and potential Red Sox. That's it. Nobody else.''