Red Sox
Mookie Betts, Andrew Benintendi lead sizzling Red Sox past Angels, 8-2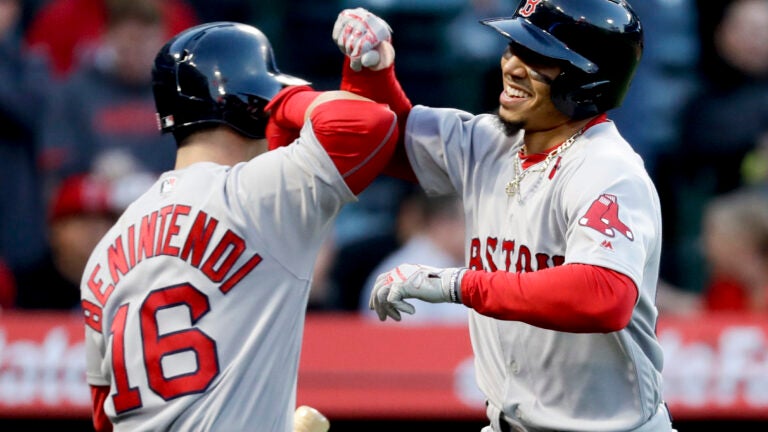 ANAHEIM, Calif. (AP) — With a homer-happy lineup and a lights-out pitching staff, the Boston Red Sox have been mowing down their opposition since the day after opening day.
Shohei Ohtani and the Los Angeles Angels were the latest contenders who could only applaud Boston's formidable start.
Mookie Betts hit his second leadoff homer in three games, Andrew Benintendi homered and drove in three runs and the Red Sox completed a dominant sweep of the AL West leaders with an 8-2 victory Thursday night.
J.D. Martinez and Rafael Devers also drove in runs during the seventh consecutive victory by the major league-leading Red Sox, who have won 16 of 17 since losing on opening day. Boston outscored the Angels 27-3 over 27 innings in the series, batting .371 while pounding out 43 hits.
"We're playing quality baseball," said Alex Cora, the first manager since 1900 to win 16 of his first 18 games in his debut season with a club. "We're pretty good right now. We're pitching and we're playing good defense, and we're driving the ball. That's a good team (in the Angels' clubhouse). For them to score three runs against us, we're on a good roll."
It's more than good: It's historic.
Eduardo Rodriguez (2-0) pitched six innings of three-hit ball as Boston extended the best start in the 118-year-old franchise's history. Boston's 11 homers off the Angels are the franchise's most in a three-game series since 1977.
"We're having fun, and usually when you do that, you play quite well," Benintendi said.
The second-year slugger acknowledged that the Red Sox aren't overly excited about their first three weeks, however. Benintendi noted that several of the hard-hit balls that went for homers in Anaheim's pleasant weather wouldn't have done the same in frigid Boston.
"What do we have left, 150 games maybe?" Benintendi asked. "We hold ourselves to high standards, and we just try to go out and play well."
Betts opened the series with a homer off Ohtani and went on to a three-homer game. Betts added another homer off Nick Tropeano (1-1) in the series finale, giving him six this season — the same number as Mike Trout.
Chris Young homered for the Angels, who started the season 13-3 before running into the Boston buzzsaw. The 11 homers also matched the Angels record for home runs allowed in a three-game series.
"We didn't swing the bat to help (Tropeano) too much," manager Mike Scioscia said. "He had to make a lot of pitches with his back against the wall. Give those guys credit. They had a great series."
Zack Cozart had an RBI single for Los Angeles in the second inning, but Boston reclaimed the lead in the fourth with RBI hits by Martinez and Devers.
Young hit his first homer for the Angels in the fifth. The veteran outfielder spent the previous two seasons with the Red Sox.
But Benintendi hit his first homer of the season and Devers added an RBI single in the sixth. Benintendi added a two-run single in the ninth.
Tropeano yielded seven hits and five runs in his second start of the season.
No Sho
Ohtani went 0 for 4 with three strikeouts as the Angels' designated hitter in his first action since taking his first career loss on the mound Tuesday. Although he's still batting .324, the two-way rookie struggled while moving up to sixth in Scioscia's lineup.
Three from nine
Shortstop Brock Holt, Boston's No. 9 hitter, had his first three-hit game since Aug. 29, 2016.
Ump injured
Plate umpire Jerry Layne left in the bottom of the first inning after a foul ball from Trout hit him on the right elbow. Layne doubled over in obvious pain while trainers attended to him, and first base umpire Greg Gibson moved behind the plate when the game resumed after a long delay. The 59-year-old Layne, a major league umpire since 1989, had deep bruising in his elbow but no broken bones, according to X-rays.
Trainer's room
Red Sox: 2B Dustin Pedroia will travel to Boston to be with the team next week, but he's not close to returning from offseason knee surgery.
Up next
Red Sox: Drew Pomeranz makes his season debut in the opener of a weekend series at Oakland. The left-hander strained his forearm in his first start of spring training, but has made two rehab starts in the minors to prepare for the beginning of his second full season with Boston.
Angels: Andrew Heaney (0-0, 5.40 ERA) makes his second start of the season when Los Angeles opens a weekend interleague series against San Francisco. The left-hander has never faced the Giants, and he missed the first 14 games of this season with inflammation in his pitching elbow.