Red Sox
Red Sox historical comparisons: How the 2018 team lines up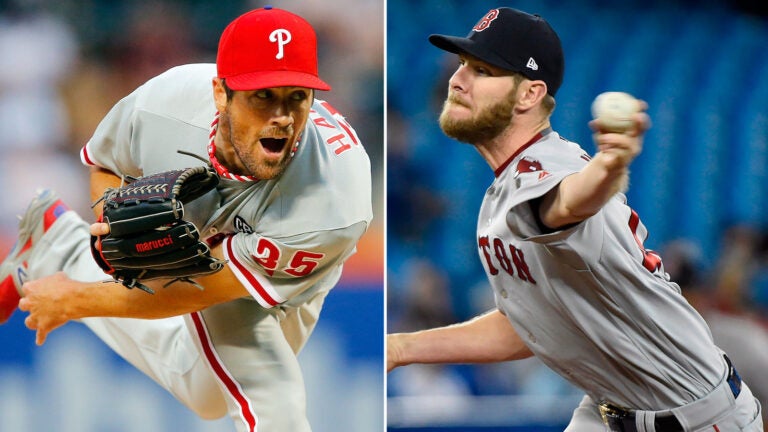 In his quest to make sure no Red Sox hitter pulls to within 2,625 games of Cal Ripken Jr.'s iconic consecutive-games streak (2,632), manager Alex Cora has been systematically resting even the most integral players in the Red Sox lineup.
Well, he's either doing that, or he believes ample rest in April will lead to a roster that isn't fighting fatigue at the end of the long season. I'll let you decide which theory you believe.
For whatever odd lineups Cora has submitted – and resting Mookie Betts and Hanley Ramirez on the same day (a 4-1 loss to Oakland on April 22) was pushing the limits of logic – it is impressive that he comes up with lineups similar to this:
1. Grady Sizemore
2. Dave Winfield
3. David Wright
4. Jason Bay
5. Jim Fregosi
6. Adrian Beltre
7. Josh Reddick
8. Tim Naehring
9. Jim Essian
I know, you're asking a question with which I am rather familiar: What in the world are you talking about, Finn?
Of course the Red Sox cannot have that lineup, though it's a dang good one. The players are of different eras. One of them, Fregosi, is deceased. I do believe Bartolo Colon has faced every one of them.
This is actually pretty simple. Maybe you even figured it out, since I try to write this column each year.
Per baseball-reference.com, the aforementioned players are all the top statistical comparison in baseball history for current Red Sox at their age as of the 2017.
What follows is a look at how each member of the Red Sox' 25-man roster really compares with his top statistical comp. Some are perfect. Some are bewildering. Many add context on what a player has done already, and what he might do in seasons to come.
Lead it off, Mookie … and Grady:
Hitters
MOOKIE BETTS
Comp through age 24: Grady Sizemore
■ Sizemore is one of the sadder what-ifs of recent generations, his stellar career abbreviated by a relentless run of injuries and finally over at age 32. But the comp makes sense. From ages 22-25, he was one of the most complete players in the game, averaging 27 homers and 29 steals for the 2002-2005 Indians while posting an .868 OPS and playing a sensational center field. The cruel irony: He was one of the most durable players around, averaging 160 games during that stretch, before it all broke down. Stay healthy, Mook.
ANDREW BENINTENDI
Comp through age 22: Dave Winfield
Clearly height is not figured in to any formula, huh? This one ought to make Red Sox fans feel better about his slow start (he was hitting .218 through 95 at-bats as of Thursday afternoon). You thought Benintendi got to the majors fast (157 games over two seasons)? Winfield's next minor league game will be his first. Winfield went from being a three-sport star at Minnesota straight to the San Diego Padres in '73. Twenty-eight years, 465 homers, and 3,110 hits later, he was a first-ballot selection to the Baseball Hall of Fame.
HANLEY RAMIREZ
Comp through age 33: David Wright
I can see it: Two All-Star caliber hitters whose careers were too often interrupted by injury. It should be noted that Ramirez's best career comp every year from ages 26-31 is Troy Tulowitzki – another All-Star caliber hitter whose was too often interrupted by injury. Also, Ramirez's most similar player at 24 was Nomar Garciaparra, another All-Star caliber … well, you know.
J.D. MARTINEZ
Comp through age 29: Jason Bay
I figured because Martinez was a late-bloomer – his breakthrough came at age 26 when he hit .315 with 23 homers for the 2014 Tigers, a year after the Astros released him – he'd have an array of similarity scores that might not represent how excellent he actually is. But Bay is actually a fitting comp, and check this out. At age 30, Martinez's current age, Bay submitted a monster season in his first full year with the Red Sox, hitting 36 homers and driving in 119 runs for the 2009 AL East wild card winner.
XANDER BOGAERTS
Comp through age 24: Jim Fregosi
There have been a couple of different golden ages of young shortstops over the last few decades. Alan Trammell, Cal Ripken Jr., and Robin Yount were contemporaries in the American League East for years. Nomar Garciparra, Alex Rodriguez, and Derek Jeter dazzled in the mid-'90s. Baseball fans are fortunate to watch Carlos Correa, Francisco Lindor, and two-time Silver Slugger winner Bogaerts now. It was easy to assume that a more recent player would line up with Bogaerts. But that's not to say Fregosi is a bizarre result. He received MVP votes in his first eight seasons, all with the Angels, from 1963-70, his age 21-28 seasons. But his greatest contribution to the franchise is bringing Nolan Ryan in return when he was traded to the Mets after the 1971 season.
RAFAEL DEVERS
Comp through age 20: Devers, who slashed .284/.338/.482 with 10 homers in 58 games as a rookie last season, doesn't have enough data yet to register a comp by baseball-reference.com's guidelines. So if you don't mind, I'll just note right here that as a 20-year-old for the 1999 Dodgers, Adrian Beltre slashed .275/.352/.428 with 15 homers in 152 games. He turned out OK.
JACKIE BRADLEY JR.
Comp through age 27: Josh Reddick
Bradley is a tough player to compare. He's productive but maddeningly inconsistent as a hitter. And much of his value comes from his ability to save runs with his glove; the Red Sox have had some excellent defensive center fielders, but Bradley is the best I've seen. Reddick isn't the first player I'd think of, or not even the 50th, but it makes sense. He swung at anything thrown in his general direction in his early turn with the Red Sox, but he's the rare hitter who has learned better plate discipline and become a steady, respected regular.
EDUARDO NUNEZ
Comp through age 30: Tim Naehring
Didn't see that one coming. Naehring was a popular, dependable third baseman for the early '90s Red Sox. The problem was he couldn't always be depended upon to play. Back problems plagued him early in his career, and his playing days ended abruptly with an elbow injury during the 1997 season. In his eight seasons, he played more than 80 games twice, and never more than 123. His stats are similar to Nunez's but not much else. Nunez has become a much better hitter as he's aged. And Naehring is probably a better defensive player than him right now.
CHRISTIAN VAZQUEZ
Comp through age 26: Jim Essian
I bet you thought Vazquez was younger than this, didn't you? He's actually 27 now, and turns 28 in August. There are probably 1,000 catchers in baseball history who come close to his career slash line through last season of .261/.311/.355. Essian, who played for five times in a 12-year career spanning 1973-84, slashed .257/..350/.365 through age 26.
Starting pitchers
CHRIS SALE
Comp through age 28: Cole Hamels
Gotta admit, I thought it would be someone more decorated and dominant than Hamels. That's not to dismiss the Phillies lefty's accomplishments – he's made 4 All-Star games, finished in the top 8 in Cy Young voting five times, and won the National League and World Series MVP awards in 2008. But Hamels has never been truly dominant to the degree Sale has the past couple of seasons. In his 12 seasons prior to this one, he's led his league in just two categories – WHIP in 2008 (1.082) and complete games in 2009 (2). In his seven full seasons as a starter, has led the league in one category or another 14 times. Last year, he struck out 308 batters, 92 more than Hamels's career-high. Hamels isn't Sale. He's Jon Lester. I prefer the healthy version of his No. 2 comp – Johan Santana.
DAVID PRICE
Comp through age 31: Jered Weaver
I'll admit it. I expected a bigger name, though that's probably because Weaver was such a slopballer the last two seasons (in 2016 and '17 with the Angels and Padres, he gave up 53 homers in 220.1 innings) that it became easy to forget how good he once was. He won 20 games once, 18 twice, pitched a no-hitter, and finished in the top five in the Cy Young voting three straight years. There are bigger names down Price's comp list, including Max Scherzer, Johan Santana, and Jon Lester.
RICK PORCELLO
Comp through age 28: Jon Garland.
Garland was a mediocre (career 103 ERA+), reliable (he made at least 32 starts eight straight season) lanky righthander who could be homer-prone and gave up a ton of hits, but had occasional stretches of exceptional pitching, including an 18-win All-Star season for the champion 2005 White Sox. Sounds like Porcello to me. No. 2 on his list? Eck.
EDUARDO RODRIGUEZ
Comp through age 24: Martin Perez
Perez is 27 now, and has 43-44 career record, a 4.58 ERA, and a scar on his pitching elbow from Tommy John surgery. With good health, E-Rod should fare better than this.
DREW POMERANZ
Comp through age 28: Danny Duffy
Duffy, 2011-17: 45 wins, 43 losses, 3.73 ERA, 158 games, 130 starts, 113 ERA+, 7.8 K/9, 3.2 BB/9.
Pomeranz, 2011-17: 42-42, 3.67 ERA, 170 games, 111 starts, 118 ERA+, 8.8 K/9, 3.7 BB/9.
There are twins who are less similar.
Relief pitchers
CRAIG KIMBREL
Comp through age 29: Kenley Jansen
Kimbrel's career rate stats: 4.8 hits per 9 innings, 3.3 walks per nine, 0.90 WHIP, and 14.9 Ks/9, including a ridiculous 16.4 last year, when he struck out nearly half the batters he faced. He has an argument as the most overpowering closer of all time, and his comps reflect that – Jensen, Jonathan Papelbon, Aroldis Chapman, and a bunch of other guys who caused radar guns to smolder.
MATT BARNES
Comp through age 27: Kevin Jepsen
Kevin Jepsen. Average reliever (career adjusted ERA of 102) who is still kicking around at age 33 with Rangers. Not to be confused with Kenley Jansen. And he won't be.
JOE KELLY
Comp through age 29: Steve Comer
Well, this is an interesting one. You, me and Tyler Austin's rib cage think of Kelly as a fireballer, and his fastball does heat up to triple digits. But he's never been much of a strikeout pitcher – just 6.8 per 9 innings over his career — which adds to his enigma image. Comer, who won 28 games for the 1978-79 Texas Rangers, was an extreme pitch-to-contact guy, mostly because he didn't have the stuff like Kelly to blow hitters away. In his seven-year career, Comer pitched 701.2 innings and struck out 245 – a 3.1 K/9 rate. Statistical similarities don't necessarily mean there are aesthetic similarities.
HEATH HEMBREE
Comp through age 28: Mike James
No, not the Mike James who never once gave up the ball on a 2-1 break for the 2003-04 Celtics. This Mike James was a long-haired middle reliever with a good fastball who had some decent success for the late-'90s Angels. Sounds like a decent match to me.
Bench
BROCK HOLT
Comp through age 29: Jim Bucher.
I'd have guessed Rex Hudler. Had to look up Bucher. He spent seven years in the majors (1934-38), then got a five-year relegation to the minors before spending two seasons with the Red Sox (1944-45). He died on October 21, 2004 – the day after the Red Sox bounced the Yankees from the ALCS.
SANDY LEON
Comp through age 28: Wiki Gonzalez
A catcher who slashed .666 for parts of seven seasons beginning in 1999, Gonzalez's full name is Wiklenman Vicente Gonzalez. So no, it's not Wikipedia. I checked. The other names on Leon's comp list is a cornucopia of scrub catchers: Kelly Stinnett, Gregg Zaun, and Joe Nolan. There is nothing in baseball more similar than the limitations of backup catchers.
MITCH MORELAND
Comp through age 31: Rico Brogna
Lefthanded-hitting first baseman, decent power but not a true slugger, not a hitter for high average, quality defender, good character guys. This couldn't be more perfect if they were related. What's notable is that Brogna's career was over at 31. Moreland is still what he has always been, and that should buy him a few more years.
DUSTIN PEDROIA (DL)
Comp through age 33: Michael Young.
This isn't one I would have thought of – I would have guessed someone like Ian Kinsler or Jose Vidro – but it fits. Young was a 7-time All-Star, batting champ, All-Star Game MVP, and Gold Glove winner, though he's not close to Pedroia's league as a defender. Young had six 200-hit seasons and currently is one of the best baseball follows on Twitter.
Not enough MLB service time to compare: Carson Smith, Tsu-Wei Lin, Brian Johnson, Blake Swihart, Hector Velazquez.