Red Sox
How Joe Kelly spent his six-game suspension
"I haven't been able to play baseball, but it's been good."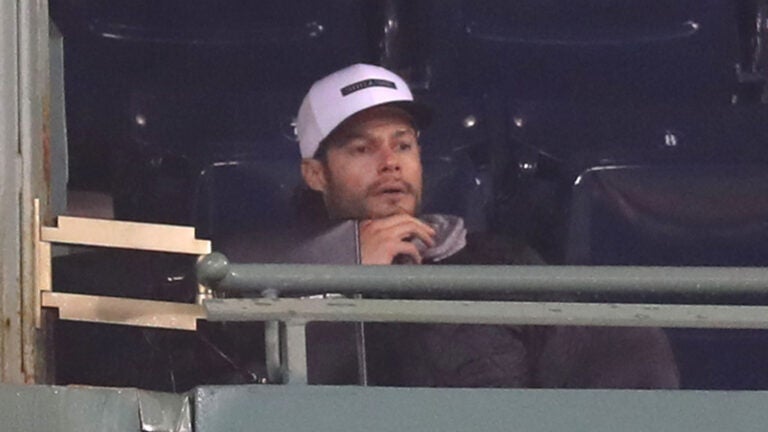 Joe Kelly didn't stray far from baseball during his six-game suspension.
The Red Sox reliever missed about a week of action as punishment for his involvement in the Sox-Yankees brawl earlier this season, but has seemingly been making the most of his time away.
"I haven't been able to play baseball, but it's been good," Kelly told WEEI's Rob Bradford Tuesday. "I still come to the field, hang out with my teammates, get my work done — all the way up until game time when I have to go outside."
Because of the rules outlined in his suspension letter — he can't sit in team-sponsored areas, like the clubhouse, dugout, or press box — Kelly has opted to watch the team compete from a variety of locations throughout the ballpark.
For the team's lone away game of his suspension, Kelly said he watched from the top of the left-field stands at the Rogers Center — all while wearing a Heath Hembree jersey that "went down to [his] knees." At Fenway, he said he has sat in right field, left field, the Pavilion Club, Green Monster, and the Sam Adams roof deck.
Kelly, who was available against the Royals Wednesday afternoon, maintained his stance there is not a bad spot in the house. When Bradford pushed back, suggesting certain seats offer an obstructed view of the field, Kelly insisted that's not the case.
"I sat behind the pole," he said. "It's fine."
As for those oddly angled right-field seats that face the bleachers?
"You can turn your head," he said. "There's plenty of great spots. Just turn your head left or right."
Kelly said he has had plenty of company while watching the games as well. Some of the guests that have joined him include Red Sox president Sam Kennedy, chairman Tom Werner, principal owner John Henry, and a politician he neglected to name but said goes by the nickname, "Chuckie B."
He also caught part of a game with Patriots wide receiver Julian Edelman and former Patriots wide receiver Danny Amendola.
Busy being basic @Edelman11 @DannyAmendola #LivingOurBestLives pic.twitter.com/iwbZrQJEkY

— Joe Kelly Jr. (@JosephKellyJr) April 30, 2018
"Julian is very into the mental aspects of the game and so am I," Kelly told Bradford. "I was a psychology major, so it was cool to kind of pick his brain. We talked for, I don't know, the fifth inning all the way to the end of the game about sports psychology."
"That guy works his butt off," he continued. "So it was kind of good to pick his brain and learn what makes him tick. That was fun."
Kelly noted a few differences between watching baseball as a fan versus as a player, calling the week an "enlightening" experience. For one, he said the games go by slower as a fan, so he understands the league's efforts to speed up the pace of play. For two, he said he would get anxious or worked up over high-pressure situations on the mound — something he said doesn't happen when he's in the game.
"It's weird how quickly I became a fan," he said. "I felt so far away from the team during the games."
On his last day of his suspension, Kelly and some of his teammates visited patients at the Boston Children's Hospital Tuesday.
"We're just trying to make some kids happy who are going through tough times."
https://twitter.com/RedSox/status/991403863939919872