Red Sox
Mookie Betts and Duchess-to-be Meghan Markle are distant relatives
"There were Betts all over that area."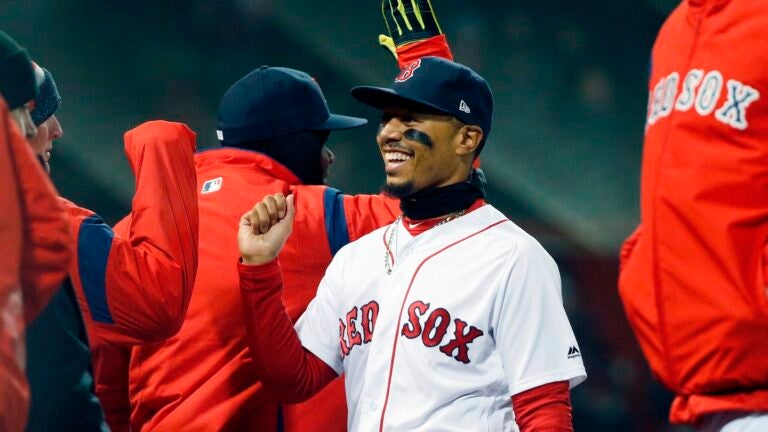 Red Sox outfielder Mookie Betts learned last week that he is a distant relative of Meghan Markle, the American actress who will wed Prince Harry on May 19 at Windsor Castle. Their ancestors are from the same part of Alabama.
"I saw on television that they were getting married. But I had no idea we were related,'' Betts said. "That's not something you expect to hear, but it's interesting.''
Jim McNiff, an amateur genealogist from Burlington, uncovered the connection between Betts and Markle. According to the 1870 Federal Census, the population of a township in Madison County, Ala., included 22 adults and children with the surname Betts. In house No. 105, there was 17-year-old Joseph Betts. In house No. 107, 14-year-old Jacob Betts lived with his family.
Joseph Betts is the great-great grandfather of Mookie Betts and Jacob Betts the great-great-great grandfather of Markle.
Whether Joseph and Jacob were related cannot be determined conclusively. But those residents of Madison were descendants of slaves owned by Elisha Betts, a tobacco plantation owner from Lunenburg County, Va.
Elisha Betts, per a will dated 1783, bequeathed seven slaves to his children.
Two of his sons, Charles and Elisha, moved to Alabama to raise cotton, leaving the overworked Virginia soil for affordable, fertile land being sold by the government around what is now Huntsville, Ala.
By 1860, on the eve of the Civil War, Elisha F. Betts had 46 slaves on a cotton plantation in southwestern Madison County. Edward Betts, the son of Charles, had 34 slaves in the northwestern part of the county.
Records from 1860 show Elisha Betts valued his properties at $20,000. That included 16 houses that were slave quarters.
Willie Betts, Mookie's father, was born in 1943. His great grandfather was Joseph Betts.
"I know from family stories that our relatives were from Virginia and settled in Alabama. That's were I'm from,'' he said. "There were Betts all over that area. They worked on farms, things like that.''
Willie Betts served in the military, then moved to Tennessee in the 1970s. Markus Lynn Betts was born in Nashville in 1992 and was drafted by the Red Sox in 2011.
There is a second connection between Betts and Markle by marriage.
On Jan. 5, 1920, Katie Betts married Richard Betts in Cuyahoga County, Ohio.
For both, it was their second marriage. Katie, 32, was born in Huntsville, as was 36-year-old Richard. Their ancestors had raised families on the same cotton plantations 80 years prior.
"That's my uncle Richard,'' Willie Betts said. "My father talked about him all the time.''
Katie Betts is Markle's great-great aunt.
Representatives of Markle did not respond to requests for comment, but she has publicly acknowledged that her mother, Doria Ragland, was descended from slaves.
Markle started dating Price Harry in 2016. Once married, the couple will live on the grounds of Kensington Palace in Nottingham Cottage. If Harry is named the Duke of Sussex on his wedding day, that would make Markle a Duchess.
Kensington Palace is approximately 9 miles from Olympic Stadium, so it's conceivable the Duchess could meet the All-Star next year. The Red Sox and Yankees will be playing the first regular-season major league games in Europe.
"That would be cool, to meet her,'' Betts said. "I wonder if she's a baseball fan?''