Red Sox
Jake Peavy wants to pitch again
"I feel that I can help a team in the second half."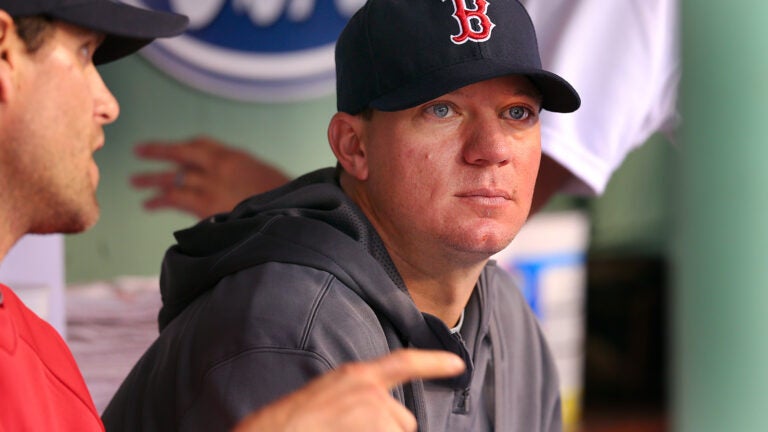 He still has the duck boat he bought after the 2013 World Series parade, an event he described as one of the greatest moments of his life. If Jake Peavy never pitches another inning in major league baseball, he will have that memory and being part of "the most unique baseball team I've ever seen.''
Peavy, however, is still hopeful of pitching in the majors again. He received some calls and interest earlier this year, but Peavy, who is closing in on his 37th birthday, wanted to coach his son's high school baseball team. When scouts have come to watch some of the talent near his home of Catherine, Ala., he's let them know he's interested in a comeback and that he's kept throwing and working out.
"In the next three weeks I'll make a decision,'' said Peavy, who hasn't pitched in the majors since September 2016. "I haven't thrown for anybody yet because I wanted to wait until my [four] kids are out of school and then I want to talk to them about getting back into the game. I think they want me to. I think they miss what comes with it, like being around a major league clubhouse and traveling and things like that. But I want to make sure they understand the commitment that I need to make if I do it.
"I feel that I can help a team in the second half. My arm feels great. I've had a chance to rest it so I feel as strong as I've felt in a long time. I've kept in shape. I throw bullpens. So I'm hoping that once I make the decision to do it, that the interest will be there.''
Peavy said he understands that he'd have to pitch in the minors for a while.
"It's not about the money for me,'' Peavy said. "I know I'd have to sign an incentive-based deal. And I'm good with that. I know teams need reinforcements in the second half of the year and if I can offer them a fresh arm and someone who has the experience I have, I think I can help someone.''
Peavy says his life is now "in a good place'' after one of his closest friends and financial adviser Ash Narayan was accused of steering about $20 million of Peavy's money in a Ponzi scheme. Peavy, who made $128 million in his big league career, according to Baseball-Reference, said he could not discuss the details of the situation because of a nondisclosure agreement, but Peavy said his financial situation is in a more positive place.
At around the same time he was being bilked out of his money, his wife divorced him. Those were the toughest days of his life. Now between coaching his kids, overseeing business interests — including the Jake Peavy Foundation — and coming up with new business ideas involving baseball, Peavy's days are busy and filled with positive thoughts.
"I'm in a good place. I'm truly blessed,'' Peavy said.
Peavy was able to win a championship with the Giants in 2014, as well. He always talks about his friend Jonny Gomes, who he says is the one who convinced him to buy the duck boat.
"When I was traded to Boston,'' Peavy said, "he was the first one who came up to me when I stepped into the clubhouse and I said, 'How are you doing?' and he said, 'I'm now a lot closer to a World Series.' ''
Nice way to be greeted.
"That team was so special. We'd get the biggest suite the hotel would give us on the road and all get together and just talk baseball all night. I've never seen such a tight-knit group of guys with so many veteran guys coming together like that and creating such a cohesive unit. The guys who came in just joined the guys who were already here and had come up through the organization and it was like everyone had been together forever. I never saw that before and I never saw that after on any team I was on,'' said Peavy who also played for the Padres and White Sox.
Peavy was a huge voice in the Boston Strong movement along with Gomes and Mike Napoli. They created a heartwarming story line following the Boston Marathon bombings that April. Peavy didn't join the Red Sox until July 30, when he was acquired from the White Sox in a three-team deal also involving Dave Dombrowski's Tigers. The Red Sox traded Jose Iglesias to Detroit in that deal.
Peavy went 4-1 with a 4.04 ERA in 10 starts for Boston in 2013, and went 0-1 with a 7.11 ERA in three starts that postseason. Peavy struggled with the Red Sox in 2014, going 1-9 with a 4.72 ERA in 20 starts before he was dealt to the Giants before the trade deadline for Edwin Escobar and Heath Hembree. Peavy went 6-4 with a 2.17 ERA down the stretch and helped the Giants win it all.
If it is indeed over for Peavy, he has a 152-126 record and 3.63 ERA for his career. He won the 2007 NL Cy Young Award with the Padres (19-6, 2.54 ERA, 240 K's), was a three-time All-Star, and won a Gold Glove.
What's interesting is Peavy's career splits for the second half of the season (76-51, 3.43 ERA) are better than his first-half numbers (76-75, 3.81). He hopes there's another second half in his future.
Working relationship
Melvin, Yankees would have fit
You wonder what might have been had A's ownership decided to allow Bob Melvin to interview for the Yankees' managing job last offseason. Yankees general manager Brian Cashman was very selective as to whom he invited for interviews, and Melvin was the one current manager that Cashman chose.
Normally, when a team feels strongly enough to ask permission to speak to a manager who's under contract, it usually means that's the guy it wants to hire. While A's executive vice president Billy Beane would have allowed it, ownership said no.
Melvin, who has won Manager of the Year in both leagues, loves being with the A's, so what happened, happened. But being Yankees manager has perks that don't exist in Oakland, simply because of the market sizes.
Melvin works in an organization that was at the forefront of the analytics boom, and the Yankees are very much into it as well. Melvin would have fit in nicely with the Yankees' philosophy.
Melvin is signed through the 2019 season. He's 56 and has 15 years of managerial experience, the last eight with the A's. He's had to endure constant roster turnover.
"He's been tremendous. In all phases,'' said veteran second baseman Jed Lowrie. "He let's the players play and grow. He's great on the bench. He's great with communication. He's really solid. I think the players respect him and really enjoy playing for him.''
Communication has become such a big aspect of the job. Melvin played in a day when managers didn't have to tell you if you were playing the next day. But he's adapted to that. He's always had the reputation of letting players know where they stand.
Which is why the Yankees thought so highly of him.
Apropos of nothing
1. Three Astros pitchers entered Friday 1-2-3 in the AL in ERA: Justin Verlander at 1.05, Gerrit Cole at 1.75, and Charlie Morton at 2.03. According to Elias, the last time a team had the top three pitchers in its league in ERA through at least 45 games was the Red Sox in 2002. Through 157 games, Pedro Martinez was at 2.26, Derek Lowe at 2.45, and Tim Wakefield at 2.75. Martinez finished first and Lowe second, but the A's Barry Zito edged out Wakefield for third.
2. The Tigers are doing better than expected, but their goal remains the same — pare payroll. Toward that end, they'll listen on just about anyone, including Jose Iglesias, Miguel Cabrera (on the DL), Jordan Zimmermann(on the DL), and Michael Fulmer.
3. The Rays have a chance to return to the old days, when they built their team through draft picks. They have the 16th, 31st, 32nd, 56th, and 71st picks in the June draft. The Royals also have five early picks (18th, 33rd, 34th, 40th, 58th). The Cubs (24th, 62nd, 77th, 78th) and Indians (29th, 35th, 41st, 67th) each have four selections in the first two full rounds.
4. Scouts watching the Cubs describe them as a "hit-or-miss offense,'' with most of the lineup having no hitting plan to speak of. The Cubs hired former Red Sox hitting coach Chili Davis for the same position during the offseason. In two losses in Atlanta last Tuesday and Wednesday, Cubs hitters struck out 26 times.
5. J.D. Martinez reminds me of Hall of Famer Jim Rice in how he hits hard line drives to the opposite field. A power guy who can hit for average. That was Rice.
6. How about Jonny Venters winning his first game in 2,096 days after three Tommy John procedures and a fourth elbow surgery? The Rays reliever and former Braves setup man to Craig Kimbrel is one of the great stories in major league baseball. His previous win prior to last Tuesday came Aug. 17, 2012.
Updates on nine
1. Kyle Barraclough, RHP, Marlins — The Marlins are expecting a team like the Red Sox to come calling for the big reliever. While the Red Sox will be content with their bullpen if Tyler Thornburg can become Carson Smith's replacement, Barraclough, who is under team control until 2022, sticks out as an attractive option. He has a 1.83 ERA in 19⅔ innings (20 appearances), with 26 strikeouts and 12 walks. And he makes only $1.113 million. The Marlins would need a decent minor leaguer in return. The Marlins are trying to sell off relievers Brad Ziegler (5.89 ERA) and Junichi Tazawa (9.00 ERA), two former Red Sox who are making $9 million and $7 million, respectively, this season. Tazawa was designated for assignment Friday.
2. Blake Swihart, C/DH, Red Sox — Swihart remains a hot topic in baseball, but which teams does he truly fit? The Rangers had expressed interest in Swihart about a week ago and that avenue may still be available. There's still much consternation within the Red Sox organization as to whether it's prudent to deal the switch-hitter, even though his agent has requested a deal and the team refuses to let him catch. The Red Sox may very well designate Swihart for assignment to force interested teams to come forward. Whom could the Red Sox get from the Rangers? The fit doesn't seem great. There are lefty relievers Jake Diekman and Alex Claudio, but neither have been trustworthy.
3. Mike Moustakas, 3B, Royals — There's a growing feeling among talent evaluators that Moustakas could become a Braves target. The Braves are currently using Jose Bautista at third. His defense has been fine, but he's still not hitting like the Bautista of old. GM Alex Anthopoulos isn't known to sit still.
4. Cole Hamels, LHP, Texas — Hamels has a $23.5 million salary for 2018 and a $20 million option with a $6 million buyout for 2019. The Rangers would love to move him at the deadline and would expect to pick up some of the tab. Hamels, who missed his last start with neck stiffness, is 2-4 with a 3.48 ERA. Not his best work, but the feeling is the motivation of a pennant race should help his numbers. You could see a team like the Braves or Phillies or Yankees show interest in the veteran lefty. Hamels would likely waive his no-trade provision. The Rangers could also move former Red Sox righty Doug Fister.
5. J.T. Realmuto, C, Marlins — The Red Sox keep getting linked to Realmuto, but if that's true, the Marlins don't know about it. The Sox committed to Christian Vazquez with a three-year, $13.55 million deal in spring training. You're not going to pay that to a backup, which is what Vazquez would be if the Sox were to acquire Realmuto.
6. Robinson Cano, 2B, Mariners — With Cano suspended for 80 days due to a PED violation, the Mariners are scrambling to figure out second base. Center fielder Dee Gordon is taking grounders at his old position, but the M's are looking around. Could the Mariners be a possible landing spot for Jackie Bradley Jr. if they decide to put Gordon at second? The Red Sox would likely want bullpen help and/or a prospect. If the M's shop for a veteran second baseman, the Yankees have Neil Walker and Brandon Drury while the Red Sox have Eduardo Nunez and Brock Holt.
7. Jose Abreu, 1B, White Sox — There may be some regret by some White Sox officials about their rebuild, but Abreu is likely the next player to go. Abreu will be a powerful bat for a contender at the deadline, though he will come at a high cost. The White Sox had one of the better rotations in baseball before they decimated it. Their rebuild is going to take awhile.
8. Joey Gallo, 1B/LF, Rangers — Gallo spent most of his minor league career as a third baseman, but when asked last week if he was willing to play third with Adrian Beltre (hamstring) looking at a long-term injury, Gallo said, "I don't like it . . . I hate it, no joke. I hate third base . . . I'd rather catch.'' Then he backtracked, "I have no problem playing there . . . It's a tough spot to be in. No one has even asked me, but if I did, I'd tell them I'm playing.''
9. Zach Britton, LHP, Orioles — When Britton returns in June, the countdown will be on as to when he gets moved. The pending free agent should be in demand if he shows he's healthy. If the Red Sox don't re-sign Craig Kimbrel this offseason, Britton could be a target.
Extra innings
From the Bill Chuck files — "Since the start of last season, Drew Pomeranz and Chris Sale each have 12 no-decisions. Pomeranz has a 3.63 ERA in his games and Sale has a 2.27 in his.'' . . . Also, "On May 25, 2016, Jackie Bradley Jr. was hitting .350 on his way to winning Player of the Month. Since that date, in just over 1,000 ABs, he has hit .232 with 38 HRs and 269 whiffs.'' . . . Happy birthday, Wayne Housie (53) and David Wells (55).