Red Sox
Carson Smith to have season-ending surgery
"I think this was a freak thing."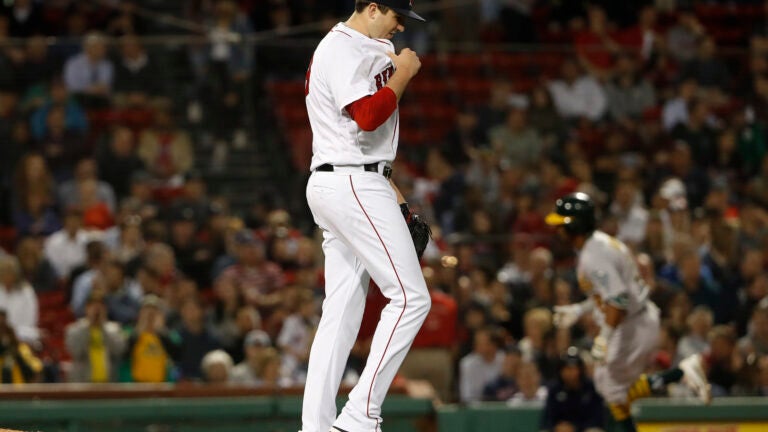 BALTIMORE — For Carson Smith, one moment of anger has had career-changing implications.
The Red Sox on Tuesday confirmed what has long been expected: Smith will need season-ending surgery to repair the damage in his right shoulder that occurred when he threw his glove at the dugout bench after a poor outing on May 14. Smith's shoulder partially dislocated when he threw his glove. He is scheduled for surgery, to be performed by Dr. David Altchek, on Wednesday at the Hospital for Special Surgery in Manhattan.
Depending on the extent of the damage, Smith could miss part of the 2019 season as well.
In a rarity, the Sox made head athletic trainer Brad Pearson available to explain Smith's injury.
Smith's shoulder partially dislocated when he threw his glove. The subluxation caused labrum and capsule issues that were visible on an MRI. Smith sought two other opinions before electing to have surgery.
Pearson said there is clearly tearing in the labrum.
"Really what's going to happen is they're going to go in and look at all the structures and fix all the things they feel necessary in order to add stability back to that shoulder to handle the rigors of pitching,'' Pearson said.
Depending on the extent of the damage, Smith could miss part of the 2019 season as well. Pearson said surgery was the recommendation of all three doctors.
"I think this was a freak thing,'' he said.
Smith appeared in only 29 games for the Sox after being acquired from Seattle before the 2016 season. He had Tommy John elbow surgery in 2016.
Smith is eligible for arbitration after the season. It is far more likely, if not certain, that he will be nontendered.
Filia acquired
The Red Sox received 25-year-old outfielder and first baseman Eric Filia from the Mariners as the player to be named later in the trade that sent lefthander Roenis Elias back to Seattle. Filia was assigned to Double A Portland.
Baseball America ranked Filia has the No 14 prospect in the Seattle organization prior to this season and he is a career .343 hitter with an .888 OPS in three minor league seasons.
Filia also hit .408 for the Peoria Javelinas in the Arizona Fall League in 2017.
Here's the catch: Filia was suspended for 50 games in January after a second positive test for a drug of abuse. That cost him an invitation to spring training.
Filia also missed the 2015 season at UCLA after he was caught plagiarizing part of a philosophy paper and suspended for the 2014-15 school year. The UCLA Daily Bruin reported that Filia spent part of that year out of school working as a butler at the Playboy Mansion.
Filia hit .426 in 13 games for Double A Arkansas since returning from suspension.
Red Sox president of baseball operations Dave Dombrowski said the team "did a lot of homework'' on Filia and was comfortable in acquiring him.
Portland manager Darren Fenster knows Filia well. He was on Peoria's coaching staff in 2017.
Star power
A 13-day stint on the disabled list did not hurt Mookie Betts's chances at the All-Star team. Per Major League Baseball, Betts leads all players with 748,872 votes.
Astros second baseman Jose Altuve (701,236) is second and Angels center fielder Mike Trout (639,822) is third.
Betts was elected as a starter in 2016 and selected to the team in '17.
"He's a likable guy. He's a great bowler,'' manager Alex Cora said. "Probably they're voting, too, the bowling community.''
J.D. Martinez is first among designated hitters and has a 281,530-vote lead on Giancarlo Stanton of the Yankees. Through Monday, Martinez had a 1.030 OPS and Stanton was at .810.
Mitch Moreland is in second place among first baseman, only 25,923 votes behind Jose Abreu of the White Sox.
Andrew Benintendi is sixth among American League outfielders.
Draft deals done
The Sox have either reached agreements with their first 11 picks in the amateur draft or are close, according to major league sources.
Once those players have physicals and drug tests, they would be assigned to minor league affiliates.
All of the picks from the first 10 rounds outside of second-rounder Nick Decker are expected to sign for slot value or less.
High school infielder Triston Casas, the 26th overall pick, agreed to a deal worth $2.55 million, his exact slot value. Decker, a high school outfielder from New Jersey, agreed to a bonus worth $1.25 million. His slot value is $1.02 million.
The Sox also will use some bonus money saved in the first 10 rounds on 11th-round pick Nick Northcutt, a power-hitting high school third baseman from Ohio.
Northcutt is expected to receive $565,000 to pass on a scholarship to Vanderbilt. Picks after the 11th round are valued at $125,000. The Sox also are close to a deal with high school third baseman Brandon Howlett, the 21st-round pick.
Florida Southern lefthander Logan Browning, a 24th-round pick, is waiting on his minor league assignment. He was 11-2 with a 3.07 ERA and hit .440 with a 1.188 OPS.
Browning told The Ledger of Lakeland, Fla., that the Sox want him to pitch in relief and possibly DH.
More Holt?
With Dustin Pedroia expected to remain on the disabled list for at least several more weeks, Cora is planning to incorporate Brock Holt into the lineup more often to give Eduardo Nunez more time off. "I'm not saying it's a strict platoon, but we'll make sure both get at-bats,'' Cora said . . . Through Monday, Red Sox relievers were second in the American League with a 2.98 ERA, second in opposing batting average (.218), and fourth in strikeouts per nine innings (9.87). They also had allowed the second-fewest homers (19).