Red Sox
Manny Machado would come at too great a cost for Red Sox
The problem is that it makes sense for the Red Sox only in a daydream.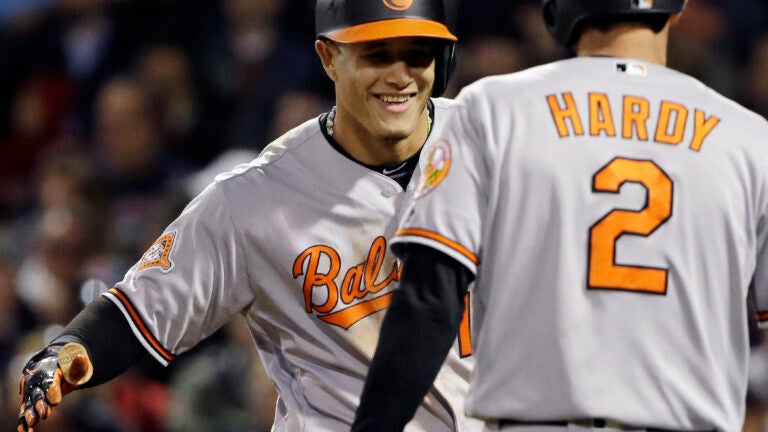 Daydream on this potential Red Sox lineup. Go ahead, I won't stop you. It would be the relentless kind that leads to many parades – around the bases, and in perhaps in October, deliriously through the city streets:
RF Mookie Betts
LF Andrew Benintendi
DH J.D. Martinez
3B Manny Machado
1B Mitch Moreland
SS Xander Bogaerts
2B Eduardo Nunez/Dustin Pedroia
CF Jackie Bradley Jr. (He's going to go on a tear any day now, honest)
C Sandy Leon/Christian Vazquez
Even with the weaknesses at the bottom of the lineup (I'm starting to think Bradley's annual torrid six weeks when he hits like his buddy Mookie isn't coming this year), that lineup would be what Theo Epstein liked to call a run-scoring machine when talking about those explosive early 2000s Red Sox lineups.
Looking at that lineup on paper (or the screened device of choice, I suppose) is almost enough to make a Red Sox fan want it to happen. The speculation, via The Athletic's trustworthy and informed baseball writer Ken Rosenthal, that the Red Sox could be positioned to make a blockbuster offer for Orioles star Manny Machado, is impossible to resist at face value.
Machado, who turns 26 next month, is one of the best dozen players in baseball, and that might not be giving him enough credit. He's basically the infield version of Mookie Betts, with a .957 OPS and 18 homers for the wretched Orioles this season.
He's a free-agent-to-be, and Baltimore general manager Dan Duquette, whose club is 27.5 games out of first place in the American League is and 29 games below .500, should be fired on the grounds of incompetence if he doesn't get all he can for him soon. There's a case to fire him on those grounds anyway, but still, he's got a chance to add one more great trade to his resume.
Would it be a surprise if Rosenthal is onto something and the Red Sox did get in on the bidding? Well, it certainly sounds like something Red Sox general manager Dave Dombrowski would at least ponder doing, doesn't it? He's going to have an interesting Hall of Fame case as an executive when his career is done, and that career has largely been built on his willingness to swing a mega-deal.
Looking at that potent what-if of a lineup card, it's understandable why Red Sox fans would be excited by the thought of Machado joining Betts, Martinez, Bogaerts, and the rapidly ascending Benintendi in that lineup. They might score 1,000 runs even with the catcher/Bradley dead weight at the bottom.
The problem is that it makes sense for the Red Sox only in a daydream. It's possible to be excited about the idea of acquiring Machado while also recognizing such a deal is painfully shortsighted. There are too many variables and consequences that strongly suggest how foolhardy it would be.
First, it would cost Rafael Devers, the Red Sox' 21-year-old third baseman. And the thought of including him – an elite prospect currently struggling for a team with championship aspirations — along with presumably other remnants of a once-fruitful farm system, for one of the best players in baseball has to be percolating in Dombrowski's mind.
Devers, so precociously excellent at the plate last year after his call-up, is struggling. He has 10 homers, so the power is there, but he's hitting just .238 with a .698 OPS. And his defense remains a work of moderate progress.
His struggles are not alarming. Devers rocketed through the minors – at this point last year he was a Sea Dog – and as Aroldis Chapman knows, he has proven he can hit a major league fastball. Small sample-size fun: He actually had a higher OPS in the majors last year than Machado. He's going to be a terrific player. It's simply his turn to adjust.
Virtually every young player of considerable talent endures this. Consider: At Devers's age, Machado hit 12 homers and drove in 32 runs in 82 games for the Orioles before suffering a knee injury that ended his second season. Another example: Adrian Beltre hit .270 with 15 homers at age 20 in his first full season with the Dodgers. He grew into one of the most likable and accomplished players of his era.
The only way the Red Sox could make a deal for Machado without including Devers is if they included Benintendi. That would be, to put it kindly, idiotic beyond belief. He's having a season (.931 OPS, 12 homers, 47 RBIs) nearly as dynamic as Machado's. Benintendi cannot be a free agent until 2023, while Machado can be in four months. Anyone who suggests that as a logical possibility is either trolling you or ought to be in concussion protocol. Maybe both.
The bigger variables and consequences involve the long-term roster and salary structure. Because the Red Sox' best prospects of recent seasons have either graduated to the majors or been traded for established stars in mostly successful deals, the farm system is thin. Perhaps they restocked it in the recent draft in which they focused on college players with their early picks, but the reality is that the Red Sox need some cost-controlled talent on their roster.
J.D. Martinez has a nine-figure deal. As you may have heard, so does David Price. Chris Sale is up after next year. Bogaerts is up in two years, Betts in 2021, and both are going to start making big annual salaries soon in arbitration. Betts, if he stays healthy, is going to be at least a $300 million player, and he's shown no inclination so far to take a discount, nor should he.
There's more. Craig Kimbrel is in his walk year. So is Joe Kelly. The Sox are shedding some bad money (is anyone going to sign Hanley Ramirez?), but not as much as it seems – Pablo Sandoval is still on the books for approximately $19 million next year, and Dustin Pedroia is under contract through 2021.
The suggestion that Machado, just months from a free-agent jackpot and the chance to live and play where he desires, would sign a long-term deal upon coming here is wishful to the extreme. That's not happening. The Red Sox need cost-controlled young regulars the next couple of years to balance things. Benintendi is one. So is Devers.
So you'd have Machado for three months. You have Devers under control for 5.5 years. That matters, especially with the Red Sox already past the $197 million luxury tax threshold and in serious danger of going $40 million or more over, which would lead to the incurrence of a 42.5 percent tax and their next first-round draft pick being lowered by 10 spots.
That is a staggering price, and one I cannot imagine they would ever be willing to pay. There has to be more context to it than looking at two players at different stages of their career and saying "Gimme the star now!'' without considering all of the other crucial big-picture factors.
Perhaps Machado would be the difference between winning the AL East and playing in the wild card, or the difference between winning a playoff round and winning the World Series. But there are too many what-ifs and maybes here, too many long-term fallouts and effects.
When all are considered, it's clear. Devers is too much to give up for a rental, even a rental of Machado's magnitude. If the Red Sox are going to win it all – and at 48-22, they're currently on a 111-win pace with what they have – they're going to have to do it without the assistance of a blockbuster deadline deal.
Sorry, no Machado for you. But hey, at least this doesn't ruin my baseball daydream: How about picking up Beltre at the deadline from the faltering Rangers for relative cheap? Here's to that one becoming reality.