Red Sox
Former Red Sox pitcher Pedro Martinez is hosting a feast at Fenway Park
The second annual Feast with 45 is on deck.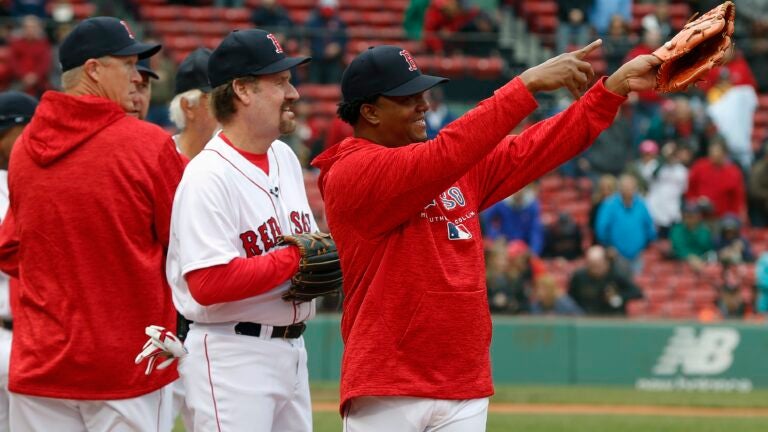 Hall of Fame pitcher Pedro Martinez is welcoming fans to celebrate a night of baseball, food, and drink at Fenway Park.
The second annual Feast with 45 is scheduled to take place June 29 — the same night as the first game of the Red Sox-Yankees series later this month. While the rivals face off in the Bronx, Boston will still be bustling to the tune of good eats.
Fans in attendance will get to taste dishes from over 45 renowned chefs in Boston, including Nick Calias of Brasserie JO, Jason Santos of Citrus & Salt, Tony Maws of Craigie on Main, Andy Husbands of The Smoke Shop BBQ, and Allen Campbell (former personal chef of Patriots quarterback Tom Brady) of Raw Body Foods.
Retired MLB All-Star Vladamir Guerrero and former Red Sox catcher Jason Varitek are among the players expected to be in attendance.
All proceeds from "Feast with 45" will benefit the Pedro Martinez Charity, which has become a cornerstone to Martinez's life after retirement. He and his wife, Carolina — who is executive director of the charity — have made giving back a priority.
"What do you do with everything you've become if you don't help and use your platform to impact other people's lives?" Carolina told Boston.com. "That's really the engine that continues to inspire us. We don't necessarily seek inspiration from outside of who we are, just because both of us received an opportunity, so that's exactly what we are looking to do and who we want to become for others. We want to be able to open doors that otherwise they wouldn't be able to access or afford."
Since leaving professional baseball in 2009, Martinez has continued to stay active in the city of Boston  — both via his charitable efforts and work with the Red Sox. He also watched Game 3 of the Bruins-Lightning series with hockey legend Bobby Orr and returned to the mound for the Red Sox alumni game.
"It's a new way of experiencing Boston and the Boston fanbase," Carolina said.