Red Sox
Xander Bogaerts appears to be putting it all together this season
The sky has always been his limit.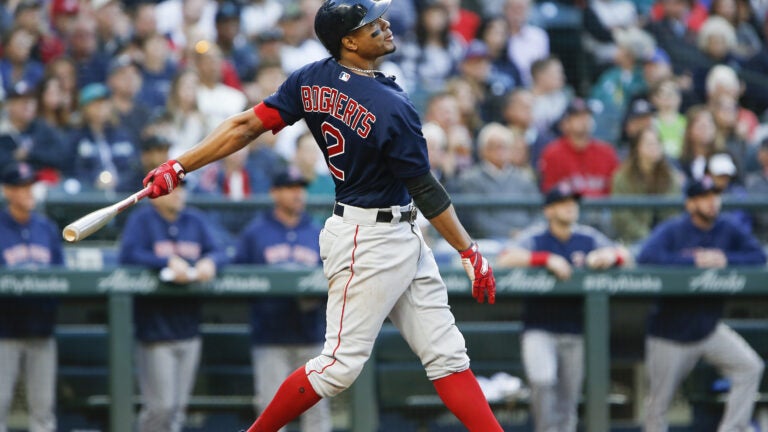 Baseball remains a distinctively wonderful sport, but it is often one of delayed gratification.
That can make it a tough sell in this impatient age of social and antisocial media, which is why cockamamie corporate ideas like beginning extra innings with a runner on second base are given legitimate consideration.
Baseball is best at a slow burn over the long season. The commissioner and his league-partner cronies want straight fire every night.
In that quest, they had better not extinguish elements of what makes baseball great. Don't retroactively ruin George Carlin's famous bit on baseball versus football, you know what I mean?
You want something that speeds up baseball without sacrificing what makes it appealing in the first place? Well, how about . . . all right, I have nothing, at least of substance. Pay me a healthy fraction of Rob Manfred's salary and then I'll get on it.
I did, however, think of a small tweak semi-seriously this weekend as I watched Xander Bogaerts carry the Red Sox to a four-game split with the sneaky-excellent Mariners.
Baseball should adopt something like hockey's three stars at the end of each game, where the players who contributed the most during a game are saluted.
Maybe some would suggest it to be four stars, or even five, since a baseball game isn't always most impacted by just one or two dominating performers. But three is a number that is part of baseball's fabric. Three it is, I say.
Sure, it's goofy and minor, but fans in the ballpark would enjoy it. I'm old enough to remember when Willie Stargell and the We Are Family Pittsburgh Pirates of the late '70s did a similar thing, but with small stars they wore on their hats. And our version of baseball Tommy Points would be a way to quantify at least some perceptions.
Keeping a tally of the points over the course of the season would be a telling way beyond the box score to identify and acknowledge those who are having fine seasons, and those who are not.
As rudimentary as it is, it would make more sense to most fans than Wins Above Replacement, a statistic I like, but as one more tool to measure performance rather than as a be-all, end-all.
This much is certain: Bogaerts would have been the first star Thursday, a taut 2-1 Red Sox victory in which he hit the go-ahead home run off Felix Hernandez in the top of the sixth.
Baseball-reference.com features a Top Five plays on every box score that measures, based on how it affected win probability at the time, the most important plays in a game.
Bogaerts's homer was actually second; a game-ending double-play grounder induced by closer Craig Kimbrel in the ninth that brought the win probability from 32 percent to 100 percent was the biggie.
But his homer, which gave the Sox a 2-1 lead, did account for the winning run. Bogaerts also delivered a gorgeous 6-3 double play in the bottom of the sixth, which ranked as the fifth-most important play.
He was the star of that game, and the star of the four-game set overall. Bogaerts, who also homered Saturday and Sunday, went 5 for 17 in the series (.313) with 3 homers and 6 RBIs.
Some might say Bogaerts is becoming what Red Sox fans have wanted and expected him to be since he burst onto the scene during the 2013 postseason, emerging at age 21 as the Red Sox' second-best hitter behind David Ortiz during the championship run.
He is approaching the middle of a superb season, slashing .279/.339/.518 with 12 homers, 17 doubles, and 41 RBIs despite missing nearly three weeks in April after suffering a cracked bone in his foot.
Bogaerts has a higher slugging percentage and OPS than his Astros contemporary Carlos Correa, and he's well above his own slash line (.273/.343/.403) from last season, in which his OPS (.746) was slightly below league average (.753).
This feels like a big comeback season for him. But it doesn't tell the full story. He's been as good as Sox fans anticipated previously, fulfilling his promise with two differently excellent seasons in which he won the American League Silver Slugger award at shortstop both times.
Because of his half-to-half inconsistency in individual seasons, his best times are often overlooked, and that's led to him being undervalued by many Red Sox fans.
Remember 2015, when he finished runner-up to Miguel Cabrera in the AL batting race (.320), while rapping 196 hits and driving in 81 runs?
Or 2016, when he slashed .294/.356/.446 with a career-high 21 homers, 89 RBIs, 115 runs, and 192 hits?
(From the middle of 2015 to the middle of 2016, Bogaerts hit .332 with 215 hits over 159 games. Wow.)
The final numbers suggested that those were outstanding seasons. The problem was that, at least in 2016, it could have been greater.
Bogaerts faltered in the second half of '16 (.253 after the All-Star break), started well last year, and was hitting .308 on July 8 when he was hit in the hand with a pitch by the Rays' Jacob Faria.
That ruined him for the season; he hit .230 with 4 homers over the final 67 games.
It imperative that Bogaerts sustain his excellence and eliminate questions about his ability to remain consistent over a full season. To do that, he must stay healthy. So it would be wise for him to heed manager Alex Cora's advice to stop sliding headfirst into first base.
The manager preaches aggressiveness, and that get-your-pitch-and-crush-it approach at the plate has benefited Bogaerts this year. But that kind of aggressiveness on the bases is reckless and risky.
If Bogaerts can stay healthy, there's little doubt in my mind he's going to put up a season that looks like it belongs on the back of Shane Larkin's dad's baseball card.
He's done it before, but some frustration along the way — an injury, a slump, something — seems to make Red Sox fans forget.
It won't anymore.
I'm all for identifying three stars from every game. That would be fun, I tell you.
But what is even more satisfying is the ongoing process of identifying Xander Bogaerts as a bright star of this Red Sox season.
The sky has always been his limit. At 25, he now seems to know how to avoid crashing back to earth.
Editor's note: A previous version of this story referenced the Red Sox' 2-1 victory over the Mariners last Friday, but that game was actually played Thursday. Boston.com regrets the error.