Red Sox
Jackie Bradley Jr. has been bad at the plate, but don't abandon him yet
Right now, the Red Sox have no better alternative than to appreciate his defense while waiting at least a little longer for his snoozing bat to awaken.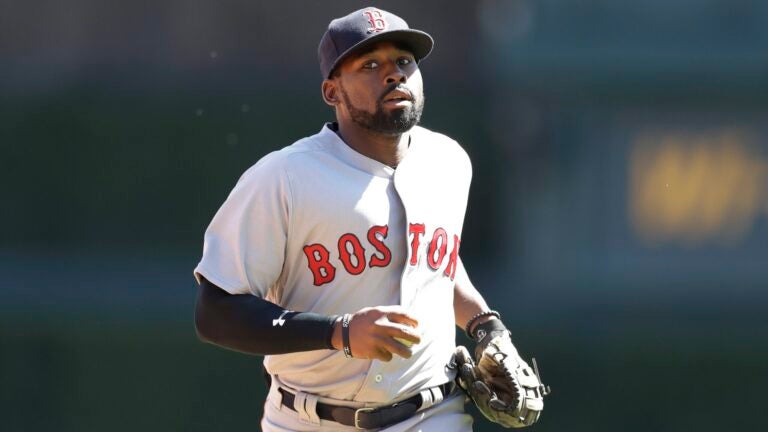 Oh, of course I understand why a vast and vocal majority of Red Sox fans want Jackie Bradley Jr. benched or gone. The numbers tell an ugly but true story. His job performance suggests it shouldn't be his job at all.
The 28-year-old outfielder is hitting .189 with a .581 OPS in 69 games. He has 4 home runs in 222 at-bats. He has struck out 66 times. He has been abysmal, stuck in a season-long rut with no signs of escape or rescue. He's hitting as though he never learned how.
Bradley is doing exactly one thing well offensively this season: He is 8 for 8 in stealing bases, one shy of his career high. And he's now 38 for 43 on steals in his career. Super-efficient on the basepaths, that JBJ.
Imagine what he might do if he made more than the occasional cameo appearance on first base.
Just how bad has he been?
In terms of adjusted OPS, he's been worse this year than Pablo Sandoval ever was during a season he played regularly, worse than Carl Crawford at his lousiest, worse than pretty much any Red Sox hitter ever to get significant playing time.
Bradley is on pace to have one of the Red Sox' three worst offensive seasons in the last 50 years. I punched in the following statistical criteria into Baseball Reference's Play Index: played for the Red Sox from 1968-2018, had more than 220 at-bats in a season, batted below .195, and had an adjusted OPS below 65.
The results: George Scott, 1968 (.171 average, 40 OPS+ in 350 at-bats in one massive '67 hangover). Tony Pena, 1993 (.181 average, 32 OPS+ in 304 at-bats). And Bradley, now. Yikes.
What is especially alarming is that he's struggled to catch up with even average fastballs. But he also has had very little luck when he has hit the ball well (he's hitting .247 on balls in play; the league average is typically around .300). And he's hitting the ball harder in terms of exit velocity than he did last year. He's been bad, but so has his luck.
He's habitually streaky, perhaps more so than any other Red Sox player in recent vintage. That's annoying, and in some ways it sapped the fun from his sizzling streaks, because you knew an inevitable freezing spell was just back-to-back 0-for-4s away.
Now that I've acknowledged the hideous realities of his performance, I can get to the confession:
I'm not ready to abandon Bradley just yet.
It's me. I'm the one. Well, me and Alex Cora, I guess, though I wonder how much longer the ever-patient Red Sox manager can be.
What's been forgotten in Bradley's chronic misery at the plate this year is that it wasn't that long ago when he was a genuine asset on offense. We tend to talk about him now as though he has never hit, and he certainly has never been consistent over a full season. But just two years ago, Bradley batted .267 with 26 home runs, 87 RBIs, and an .835 OPS. His adjusted OPS was 118, meaning he was 18 percent better than the league-average hitter.
The year before, when Bradley seemed to find his footing as a major league player, he had a 119 adjusted OPS in 74 games, slashing .249/.335/.498 with 10 homers.
I know, it feels like those numbers had to have been produced by a different player, like it's a mistake on Bradley's Baseball Reference page and that really was a season from Ellis Burks's ledger.
Maybe Bradley is a different player now. Maybe the mystery goes unsolved, mediocre fastballs will continue to flummox him, and he settles into the career of a Gary Pettis-type glove-first journeyman. He's had a prolonged chance, and it's only served to confirm that he's a mess at the plate.
But even if Bradley doesn't have one of his patented hot streaks in him, even if he spends the rest of the summer looking up at the Mendoza Line, he's worth having around. You know why: his glove.
I won't dwell on this, because his skill in center field and knack for saving an occasional run or two is obvious. On some days, his defense is the most enjoyable aspect of this team.
It's also a topic those sick of watching him hit are tired of hearing about, and I get it. Even a defensive whiz has to have some offensive competence. It's why I never bought the Jose Iglesias hype. He was a BABIP darling who never seemed to hit the ball hard.
Those who want Bradley buried (and he probably never should face lefthanded pitchers) or gone struggle to supply a viable alternative. Putting Andrew Benintendi in center certainly helps the argument of those of us who giddily see Fred Lynn tendencies in his offensive skill set, but he is not nearly as adept defensively. And as a defensive player, J.D. Martinez is a heck of a hitter. You're downgrading defensively at two positions with that plan.
And who picks up the extra at-bats Bradley loses? Brock Holt is having a fine comeback year, but he's needed elsewhere, particularly at second base. And as a plug-in outfielder, his effort is better than his execution. Blake Swihart? We know what happens to him in left field. And his batting average is 40 points below Bradley's. His chances have been limited, but he hasn't seized any of them.
Some will suggest Rusney Castillo. It's too bad he's trapped in Triple A, because his performance the past couple of seasons suggests he's at least a fringe major league player. But the Red Sox would pay a 62.5 percent tax if they exceed the highest luxury tax threshold of $237 million this year. Per the Associated Press, the Red Sox began the season with a $233 million payroll. That is barely enough wiggle room to add a complementary bullpen piece.
If they're going to add to the roster, it has to come with as much certainty as possible that the player will fill a need and perform to expectations. Castillo is almost 31, he was erratic all around the last time we saw him, and he's been good but not great in Triple A. Expecting him to contribute comes with no certainty. It's financially irresponsible wish-casting.
Maybe there's wish-casting involved in holding out hope that Bradley will hit. But at least he has before. And right now, the Red Sox have no better alternative than to appreciate his defense while waiting at least a little longer for his snoozing bat to awaken.