Red Sox
A second act for Adrian Beltre here would be ideal
It would take some creative thinking to bring Beltre back to the Red Sox, nearly eight years after a different front office regime let him get away.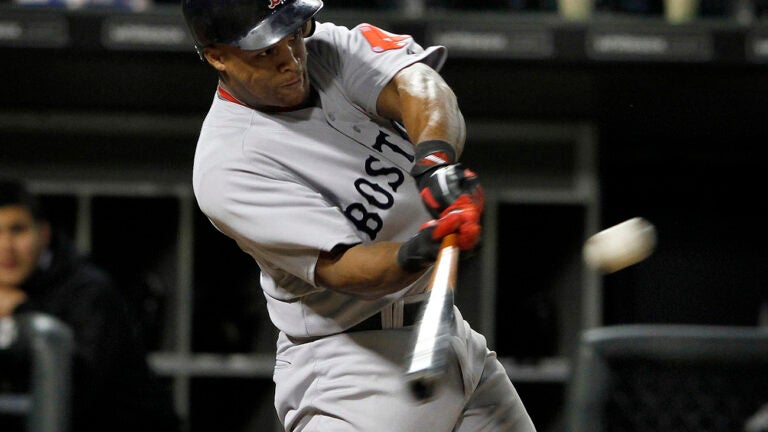 We might as well lead off with the necessary acknowledgment, since it's a reality that will be difficult for Dave Dombrowski to overcome even if he does covet the player.
It would take some creative thinking to bring Adrian Beltre back to the Red Sox, nearly eight years after a different front office regime let him get away.
Dombrowski's mostly winning habit of wheeling and dealing has left the Boston farm system thin in the caliber of prospects required to entice Beltre's employer, the Texas Rangers, to send him this way. No, 30-year-old Rusney Castillo, expatriated to Pawtucket, isn't going to get it done.
The margin might be even thinner between the Red Sox' current payroll (in the range of $233 million) and the massive financial punishment that comes from surpassing the highest luxury-tax tier ($237 million).
It's a bummer, but it's the truth. It's going to be challenging for the Red Sox to acquire anyone of reasonable accomplishment and decent salary before the July 31 trading deadline. To bring Beltre back to Boston would likely come at costs the Red Sox cannot reasonably afford without stunning and unforeseeable creativity from Dombrowski.
Even at age 39, Beltre, who should be a first-ballot Hall of Famer — I'll pause while you confirm this on his baseball-reference page — and is regarded as one of the most benevolent teammates of his time, is going to be a coveted commodity among contenders. If the Rangers decide to deal him with a few months and roughly $9 million left on his contract, they're going to get some competitive and compelling offers.
There does appear to be some hope that Dombrowski will pursue him. Colleague Nick Cafardo recently cited the Red Sox, Phillies, Braves, and Indians as potential suitors. There presumably would be many more if it were clear that the Rangers — who have indicated, surely with some level of gamesmanship, that they would like to keep him as a mentor to their younger players as they rebuild — are inclined to trade him.
Beltre also has 10/5 rights (10 years in the majors, five with the same team), which gives him the power to veto any deal.
The Rangers should trade him if he's willing. He's had two disabled list stints this season, and his hamstrings are as injury-prone as . . . well, pretty much everything on Jacoby Ellsbury's body. They can always sign him back as a free agent.
What does not require any creative thinking whatsoever in all of this is figuring what he would mean to the Red Sox.
Beltre would be an ideal acquisition in a number of ways. He could serve as the third baseman against lefthanded pitching (he's hitting .350 against southpaws in 45 plate appearances this year, and .317 overall), easing some of the burden on young Rafael Devers. He would be the ideal mentor to Devers, having been a super-prospect who came up at a young age (he recently marked the 20th anniversary of his debut) and endured some struggles. He could DH from time to time, allowing J.D. Martinez to slide to left field, Andrew Benintendi to center, and reducing Jackie Bradley Jr.'s plate appearances.
(Coincidentally, the Red Sox received two comp picks when Beltre signed with the Rangers in 2011. They used them on Bradley and Blake Swihart, their two most inept hitters for most of this season.)
It would also allow Red Sox fans to enjoy some bonus time rooting for a player who was here for just a fleeting, fun moment, one who is something of a what-if in their history.
Former Red Sox general manager Theo Epstein was an unabashed Beltre admirer; he considered pursuing Beltre to play shortstop when he became a free agent after a 48-homer season in 2004 with the Dodgers.
Beltre signed with the Mariners instead, and while he submitted three seasons of at least 25 homers and won a pair of Gold Glove awards during his five years in Seattle, he was regarded as something of a bust, especially after he hit just 8 homers in 2009, the final year of his deal.
Epstein brought him to the Red Sox on a one-year, $10 million deal for the 2010 season. It turned out to be a brilliant move. Beltre slashed .321/.365/.553 with 28 homers and a league-best 49 doubles, led the Red Sox in WAR (7.8), finished ninth in the Most Valuable Player balloting, won a Silver Slugger award, and made his first All-Star team.
That was also the season fans nationally noticed that he was perhaps the most charmingly quirky player in baseball — flipping out when teammates touched his head, dropping to one knee cricket-style while crushing a home run, and proving that intensity and laughter aren't mutually exclusive.
There has never been total clarity on why Beltre was here just one season. He has said that he wanted to stay, though there were reports at the time that he favored the West Coast. (I never lasted too long in the geography bee, but I'm pretty sure there's not that much ocean off Arlington, Texas.)
The most plausible reason appears to be that as much as Epstein admired Beltre, there was another longtime favorite he coveted even more. Rather than prioritize Beltre, he instead traded for Padres first baseman Adrian Gonzalez, with Kevin Youkilis shifting from first to third to make room. The Red Sox also signed outfielder Carl Crawford to a seven-year, $142 million deal that winter, one that quickly ranked on the short list of the most regrettable moves in Red Sox lore.
Gonzalez was excellent his first year (.338/.410/.548, 27 homers, 117 RBIs, 213 hits), but as the Red Sox collapsed in September 2011, it became evident that he had graduated at the top of his class at Clubhouse Lawyers University. He was gone to Los Angeles, along with Crawford, before the end of the next season
Beltre, meanwhile, pretty much went on to replicate his one season with the Red Sox over multiple years with the Rangers. He signed a six-year, $96 million deal with Texas in 2011, one perceived to be steep at the time.
It turned out to be a bargain; over those six years, he averaged 28 homers, 94 RBIs, a .308 batting average, and an .893 OPS. He finished in the top 15 in MVP voting all six years, in the top seven four times, won three Gold Gloves, and two more Silver Sluggers.
Beltre established himself as a major leaguer with the Dodgers. He was better than we realized with the Mariners. He was brilliant in his too-brief stay in Boston.
But Beltre became a Hall of Famer in Texas, collecting his 3,000th hit and 400th homer in their uniform. He'll wear their cap on his plaque in Cooperstown; he belongs to the Rangers.
But it sure would be nice if somehow they could let Boston have him one more time. To help now, and as a reminder of the old times that didn't last long enough.