Red Sox
Doctor's orders: Dustin Pedroia to stay in New York
The expectation is that Pedroia will return this season, but it clearly won't be before the All-Star break.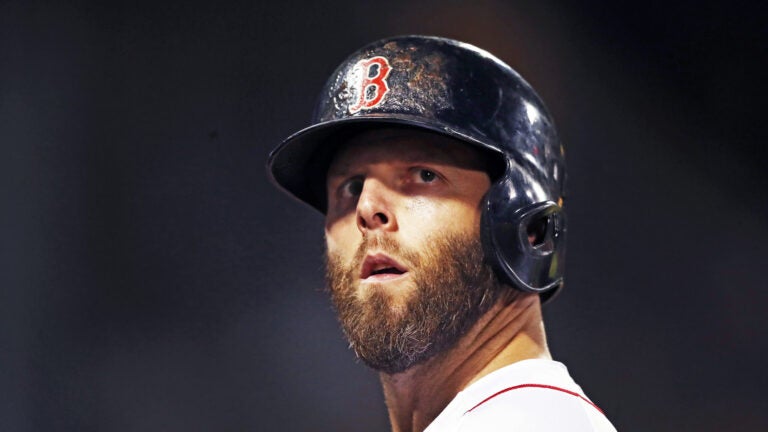 Dustin Pedroia will remain in Manhattan when the Red Sox leave for Washington after Sunday night's game against the Yankees to receive further treatment on his left knee.
Pedroia's surgeon, Dr. Riley Williams III, works out of the Hospital for Special Surgery. Pedroia will report there Monday for rehab work under the Williams's direction. The second baseman had cartilage restoration surgery in October. He started the season on the disabled list but played only three games when he returned to the DL in May because of inflammation. He has been out since.
"It's a good thing. He wants to see where I am and the movements I'm doing,'' Pedroia said Friday before an 8-1 loss against the Yankees. "This will give us a better sense of what else I need to do.''
The expectation is that Pedroia will return this season, but it clearly won't be before the All-Star break.
Steven Wright is scheduled for an exam with Williams on Monday, then will rejoin the Sox in Washington.
Wright, who had the same surgery, also is on the DL with inflammation, but it is not as debilitating as Pedroia's and he could make a start before the break.
Casas done for year
Triston Casas, the Red Sox' recent first-round draft pick, is out for the season after having a torn ulnar collateral ligament in is right thumb repaired Thursday.
Casas, 18, was injured Monday afternoon while diving for a ball during a Gulf Coast League Game in Fort Myers, Fla. The Sox sent him to Boston and Dr. Matthew Liebman did the surgery at Newton-Wellesley Hospital.
Casas is expected to be ready for next season. He could participate in the Instructional League in September but the team is sure to be cautious with a prospect they signed for a $2.55 million bonus.
The power-hitting third baseman was 0 for 4 with a walk and two strikeouts in two games.
Swihart's role?
The addition of Pearce essentially ends any need for the Red Sox to use Blake Swihart as a first baseman, designated hitter, or outfielder barring an injury.
What role he does have beyond third-string catcher isn't clear.
"We'll see, we'll see,'' Cora said. "He was getting some at-bats right up to the trade. Obviously he hasn't produced. We'll figure out how we're going to do it. But as of now we're going to play Steve against lefties.''
Swihart has hit .158 with a .404 OPS in 82 plate appearances. Because he is out of minor league options, the Sox have kept him on the roster instead of exposing him to waivers.
The Sox have made Swihart available on the trade market.
Minor stars
Double A Portland had lefthanders Kyle Hart and Matt Kent selected to the Eastern League All-Star team, along with first baseman Josh Ockimey. The game will be July 11 in Trenton, N.J. Hart is 5-5 with a 3.72 ERA in 13 starts. He was a 19th-round draft pick from Indiana in 2016. Kent is 5-5 with a 3.80 ERA in 16 games, 12 of them starts. He was taken in the 13th round of the 2015 draft from Texas A&M. Through Thursday, Ockimey was hitting .257 with a team-best 11 home runs and 37 RBIs in 61 games. He was second in the Eastern League with 44 walks. Ockimey was a fifth-round pick in 2014 . . . To make room on the roster for Pearce, Tzu-Wei Lin was optioned to Triple A Pawtucket . . . The Yankees recalled utility man Brandon Drury from Triple A Scranton/Wilkes-Barre. Drury was an everyday player with the Diamondbacks from 2016-17, but has spent most of this season in the minors . . . Tyler Thornburg will continue his rehab stint with Pawtucket on Saturday at Scranton. Drew Pomeranz will start his rehab assignment with the PawSox on Monday night at McCoy Stadium against Rochester . . . The Sox are 2-5 in their last seven road games and 5-13 at Yankee Stadium since July 17, 2016 . . . The Sox were 1 for 6 with runners in scoring position and are 4 for 27 in four games at Yankee Stadium this season . . . Giants receiver Odell Beckham Jr. took batting practice with the Yankees.