Red Sox
4 things to know about new Red Sox first baseman Steve Pearce
By playing for the Red Sox, Pearce joined an unusual list.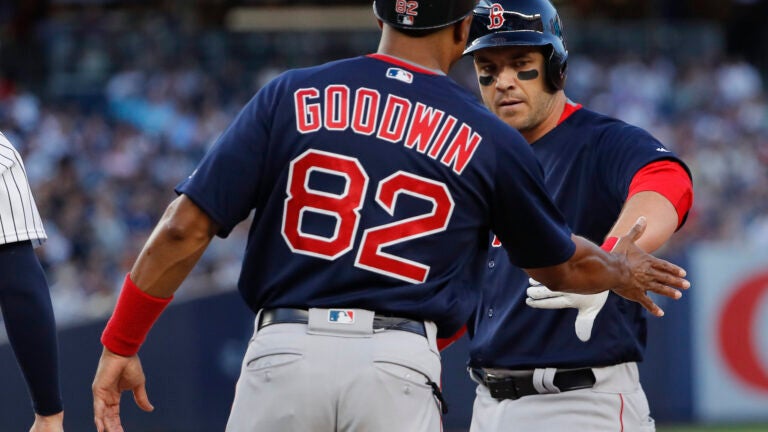 Needing another righthanded bat, the Red Sox added a well traveled veteran who grew up a Boston baseball fan despite being a Florida native.
That only scratches the surface of Steve Pearce's story. Acquired in a trade from the Blue Jays (along with cash considerations) in exchange for minor leaguer Santiago Espinal, Pearce's geographic versatility – having played for seven teams across two countries – extends to his on-field capability.
He's a first baseman who can also play outfield, as well as designated hitter. The 35-year-old has amassed a majority of his Major League plate appearances after crossing the threshold of 30, a renaissance which has seen him tap into the talents he once utilized as a collegiate star.
For those who might not be familiar with Pearce's story, here's a quick rundown:
An unlikely AL East track record
Making his Red Sox debut on June 30, Pearce officially joined a short list of players who have appeared for every team in a particular MLB division. He's the sixth person in league history to achieve the feat, and the second (after Kelly Johnson) to do so in the AL East.
After starting his professional career with the Pirates' organization, he bounced around in 2012. In March, Pearce was cut by the Twins and signed with the Yankees two days later. The Orioles purchased him from New York in June, and was then claimed by the Astros off waivers in July.
The Yankees then purchased him back in August before the Orioles acquired him for second time in the same season, claiming him off waivers in September.
Pearce would remain in Baltimore until signing with Tampa Bay in 2016. He was traded back to the Orioles in August of 2016, but wasn't re-signed after the season. Pearce agreed to a deal in Toronto with the Blue Jays, remaining there until his June 28 trade to the Red Sox.
His AL East appearances before being traded to Boston:
Orioles: 291 games
Blue Jays: 118 games
Rays: 60 games
Yankees: 12 games
Defensive versatility
Across 12 seasons in the big leagues, Pearce has played in 577 games. A majority of that time has been spent as an outfielder, though Pearce is also adept at first base. In college at South Carolina, he went 50 games in 2004 at first base without committing an error (a school record).
"He can play first, he can play the outfield, he can DH, he can come off the bench — he's done it before — and pinch hit," Red Sox manager Alex Cora said after the trade. "It's one more weapon that we have. We got better tonight."
Pearce has also proven an ability to play second and third base, though has only been used in those positions on a much more limited capacity (45 games combined).
Veteran development
Despite winning back-to-back team triple crowns as a hitter in college where he clubbed 42 home runs in two years at South Carolina, Pearce failed to make a significant impact at the plate in his first six Major League seasons.
Yet since turning 30, he's experienced a late development. His post-twenties OPS (.819) far outstrips the total he achieved prior to that (.677).
And Pearce has always been proficient against lefthanded pitching, where his career average, on-base percentage, slugging percentage and OPS have all been historically higher against lefties than righties.
His finest season came in 2014 with the Orioles. A member of the 96-win Baltimore team that reached the American League Championship Series, Pearce appeared in 102 games, hitting .293 with 21 home runs and a .930 OPS.
Red Sox background
Pearce grew up in Lakeland, Florida, but apparently did so as a Red Sox fan.
"Family," he told reporters when asked why he chose Boston to support while living in another state. "I was brainwashed as a kid. Had no choice."
He father, also named Steve, grew up in Rehoboth.
And in 2004, Pearce nearly ended up playing for his favorite team. In the 10th round of the draft, the Red Sox selected Pearce with the 305th pick. He would've joined a draft class that included second round pick Dustin Pedroia.
Pearce, however, determined that he would return to South Carolina for another season. He would eventually be picked by Pittsburgh in the eighth round of the 2005 draft and signed with the Pirates.