Red Sox
Former Red Sox bat boy Thad Ward is living the dream
Boston selected its former bat boy in the fifth round of the 2018 MLB Draft.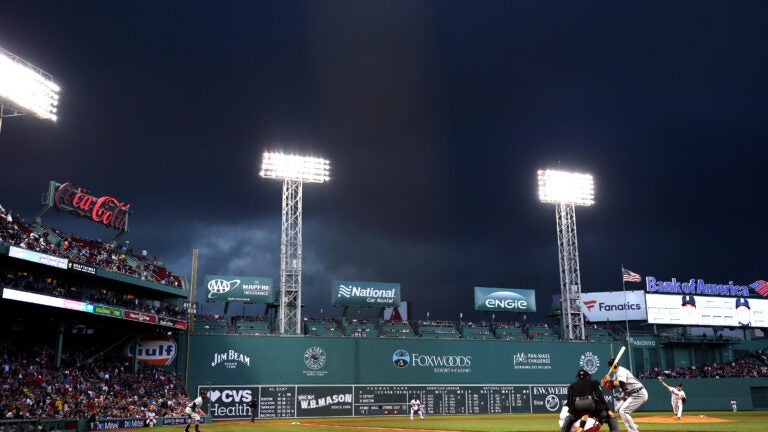 Thad Ward's Red Sox journey began on a field in Fort Myers, Fla.
Long before his name was called in the Major League Baseball Draft, before he had discovered then honed a power sinker that would serve as the key to his dreams, Ward was a Bostonian for a day amid the sun-drenched palms.
Having friends in high places is a blessing, no matter the age. When a childhood pal asked Ward if he'd like to try his hand as a bat boy at the Red Sox' then-spring training facility at City of Palms Park, the youngster was hooked.
"A friend of mine had the opportunity to [bat boy],'' recalled Ward. "They only had one son and I was very good friends with him, so they asked me if I wanted to do it. That's really all that happened to get that job.''
Though Ward's nonchalance makes it sound like just another gig, it was anything but. With the passing of time, Ward lost the ability to pin down the exact date his services were called upon, though he believes it was the year the Red Sox broke their title curse in 2004.
Numbers on a calendar may be fleeting, but the Sox he encountered that day are etched into his brain for eternity.
"I was with everybody,'' Ward said. "It was Ortiz, Manny, Varitek, Lowell, Coco, Youkilis. I got to go into the locker room before the game just to hang out with them a little bit. They were cool; they talked to me.''
Now that he's grown, and the Red Sox have a vested interest in the Floridian that extends beyond important acquaintances and the fetching of lumber.
Ward was once a precocious high schooler whose slender frame had yet to catch up to his ability as a pitcher. Slinging the rock for Bishop Verot High School in Fort Myers, Ward secured a commitment from the University of Central Florida on the promise of a zesty fastball/slider combination.
In college, Ward worked tirelessly to corral his promising arsenal with consistency and command. A tip from pitching coach Justin Parker changed Ward's outlook to make the righthander a tad less conventional.
"He came up to me and was like, 'Hey, why don't you throw your two-seam all the time? Just be a sinkerballer.' I had never thought of it but [said], 'Yeah, I'll give it a try.' Obviously it worked so that's basically what I've been doing.''
Ward's openness to change paid dividends. His two-seam fastball had always possessed the bite of a sinker. Now, he was being told to lean on its tailing action.
As a junior Ward took flight, tossing over 63 innings for Central Florida with a 3.27 ERA while striking out 84 and walking just 26. He started five games, eclipsing his total from the previous two seasons combined, before transitioning to the bullpen for the remainder of the season.
Boston selected its former bat boy in the fifth round of the 2018 draft, using pick No. 160 to grant a childhood wish.
"I've always loved the Red Sox,'' said Ward. "The first game I ever saw in person was a Red Sox spring training game and I've loved them ever since. I've played in JetBlue [Park], I've played in City of Palms Park, [Boston's] spring training complexes. I've trained there all my life.
"I was really looking forward to the draft and I was really hoping it would be the Red Sox. That was the team I really wanted to go to. I love what they're about.''
Like a modern Red Sox pitcher, Ward speaks of pitch tunneling and sequencing with authority. His sinker/slider combination retains its potency because Ward releases them from identical arm slots, the former violently diving away from righthanded batters and the latter running in on their hands.
Two plus-pitches is enough to project as an effective major league reliever. But Boston sees a starter in Ward and is developing him as such. Part of that process hinges on the growth of Ward's changeup, which has gotten better but still lacks consistency.
A big one of my weaknesses in college, especially my sophomore year and still my junior year, was developing a changeup,'' Ward said. "I'd never really had a true changeup that I had a really good feel for, had a lot of confidence in, and threw with command.
"During the season we started using it more and more at UCF. It was getting better and better. Now, it's not really a confidence issue with the pitch, it's being able to throw it where I want, when I want. It's getting better. It's not terrible but it's not where I want it to be.''
If it gets to where Ward wants it to be, opposing hitters are in for a tough time. Ward struggled in his first minor league start, lasting just 1⅔ innings for short-season Single A Lowell and allowing a run on two hits. But Ward struck out three, his fastball reaching the mid 90s.
Now 21 and almost a decade and a half removed from his bat boy cameo, Ward knows the welcome will be warm upon his return to South Florida.
"Fortunately for me, spring training is right there in Fort Myers,'' he said. "I'll be able to have my family there. My friends will be able to come out to games. I'll be right at home during the offseason and spring training. That's a really nice perk to have."