Red Sox
Let's compare and contrast Pedro Martinez and Chris Sale
Sale is no Martinez, but he sure has done a lot of Pedro-like things.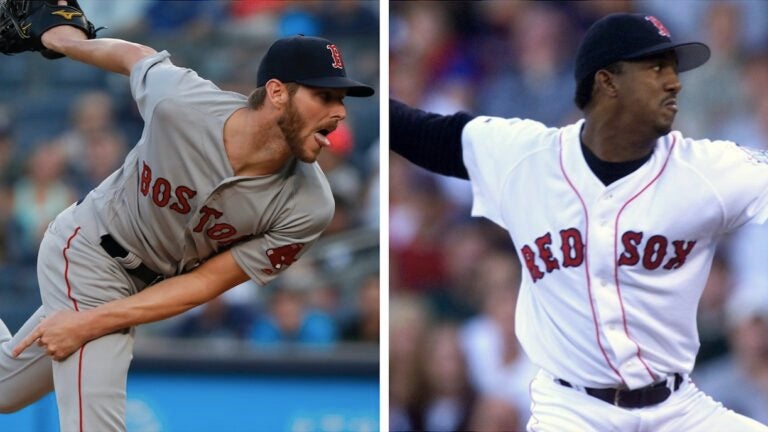 I can't swear to you there will never be another Pedro Martinez. The original himself was pretty close to implausible.
The original was undersized and unimposing, until he stepped up those six inches to the top of a pitcher's mound. It was there, in his workspace, where everything about him became larger than life. His talent, of course, but also his competitiveness, his charisma, even, when the game was done, his candor.
We overuse brilliant. Not with Pedro. Pedro was brilliant.
There may be another like him. But there was nothing before, and not a single stray clue that anything like him is on its way since.
It's tempting to suggest that no one should be compared to Pedro, given that if anyone is beyond compare it should be a pitcher who, in seven years with the Red Sox, went 117-37 (80 games over .500!) with a 2.52 ERA and 190 adjusted ERA during the cheating heart of the performance enhancing drug era. Roger Clemens? Pedro has everything over him but longevity, including a better grasp of the English language.
So let's go with this: From purely a baseball perspective, the closest thing the Red Sox have had to Pedro – in effectiveness if not aesthetics – is the lanky lefty who will get the ball Friday against the Kansas City Royals.
Chris Sale's most recent start was the 50th of his Red Sox career, and it was one of his finest. He he held the host Yankees to one hit and one walk over seven shutout innings Saturday, striking out 13, in an 11-1 Red Sox win. Per Bill James's GameScore, it was his best start of this season, the fourth-best of his Red Sox career, and tied for ninth-best in his nine-year career.
In that venue against that lineup, it was a fine feat, and not an unfamiliar one. Sale is just 6-4 against the Yankees in his career, which, like the Red Sox' 10-8 record in his starts this year, misleads regarding how excellent he has been.
In 17 career appearances against the Yankees (14 starts – remember when the White Sox were skeptical the young stick-figure lefty could handle a starter's workload?) he has a 1.61 ERA, and .894 WHIP, and has struck out 130 in 100.1 innings. To borrow a phrase from the past, no, the Yankees are not Sale's daddy, unless you are trying to make the point that their recent achievements have been surpassed by the son.
Sale – who is striking out 12.7 batters per nine innings and has already produced 4.8 WAR — appears to be on his way to a seventh-straight top-six finish in the Cy Young balloting, though the Yankees' Luis Severino is probably the front-runner at this point. A win Friday night would make the 100th of his career.
But Sale still has to prove the big stuff. He led the American League in innings pitched last year (though 214.1 isn't exactly a Nolan Ryan-level workload) and he wore down in the second half (hitters had an .875 OPS against him five September and October regular-season starts. He's pitched 116 innings entering Friday's start, which puts him seventh in the majors and fifth in the American League (just nine behind leader Justin Verlander).
He's yet to win a playoff game in his career, and his first postseason go-around was a debacle of David Price-in-October proportions. Sale put up an 8.38 ERA with four homers allowed in 9.2 innings against the Astros in the divisional round last year.
I wouldn't call it an aberration, because he clearly wasn't sharp, and that's concerning. But I'd bet on his redemption.
The informative Twitter feed @bostonsportsinf put together a chart Thursday of how Sale's first 50 starts stack up to other prominent Red Sox pitchers over the last 40 years. He had nine fewer wins than Pedro over that stretch, and Pedro had the lower ERA in a hitter-happy time when pretty much no one other than him had a low ERA. But Sale's WHIP, K/9, and K/BB rates were better. He's not Pedro. But he's done a lot of Pedro-like things, and only legends and aspiring legends can say that.
[fragment number=0]
The main difference, and one I hope is bridged, is in their public personalities. Pedro was an open book. Sale often just shows us the dust jacket. He's accountable and quick to credit teammates, and his humility seems authentic. But he's also low-key when there are clues that his private personality is not low-key at all, and in a wholly likable way. He's not a superstar mystery in the Kevin Garnett sense, but you do get the sense the public would love his private persona.
When the Red Sox acquired him from the White Sox in December 2016, we knew he was a cut-up in one sense – wielding scissors and his own rage, he famously turned ill-fitting White Sox throwback jerseys into throwback shreds of useless fabric one time.
But who knew he was a cut-up when it came to having a good time? If you saw the picture of Sale and his Red Sox teammates boarding their team plane in Washington Wednesday in full Fourth of July regalia, you must have done a double-take before the inevitable burst of laughter.
There was Sale, the supposedly straight-laced ace, wearing a bow tie, cutoff jorts, and a bucket hat. What he was not wearing was a shirt. I'm not sure we needed to see the front of Sale. But it was amusing to see that side from him. Perhaps he'll reveal more of it off the field once he and the Red Sox achieve what they want to on it.
[fragment number=1]