Red Sox
Pedro Martinez and David Ortiz explain why they decided to help Yankees ace Luis Severino
"As a Hall of Famer, my duty is to make the game better, to pass it along to the next generation."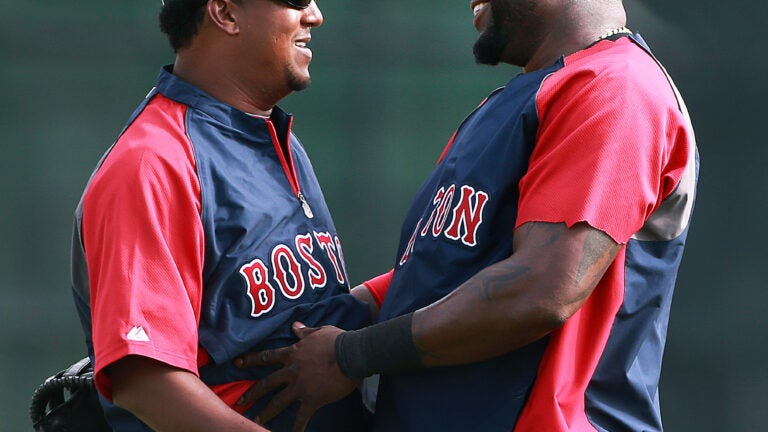 In August 2015, David Ortiz launched a fourth-inning offering from Luis Severino skyward into the right-field bleachers. The home run was an abrupt welcome for the Yankees pitcher in his debut at the top level, but the former Red Sox slugger has more than made up for it in the years since.
Ortiz and Pedro Martinez have passed along their wisdom — informed by their four combined World Series rings — to help New York's right-hander make his way in the majors. The project is going well so far, considering Severino carried a 14-2 record and 2.31 ERA into his second consecutive All-Star Game this week.
The pair of Sox legends explained to Bleacher Report's Scott Miller the reasoning behind their decision to help a rising Yankees star.
"I feel as a former player, as a Hall of Famer, my duty is to make the game better, to pass it along to the next generation," Martinez said. "I'm not going to keep the knowledge within me. Not only is it my duty, but it's a duty for everyone who plays the game.
Ortiz was the first to meet Severino, who politely introduced himself soon after Boston's designated hitter blasted the homer. Ortiz connected the prospect to Martinez the following year. Severino was struggling on the mound and Ortiz realized part of the problem was that hitters like himself could read the ball before it left Severino's hand. Who better than a three-time Cy Young award winner to fix that?
Martinez taught Severino to have better command of his fastball and secondary pitches. To do so, he had to go against the advice of his longtime rivals.
"He was brave enough to take my advice, do what I wanted and maybe without authorization of the Yankees," Martinez said. "Sometimes, you just have to take chances. I was so concerned with him feeling comfortable, not getting hurt, but we needed to do some work. I said, 'With all due respect to the Yankees, I need to switch you to some things I think can help.'"
Ortiz has no regrets about his decision to introduce the two fireballers.
"Let me tell you how this game goes," Ortiz said. "People sometimes get mad about you helping a kid, but it doesn't matter where he plays. No, no, no. Baseball is a fraternity. We are not worried about who is going to be who. We are more worried about getting the game better. I have recommended so many guys to Pedro; I couldn't even tell you."
All three players hail from the Dominican Republic, and the mutual admiration between the trio is evident now. Martinez placed all the credit for Severino's success squarely on the Yankees star's own shoulders. As for the Red Sox, who employ their former ace as a special assistant to president of baseball operations Dave Dombrowski, they're fine with the arrangement.
"Everybody in the Red Sox organization is very respectful of what I'm doing," Martinez said. "They know me really well, and they know that my heart is big enough to be shared with different players. The thing that makes it unique is, it's when I'm not working. It's my time off."
Red Sox shortstop Xander Bogaerts seconded that notion.
"They're Dominican, you know?" Bogaerts said. "[Severino] looked up to Pedro when he was younger. He has some of the same stuff Pedro had at that age. Why wouldn't you want to learn from the best? You can't fault him for wanting to go to Pedro for advice."