Red Sox
Retired Red Sox fan favorites reflect on their experiences playing at Fenway Park
"You don't really appreciate it until you leave."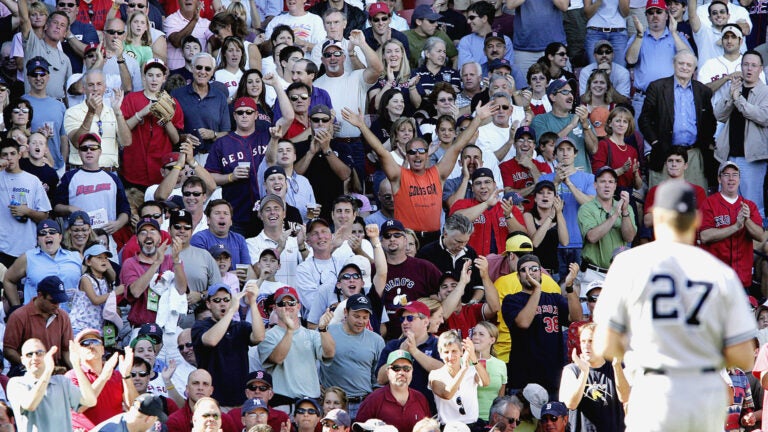 "This is like my house," former Red Sox ace Pedro Martinez said, as he gestured out to the baseball diamond he had called home for seven seasons.
"For some reason, when I come in here, it's like my comfort zone," Martinez continued. "It's the area where I really understand what to do. I'm always comfortable around here. When I look at it — I know it's pretty old — but that's like my house. That's like my bedroom. That's how comfortable I feel when I come."
Built in 1912, Fenway Park is MLB's oldest ballpark. Its iconic physical features, like the Pesky Pole, "The Triangle" in centerfield, and, of course, the Green Monster, combined with the illustrious history ridden in the dark teal-painted walls make the Boston landmark a charming, albeit notoriously challenging, place to play.
"This is a cathedral," retired knuckleballer Tim Wakefield said. "I mean, are you kidding me? This thing's 100 and something years old. Some of the greatest that ever played the game stepped foot on this field and played for the Red Sox here as well. You can feel it every time you step on the mound."
The park alone is certainly enchanting — and the franchise's archives are one of a kind — but the lure of Fenway Park extends beyond its old-fashioned mystique. According to some of the players who know it best, the 30,000-plus fans who fill the seats night in and night out arguably contribute the most to the park's atmosphere.
"The biggest thing is the city in itself, the passion of the fans," retired right-handed pitcher Derek Lowe said. "I think that's one thing you take for granted, or at least I did, when you play here. Once you leave, you want to relish those times."
"How it was around Fenway reminded me a lot of the winter league in the Dominican Republic because the people are passionate, loud, and so close to you," Martinez added. "Fenway is the only place where you're going to feel like the people are so close to you that they can touch you. That's literally how it is — and that's what makes Fenway so unique. You're caged in the middle of the people." 
Quintessential Red Sox fans bring an almost rabid level of enthusiasm. They're passionate, they're committed, and they're sometimes as hungry as the players are for success. A crop of fair-weather followers is bound to exist in any market, but Boston has a reputation for unparalleled loyalty (with perhaps a hint of unruliness).
"Games at Fenway were totally different for me," retired catcher Jason Varitek said. "It's driven by the best fanbase in baseball, a diehard fanbase that expects a lot out of you. There's pressure that comes along with that."
For some, those heightened standards — and the media attention that often accompanies them — though taxing, served to be beneficial.
"As far as the intensity, it's a high-stress city," Lowe said. "There's no doubt about it. But I loved it. I found that it elevated my game because there is such a level of expectation. It starts with spring training. You go there, and, all of a sudden, there's 2,000 people watching you cover first base. Oof. You go to other places, there's 10."
"I love the passion and the expectation of playing in a city like this," Lowe continued. "There's nothing like that, to be honest with you, and obviously, Fenway, I'm biased like a lot of people, I think it's the best ballpark in baseball. When you throw that all in one big basket, it's a very special place."
Former third baseman and four-time All-Star Mike Lowell echoed Lowe's sentiment. Before joining the Red Sox in 2006, Lowell played seven seasons with the Florida Marlins. His tenure featured mixed levels of success, including a World Series title in 2003 as well as four consecutive losing seasons, and the fans' interest peaked and waned with the team's results. Once in Boston, however, Lowell said a game at Fenway consistently felt competitive — regardless of the stakes.
"I felt like there was so much more riding on Red Sox games," Lowell said. "For me, coming from an organization like the Marlins where we didn't draw a lot of fans and we had a decent number of losing seasons, you felt like you wanted the games to feel a little more important than maybe the standings did. I think that helped."
But the defining attributes of Red Sox fans and Fenway Park aren't appealing to everyone. While Lowe found the atmosphere boosted his game, he also acknowledged that's not always the case: "I mean, you don't leave this place the same player. You either become a better player or a worse player." 
"I think it's a case-by-case thing," Lowell said. "I don't think everyone likes it."
"Boston is a tough place to play," retired first baseman and 2007 Gold Glove winner Kevin Youkilis added. "It's not for every player."
Youkilis — who was drafted by the Red Sox in 2001 — said he was grateful to have come up through the club's farm system because his seasons with the Lowell Spinners and the Portland Sea Dogs gave him the tools to handle the majors.
"I think it really, really helped me to understand what it's like here and to love it," Youkilis said.
His biggest takeaway? The importance of accountability.
"The greatest part about playing in Boston is accountability," he said. "The fans hold you accountable, so if you're not holding yourself accountable as a ballplayer, you're going to get eaten up alive. I was a perfectionist and very hard on myself, so I think I fit in real well with this environment."
Holding yourself accountable doesn't mean you can't make mistakes. You just have to own up to it when they happen, Lowell stressed.
"My personal approach was if you mess up, just admit it," he said. "I look at the city of Boston, and there are a lot of hardworking people. It's like a 'We grind it out' kind of town, so I think if you played in a way where the fans thought they were getting their money's worth, where they felt like you were giving 100 percent, you didn't always have to succeed. I think if they felt like you were giving them your all, things were fine, so I didn't really feel the pressure of having to succeed. I just put a lot of pressure on myself to do well."
Wakefield's advice was awfully similar to Lowell's.
"Just work hard, be honest, be transparent, and hold yourself accountable," he said. "I think that's the best way to do it here in Boston."
Varitek, too, put it simply: "These people pack their lunch and go to work every day. That's what they expect to see from us."