Red Sox
Dave Dombrowski explains why the Red Sox didn't end up bolstering the bullpen
"We think realistically our bullpen is pretty good."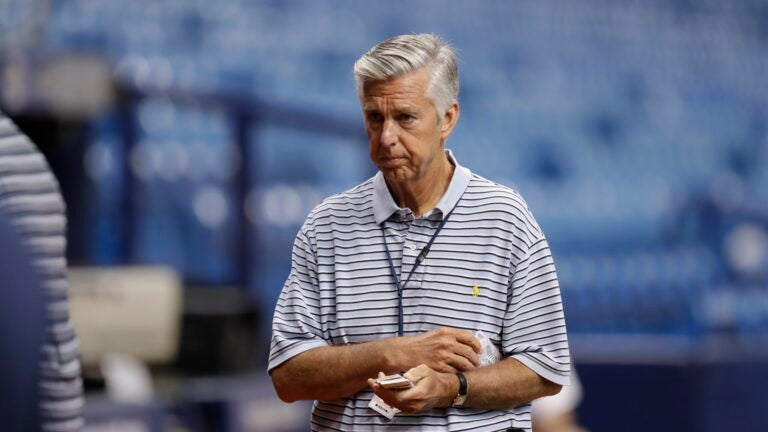 The Red Sox stood pat at the trade deadline Tuesday afternoon.
Despite rumors the team was interested in pursuing a reliever, president of baseball operations Dave Dombrowski expressed confidence in the roster as is.
"We improved our club in a lot of other different directions," Dombrowski said at Fenway Park after Tuesday's deadline. "We felt the other areas were more significant for us."
The Red Sox struck three deals in June and July, trading for veteran Steve Pearce, right-handed starter Nathan Eovaldi, and second baseman Ian Kinsler. Dombrowski said the team was close to bringing in a reliever Monday night, but the trade ultimately fell through because the other team changed its mind.
According to multiple reports, the player involved was Washington Nationals right-hander Kelvin Herrera. Dombrowski did not confirm the name, but said the pitcher was one of the few available relievers the Red Sox considered to be an upgrade.
"When you look at the guys who were available, we feel like we have comparable players in most cases," Dombrowski said. "We think realistically our bullpen is pretty good. The improvements can come from within."
Boston's bullpen features the likes of Matt Barnes, Ryan Brasier, Heath Hembree, Joe Kelly, Craig Kimbrel, and Tyler Thornburg. Dombrowski specifically gave a shoutout to Thornburg — who he says "has thrown the ball extremely well" — Brasier, and Kelly. He also mentioned the possibility of using Eovaldi in relief.
There was a crop of relievers who the Red Sox considered to be upgrades — The Boston Globe's Alex Speier reports the team "explored Zach Duke's availability" — but Dombrowski said he didn't like the asking prices. He did note the team did not pursue right-handed closer Roberto Osuna, who was traded from the Toronto Blue Jays to the Houston Astros Monday. Osuna is currently serving a 75-game suspension for violating the league's domestic violence policy.
Dombrowski also acknowledged the organization's farm system has taken quite a hit. The club lost three Triple-A pitchers in the deals to secure Eovaldi and Kinsler. But both Dombrowski and manager Alex Cora are happy with the return.
"We're better," Cora said. "We made three good moves."