Red Sox
4 things to know about new Red Sox 2nd baseman Ian Kinsler
"There's a reason people gravitate to this guy."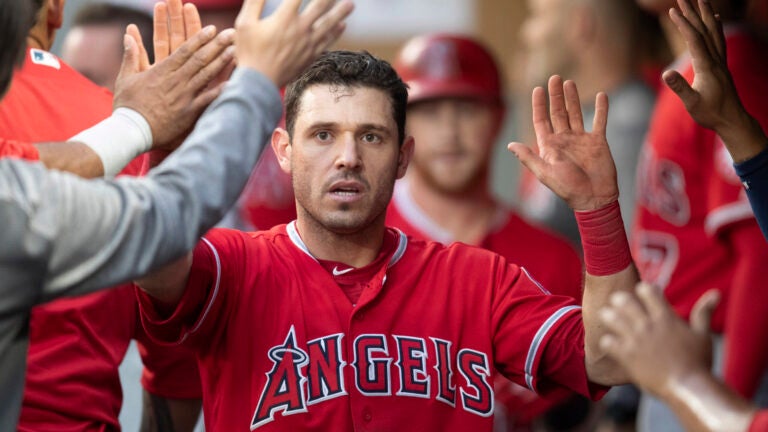 The Red Sox traded two Triple-A relievers to Los Angeles Monday night in exchange for second baseman Ian Kinsler. Although Billy Eppler was excited about the two players his club added, the decision to let Kinsler go did not come easy to the Angels general manager.
"That was difficult," Eppler said. "…There's a reason people gravitate to this guy. I know I did, and I was only around him less than a calendar year. We have to weigh that impact and the duration of that impact, for the guys returning in this deal."
The calculations worked for Dave Dombrowski. The Red Sox president of baseball operations recognized his team needed an upgrade at second base — where Eduardo Nunez has struggled to replace Dustin Pedroia — and found his man in Kinsler, "a winning-type player."
"We think he makes us a better ballclub, because he goes into second base and is in a spot where he can play basically every day," Dombrowski said. "He's a good offensive player and a good defensive player, so we think he makes us a better club."
Kinsler was the third in a series of deals Boston made ahead of Tuesday's deadline. As he joins first baseman Steve Pearce and pitcher Nathan Eovaldi on the league-leading Sox, here's what you need to know about the 36-year-old:
His career has been intertwined with Pedroia.
Dustin Pedroia's return from offseason knee surgery lasted three games before he landed back on the disabled list. His uncertain status for the rest of the season drove the Sox towards Kinsler — one Gold Glover replacing another. The transition should go off without a hitch, if Red Sox starter David Price's scouting report proves prescient.
"He's the closest teammate I've ever had to Dustin Pedroia," said Price, who played with Kinsler in Detroit. "He brings that intensity, that fire, every single day. He's a gamer. He'll make any team better and I'm definitely happy we got him."
This isn't the first time Kinsler and Pedroia's careers have crossed paths.
Kinsler spent his freshman year of college at Central Arizona. He transferred to Arizona State for his sophomore season because Sun Devils coach Pat Murphy convinced Kinsler that he would be the team's starting shortstop. And he was — for eight games. When Kinsler slumped in an early-season tournament, Murphy inserted a promising, if diminutive, freshman into the lineup. Pedroia never relinquished his hold on the job.
Kinsler transferred again, this time to Missouri, before the Texas Rangers drafted him in the 17th round in 2002. The Red Sox chose Pedroia in the second round the following year.
Years later, Kinsler was asked about his relationship with Pedroia.
"It's just weird. No one really has understood it," he said in 2008. "At the All-Star Game they would think, 'Oh, they played together in college, now they're together at the All-Star Game, they're friends.' Pedroia went to ASU, was a Pac-10 Player of the Year, was a [second-round] draft pick and made the big leagues. It's pretty simple. For me, let's just say it was a process. It took me a while to figure things out."
Kinsler did, of course, figure things out. He hit .335 for Missouri, then rose quickly through the minor league ranks. Along the way he transitioned to second base, where he was playing when he broke into the majors with the Texas Rangers in 2006. That move put him into competition with Pedroia once more. The Red Sox star got the best of him in the race for the 2008 All-Star award and again when the MVP votes were tallied at the end of the season.
Dave Dombrowski is familar with him.
Much like Pedroia and Price, Dombrowksi has come across Kinsler before. The executive traded for Kinsler when he was general manager of the Tigers, prying him from the Rangers in exchange for Prince Fielder. The move would prove a fruitful one for the second baseman — who earned his fourth All-Star nod in 2014 and won his first Gold Glove two years later.
However, at the time of the trade, Kinsler was none too happy with Texas general manager Jon Daniels. He described his former boss as a "sleazeball" whose power struggle with Nolan Ryan would eventually bring the organization to its knees. Kinsler certainly wasn't wishing the Rangers well in their next campaign.
"To be honest with you, I hope they go 0-162," he said. "I got friends, and I love my friends, but I hope they lose their ass."
Although the vast majority of his irritation was saved for the team he left behind, Kinsler did not spare Dombrowski. The Tigers general manager had been quoted doling out praise for his new signing, but with the caveat that Kinsler was "not known for his outstanding range."
Instead of focusing on the compliments, Kinsler saw another opportunity to prove his doubters wrong.
"I want to prove Dombrowski wrong," he said. "I want to surprise you. I'm going to impress you with my range."
Kinsler represents an upgrade for the Sox at the plate and in the field.
Although Kinsler struggled at the outset of this season, his production picked up in July. He hit .320 with an .860 OPS during the month, which leaves him at .239 and .710 — with 13 home runs and 32 RBIs — on the year.
As Alex Speier broke down, Kinsler stacks up well against the players he is set to replace. The Eduardo Nunez – Brock Holt platoon has a slightly better batting average than him so far, but his power and patient approach at the plate give him the edge in slugging percentage. Those offensive stats could receive a helpful nudge north once Kinsler moves into his new digs. Fenway Park suits a righthanded pull hitter to a tee.
Kinsler pic.twitter.com/l27wQjJiiN

— Red Sox Stats (@redsoxstats) July 31, 2018
Kinsler has a proven track record in the postseason as well, which will be crucial for a Red Sox team with October ambitions. In 37 career playoff games, he's batting .291 with a .848 OPS and 20 RBIs.
Defensively, Kinsler's advantage over Boston's other second-base options is more pronounced. He's been in the running for Golden Glove awards throughout his 13-year MLB career, winning one in 2014 and finishing as a finalist last season. This season, FanGraphs reports Kinsler has 9.3 defensive runs saved — second-most at the position across the league.
As Dombrowski put it, "Even though he's in his mid-30s, he moves very well at second base. One of the best metrics in the American League. So we think it puts us in a solid position defensively at second base."
Kinsler's major-league debut came against Curt Schilling and the Red Sox.
In Ian Kinsler's first major league at-bat, he singled to right off Curt Schilling on Opening Day.
"The crowd was full; I had the butterflies going, so to get that hit was huge," Kinsler said at the time. "The family was in town. I think that was a good thing because it got me locked in. To go out there and face one of the best pitchers of all time, you've got to be locked in. It's your first game, your first big league experience — it was unbelievable to face that guy."