Red Sox
Morning sports update: Dave Dombrowski takes responsibility for depleting the Red Sox farm system
"Our farm system has taken a hit."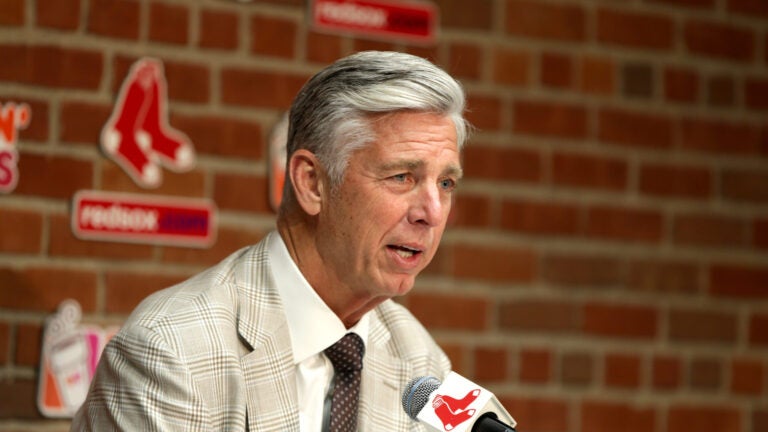 Jake Arrieta struck out seven in seven innings as the Phillies snapped a four-game slide with a 3-1 win over the Red Sox on Tuesday night. J.D. Martinez drove in Boston's only run with a double in the sixth.
Dave Dombrowski takes responsibility for depleting the Red Sox farm system
Dave Dombrowski had plenty of success as general manager of the Detroit Tigers, delivering two pennants and four consecutive AL Central titles. The executive displayed a knack for winning trades, but those victories came at a price: prospects. He left a near-empty farm system cupboard behind when his Tigers tenure ended in 2015.
As the president of baseball operations for the Red Sox, Dombrowski has followed the same pattern. He brought stars — Chris Sale, Craig Kimbrel, Drew Pomeranz — to Boston. To do so, he traded away the bulk of the top minor league talent he inherited. The Red Sox are the only club in baseball with no one on MLB.com's midseason top 100 prospect rankings.
"Our farm system has taken a hit," Dombrowski said Tuesday, per MassLive. "A lot of that's my responsibility because we've traded a lot of guys. But it's amazing. There was not a trade — even trades that were made — that we were eliminated from because of players. Now, eventually it might have gotten to the point where it would have happened. But we were preliminarily in any conversation."
Boston stood pat at the trade deadline Tuesday afternoon. The Red Sox were expected to bolster their bullpen, but a trade for Washington Nationals right-hander Kelvin Herrera reportedly fell through. Still, the deals for starter Nathan Eovaldi and second baseman Ian Kinsler cost the team three Triple-A pitchers.
"There's just some players we don't want to trade ourselves in our own system at this point because we're also trying to build our system back," Dombrowski said. "You'd be surprised at the level of interest in people in our A-ball level on down. They haven't gotten a lot of attention yet so far because they're in A-ball. But we found there was quite a bit of interest in those guys."
Dombrowski also acknowledged the Red Sox payroll crossed the $237 million luxury tax threshold, which will lead to a 62.5 percent tax on all overages and dock them 10 spots on their first pick in next year's draft. He noted penalties are "not things you normally want to incur," but said they speak to the ownership's willingness to pay the price for success.
"This year, I don't know what will happen, but we have a chance to win," Dombrowski said, per the Providence Journal. "So we're all in."
Catching up with old friends: Mike Lowell: The 2007 World Series MVP discussed his two most memorable Red Sox moments, his work with Rafael Devers ("There shouldn't be any panic with him. He's too talented."), and his plans for the future. (Boston.com)
Brothers find 5 old Mickey Mantle cards in attic: A 76-year-old man from New Jersey recently looked through the collection of baseball cards he accumulated decades ago. Turns out the collection includes five Mantle Topps cards from 1952, including one valued at $1 million. (Boston.com)
A Cubs fan put on his rally bucket. A half-inning later a metal pin fell on his head.: Kyle McAleer was sitting under the manual scoreboard at Wrigley Field when a large metal pin fell on his head. Fortunately, he had put a plastic bucket on his head minutes earlier.
"It might have fractured my skull," McAleer said. "It definitely could have been fatal. I am extremely lucky." (Boston.com)
Daily highlight:
https://twitter.com/KnightsBaseball/status/1024499872140079104