Red Sox
Red Sox promote 2018 draft pick Durbin Feltman to High A Salem
"As advertised, he's really aggressive in the strike zone."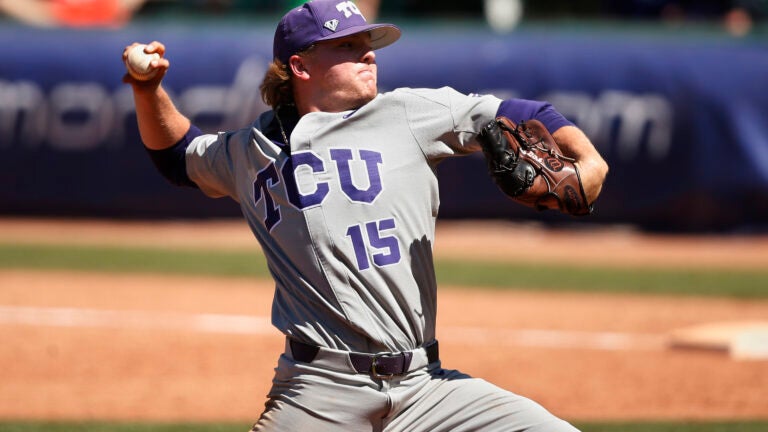 Red Sox reliever Durbin Feltman was expected to travel an unusually fast track through the Red Sox minor league system. To this point, he's staying on script.
The Red Sox moved Feltman, 21, up to High A Salem on Wednesday. He is the first Red Sox draftee to move above Single A Greenville in his draft summer in years, possibly dating to when 2005 first-rounder Craig Hansen reached the big leagues in his pro debut.
The Red Sox selected Feltman in the third round (100th overall) of June's draft. In 11 minor league appearances of one inning each — four innings with short-season Lowell and seven innings with Single A Greenville — Feltman largely has overwhelmed his competition. Of the 42 batters he has faced, he has struck out half while holding them to a .146/.167/.244 line on the strength of a powerful mid- to high-90s fastball and a wipeout mid-80s slider.
"He's been really good. As advertised, he's really aggressive in the strike zone. No fear. He comes right at hitters,'' VP of player development Ben Crockett said recently. "He has really, really good life in the strike zone.''
The ability to beat opposing hitters while commanding pitches in the strike zone suggested that it would be appropriate to continue Feltman's ascent through the system. The development isn't surprising, given the general view of evaluators who saw Feltman in college that he had the stuff to compete in the big leagues as soon as this season.
While president of baseball operations Dave Dombrowski said on Tuesday that Feltman wasn't drafted with the intention of having him pitch in the big leagues this year, he's also noted that he's "open to anything'' with regards to a player's timetable for reaching the big leagues.
For now, however, the mere fact that Feltman has already been promoted to the Carolina League points to the possibility that, even if not in 2018, sooner rather than later, he will be a factor in the Red Sox' big league bullpen depth.