Red Sox
In the J.D. Martinez vs. Giancarlo Stanton debate, Martinez is winning out
Stanton has been fine for the Yankees. Martinez, however, has been extraordinary for the Red Sox.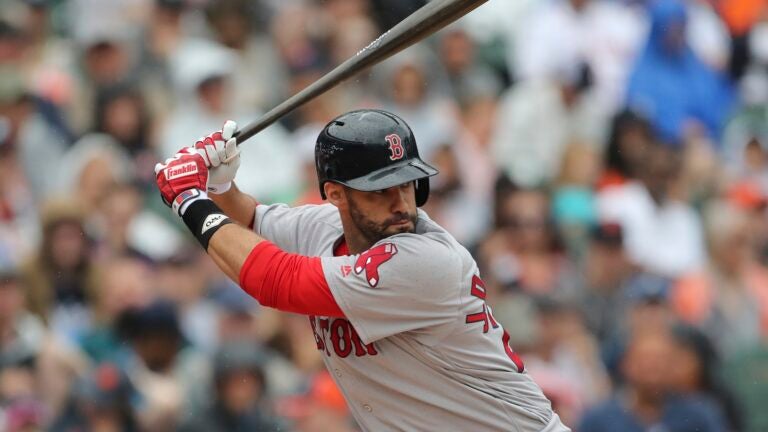 Playing nine innings while imploring NESN to use Eck and Remy together more often . . .
1. As someone who seized the wheel of the Giancarlo Stanton-to-the-Red Sox bandwagon so long ago that his team was still called the Florida Marlins at the time, it was a bummer to see the Yankees take him from Derek Jeter in December like some sort of holiday gift basket.
I'll admit it: When the Red Sox signed J.D. Martinez in February, it felt like a consolation prize. Martinez, who hit 29 homers in 62 games for the D-Backs last year but lacks Stanton's pedigree and star power, was a welcome addition. But it didn't feel like as significant of a move as the Yankees adding Stanton, the reigning NL Most Valuable Player. Martinez was perceived as an older, slightly lesser player.
Funny how those things work. Despite some slumps that have brought the ire of the bleacher jackals, Stanton has been fine for the Yankees, slashing .279/.343/.512 with 25 homers. Martinez, however, has been extraordinary for the Red Sox, slashing .327/.395/.643 with a league-leading 32 homers and 90 RBIs. He's signed to a more affordable deal, too, though the way he's going, you wish he didn't have an opt-out after next season. The one area where Stanton is topping Martinez: Exit velocity. Stanton has hit eight of the 14 hardest-hit balls in baseball this year. Martinez doesn't have one in the top 50.
2. Alex Rodriguez, who will be in the ESPN booth Sunday for Sox-Yankees, has an interesting comparison for Martinez, in terms of approach if not style. "He's a guy that really committed, that wants to be great. One thing I really like, and there's so much to like, is that he kind of has a Paul O'Neill-esque quality about him as a hitter in that he refuses to give a single at-bat away. That's very rare, especially for superstar players.'' Comparing Martinez, who has more homers this year than O'Neill had in any season of his 17-year career, is not an insult to the Sox slugger. On the 1990s dynasty Yankees, O'Neill was a quintessential soul-of-the-team player, the kind some Red Sox fans imagined Trot Nixon to be.
3. If Jeter had made that perfect pinpoint throw that Xander Bogaerts made to a prone Steve Pearce last week to complete a web gem of a double play, there would already be multiple volumes of horrible poetry about it. And maybe a Terry Cashman song. Chris Sale's shoulder is obviously the biggest injury concern for the Red Sox right now, even as Sale and the Sox to assuage us by saying it's no big deal. But losing Bogaerts, who was drilled in the hand by a 99-mile-per-hour Seranthony Dominguez fastball Tuesday night, would be an agonizing blow too. A similar injury derailed his 2017 season, but he's been a cornerstone this year. Looks like the bullet was dodged figuratively if not literally, but true assurance will come when he's back and hitting.
4. In the whole, Jackie Bradley Jr. is having a rough offensive season. He's slashing .215/.301/.364 with eight homers in 321 at bats. His adjusted OPS is 77, and he's basically having the same year at the plate Pablo Sandoval had in 2015 (.245/.292/.366, 75 OPS+). When you're doing things Sandoval did as a Red Sox player, something isn't going according to plan. But — there's always a but for those of us who believe Bradley to be the best defensive Red Sox center fielder we've ever seen — he's been excellent lately, slashing .294/.360/.529 with four homers and 24 RBIs in 29 games since June 24. Who knows how long he will sustain it, but my longstanding Bradley point hasn't changed — he's still an asset to this team, and it's a joy to be able to watch him play center field most every day. I'm glad he's here.
5. If you're grading Dave Dombrowski's trade deadline performance, it either has to be an A or an incomplete, doesn't it? Pearce, Nathan Eovaldi, and Ian Kinsler have all made contributions already, and Dombrowski was proactive in filling a couple of those needs before the July 31 deadline. The deals made an excellent team better. The incomplete comes in to play if you believe he should have acquired relief help. I'm not sure he needed to — I want to see what they have in Brandon Workman and Tyler Thornberg in particular — but remember, there is still the opportunity to add a significant (and probably high-salaried) player to the roster. The Astros acquired Justin Verlander on August 31 last year.
6. If you didn't already love Pearce, his top 10 statistical comps include Wily Mo Pena and Phil Plantier, and his three-homer blastoff Thursday against the Yankees was three times as many homers as he had during a 25-at-bat layover as a Yankee in 2012. This is how folk heroes are born.
7. Per NESN, the Red Sox' wholly satisfying 15-7 victory over Yankees Thursday night got a season-high 11.2 rating on the network. Boring team. The Rivalry is dead. Baseball has no stars. Yep, sure is fun watching all of the tired narratives get bludgeoned like a Jonathan Holder fastball.
8. Admittedly, there is one narrative that can't be vanquished now, no matter how well they play: Sure, they're great, but they have to prove it October. Technically, that is true. They're on pace for the best regular season in their history — and they seem fully capable of maintaining that pace, which is nuts. It will be disappointing if there isn't significant postseason success.
9. But the notion that a lack of a duck boat parade would mark all of this year's great moments irrelevant is absurd. No Sox fan is going to forget Pearce's game Thursday night no matter how the season ends. The Red Sox didn't win it all in '67, or '75, or once during Ted Williams's career, and that hasn't stemmed the nostalgia.