Red Sox
Mookie Betts hit for the cycle. Here's the full list of Red Sox players to do it.
Only one Red Sox player has ever done it twice.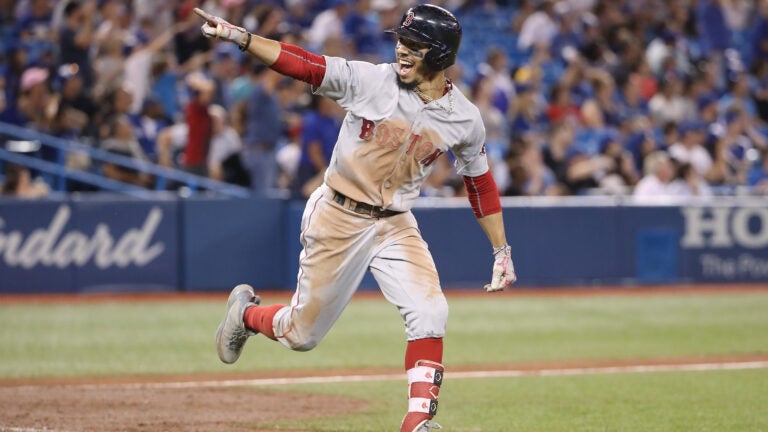 With a solo home run in the 9th inning, Mookie Betts clinched hitting for the cycle. Despite the 8-5 loss to the Blue Jays, it was a historic moment for the Red Sox outfielder.
Betts became the 21st player in team history to achieve the feat (Bobby Doerr has two cycles to his name).
Here's the updated list of Red Sox players to hit for the cycle:
Mookie Betts, August 9, 2018 vs. the Toronto Blue Jays
Brock Holt, June 16, 2015 vs. the Atlanta Braves
John Valentin, June 6, 1996 vs. the Chicago White Sox
Scott Cooper, April 12, 1994 vs. the Kansas City Royals
Mike Greenwell, Sept. 14, 1988 vs. the Baltimore Orioles
Rich Gedman, Sept. 18, 1985 vs. the Toronto Blue Jays
Dwight Evans, June 28, 1984 vs. the Seattle Mariners
Fred Lynn, May 13, 1980 vs. the Minnesota Twins
Bob Watson, Sept. 15, 1979 vs. the Baltimore Orioles
Carl Yastrzemski, May 14, 1965 vs. the Detroit Tigers
Lu Clinton, July 13, 1962 vs. the Kansas City Athletics
Bobby Doerr, May 13, 1947 vs. the Chicago White Sox;
Ted Williams, July 21, 1946 vs. the St. Louis Browns
Bob Johnson, July 6, 1944 vs. the Detroit Tigers
Bobby Doerr, May 17, 1944 vs. St. Louis Browns
Leon Culberson, July 3, 1943 vs. the Cleveland Indians
Joe Cronin, Aug. 2, 1940, vs. the Detroit Tigers
Julius Solters, August, 19, 1934 vs. the Detroit Tigers
Roy Carlyle, July 21, 1925 vs. the Chicago White Sox
Tris Speaker, June 9, 1912, vs. the St. Louis Browns
Patsy Dougherty, July 29, 1903 vs. the New York Highlanders
Buck Freeman, June 21, 1903 vs. the Cleveland Naps