Red Sox
Alex Cora is helping the Red Sox reverse a historic trend
Despite being indelibly linked to an iconic Red Sox moment, the stolen base has rarely been a team strength.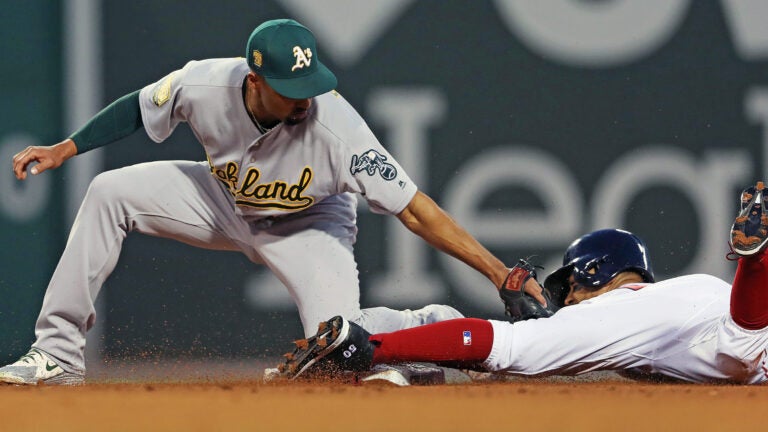 Amid the plaudits the 2018 Red Sox have received, one particular accomplishment has gone somewhat overlooked. And, in the context of the team's long history, it's one of the striking achievements of Alex Cora's first year as manager.
The Red Sox have been an offensive juggernaut this season, but along with the hitting has been an uptick in stolen bases. Cora's aggressive approach has helped keep Boston among Major League Baseball's leaders in stolen bases.
For the Red Sox, that's saying something.
While it's become less pronounced in the last decade, a largely uninterrupted Red Sox legacy has been a perennial lack of speed. Consider the following stats from Red Sox history:
The Red Sox have been last in the league in stolen bases 18 times.
Conversely, the Red Sox have only led the league in stolen bases once, in 1935. They did so with 91 in 154 games, a sum so unimpressive that the 2018 team has already surpassed it.
By 1939, only a few years after leading the league, Boston regressed to the point where the team was caught (44) more than they stole (42).
In 1964, the Red Sox recorded only 18 stolen bases in the whole season. Dalton Jones and Carl Yastrzemski tied for the team lead with just six each.
In 1982, Rickey Henderson more than tripled the Red Sox' sum (42) by himself.
The dearth of stolen bases reached its golden age in Boston between 1979-1992. In that 14-year span, the Red Sox finished last in the statistic on nine occasions, including the 1986 pennant-winner.
As shown by the example of 1986, wins and stolen bases generally haven't been connected. But why did Red Sox teams have such a consistent antipathy for running?
Much of the historic trend is often attributed to Fenway Park. The historic ballpark, given its comparatively small dimensions, has always been thought to cater to hitting. Red Sox strategy over the years leaned towards waiting for big hits, rather than manufacturing runs.
And this, in turn, produced an even more lasting impact: scouting.
"You can't steal first," longtime Red Sox scout George Digby told the Boston Globe's Nick Cafardo in 1990. "That's one thing I've tried to remember in all the years I've scouted for the Red Sox. I look for hitters. In our ballpark, you've got to have hitting. I don't think anyone in our organization would have the guts to say, 'Don't draft hitters.'"
As Digby alluded to, the aversion to base-stealing became rooted in the fabric of the team's scouting network for decades.
This was typified by Wade Boggs playing more than 730 games as Boston's leadoff hitter from 1982-1992. In that span, he stole only eight bases, and was caught 17 times.
The turn of the century initially showed little change in the Red Sox' approach. Boston finished second to last in steals in 2000, and last in 2001 (with only 46).
Even the 2004 Red Sox, winners of the team's first World Series in 86 years, recorded just 68 steals (well below the league average of 86). Of course, one of the iconic moments in the American League Championship Series against the Yankees – arguably the play that jumpstarted the comeback – was a steal by Dave Roberts.
Yet Roberts was only with Boston for half of a season, notching fewer steals with the Red Sox than any other team he played with in his career.
Jacoby Ellsbury, with the Red Sox for the first seven seasons of his career, provided a break from the past. From his debut in 2007 until leaving as a free agent following the 2013 World Series win, Ellsbury became the first Red Sox player in three quarters of a century to amass over 200 steals in a Boston uniform.
Since Ellsbury, a new wave of Red Sox have continued the trend away from the narrowly-evaluated "hitters" of Digby's yesteryear. Mookie Betts, Andrew Benintendi and Jackie Bradley Jr. form an outfield that has combined for 56 steals in 2018 (only getting caught six times).
Cora's approach has been a complete departure from the Red Sox teams of old. Interestingly, his view on Fenway has led him to push for more stolen bases, not less.
"We play in a different ballpark and it's not 100 percent that you hit an extra base hit at our place and you score from first," Cora told WEEI in March. "So we have to make sure we take advantage of 90 feet and that's what we're trying to be."
Even more impressive than the team's tally of stolen bases has been its efficiency. Through 122 games, the Red Sox have an 81.36 percent success rate on steals, good for second in league.
For all of J.D. Martinez's success, and the impressive batting numbers, the stolen base statistics have been arguably the most revolutionary change in Cora's young tenure.