Red Sox
The PawSox are planning to leave Pawtucket for Worcester
The team said it will continue to play at the 77-year-old McCoy Stadium in Pawtucket for the next two years.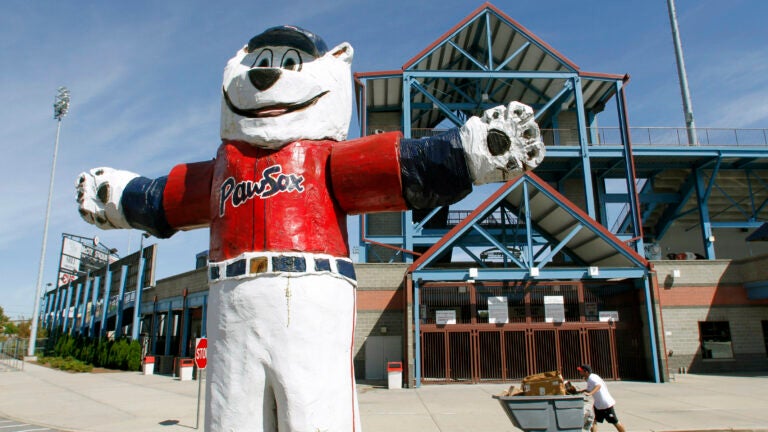 WORCESTER, Mass. (AP) — After a three-year search for a new home, the Pawtucket Red Sox are leaving Rhode Island for central Massachusetts.
Team officials signed a deal Friday that aims to move the organization to Worcester, marking a major victory for city officials who spent a year trying to attract the Triple-A affiliate of the Boston Red Sox.
At a news conference in Worcester, city and state officials also unveiled plans for a new development that will include a $90 million stadium for the team along with two hotels, hundreds of apartment units, a parking garage and retail spaces.
"This is a once-in-a generation opportunity," Massachusetts Lt. Gov. Karyn Polito said. "This is really just building on the momentum, building on the good work that is already happening here."
After announcing the news, Worcester Mayor Joseph Petty received a standing ovation and chants of "WooSox." The phrase has been suggested as a new nickname for the team, which is commonly called the PawSox.
The deal would move the team about 40 miles from its current home in Pawtucket. The team said it will continue to play at the 77-year-old McCoy Stadium in Pawtucket for the next two years.
Red Sox Chairman Larry Lucchino said the deal marks a "major milestone on a journey that began 12 months ago."
A beautiful innovative downtown ballpark is coming to "The Heart of the Commonwealth" in 2021. Visionaries Larry Lucchino and Janet Marie Smith, who created Camden Yards and who helped save Fenway Park, will create a Triple-A park in Worcester, MA. https://t.co/GKvSsgTMit pic.twitter.com/S95dUQTO3Y

— PawSox (@PawSox) August 17, 2018
While Worcester officials were celebrating the deal, some in Rhode Island blasted it.
In an interview with WPRI-TV, Rhode Island Gov. Gina Raimondo said she isn't ready to give up.
"I'm not going to take no for an answer right away. So I'm going to say, 'Give us another meeting and give us another chance,'" she said.
LISTEN: Gov. @GinaRaimondo tells @KimKalunian she's going to "go down swinging" trying to keep the @PawSox in RI. What do you think the state should offer up, if anything, to keep the team in Pawtucket? pic.twitter.com/mTmzpaqYEG

— WPRI 12 (@wpri12) August 17, 2018
PawSox officials said in July 2017 they would field offers from other cities interested in helping them build a new stadium after they failed to reach an agreement to remain in Pawtucket. Days later, about 10,000 postcards signed by fans urging the PawSox to move to Worcester were delivered to team offices.
In June, Raimondo signed legislation designed to keep the team in Pawtucket. That legislation enables the team, the state and the city to begin shopping for bonds to finance a new stadium in Pawtucket.
Under Rhode Island's plan, the PawSox would contribute $45 million to the $83 million project and be responsible for any cost overruns. The state and the city would be responsible for the remaining $38 million in bonds.
Worcester officials had continued courting the team even as it negotiated with Rhode Island.