Red Sox
What Alex Cora is doing isn't just remarkable, it's unprecedented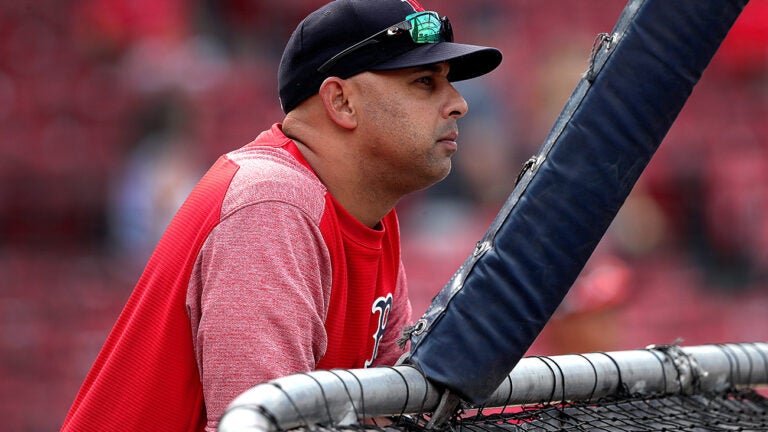 I suppose someday we'll give John Farrell credit for winning three American League East championships and the 2013 World Series during his five seasons as Red Sox manager.
That day is not today.
On Oct. 22, 2017, Alex Cora was named the 47th manager in Red Sox history. Before the cap-and-jersey photo ops at his introductory press conference a few weeks later were complete, I was already ready to call him the Red Sox' best manager since Terry Francona's mostly exceptional eight-year tenure ended in a sad sea of discarded chicken bones and beer cans in October 2011.
That may have been presumptuous since he hadn't actually managed a single inning for the Red Sox. He spent one championship season as the bench coach for the Astros, but his primary experience came as manager of the Criollos de Caguas in the Puerto Rican Winter League for a couple of seasons.
He had proven nothing. But man, was the bar set low around here. Bobby Valentine, who succeeded Francona and failed miserably, was a look-at-me disaster, a one-year blunder, and we all should have seen it coming. Thanks, Larry Lucchino.
Farrell, who took over in 2013, immediately won a World Series with a team that had much more than talent going for it. He deserves credit for that; after all, only Farrell and Francona have guided the Red Sox to a World Series title in the last 100 years.
But the club plunged to last place in '14, remained in the basement in '15, and despite winning AL East titles in '16 and '17 with back-to-back 93-win seasons, a talented young team that should have played joyfully instead took on the stony, stoic identity of its manager.
Farrell's legacy is a complicated one. Perhaps the haze surrounding his place in Red Sox lore will dissolve as the seasons pass. But this much was clear: He had to go.
It was easy to presume Cora would be the best Red Sox manager since Francona before we had examples of his work. Now that we do, the question shifts: Is he the best manager the Red Sox have had in your lifetime other than Francona?
It's an interesting question to consider now, with Francona's first-place Indians coming to town for a four-game series. The children of the Impossible Dream will argue for Dick Williams, and that's probably the correct choice given that he's a Hall of Famer. I'm partial to another Williams, Jimy, who got some immensely fun seasons with the late '90s Pedro, Nomar, and 20 Guys Duquette Got On Waivers squads.
But what Cora is doing with basically the team Farrell left behind — plus J.D. Martinez having arrived after a year of everyone missing David Ortiz to fill that void — is beyond remarkable. It's unprecedented in team history. Even Francona, who managed the most beloved Red Sox team (2004) and perhaps the most well-rounded (2007) to World Series titles, never had a prolonged stretch like the one that has been the Red Sox' 2018 season so far.
The Red Sox enter Monday's game with an 88-37 record and a 9½-game lead over the Yankees in the American League East. They could go 1-36 the rest of the way, and they'd still equal the won-lost record (89-73) of the 1988 Red Sox, who won the AL East. They've already equaled the win total of their 1990 AL East champs. They have just four fewer wins than the '67 Impossible Dreamers. And there are still six weeks left in the regular season.
They have been a machine from Day 1 (they're 28-9 in blowouts, games decided by five or more runs). They have lost three in a row just once, in April. They're 20-7 since the All-Star break, have a losing record against just two teams (the A's and, somehow, the White Sox), and are 15-2 in David Price's last 17 starts.
We could play these stat games all day, but the greatest truth about the Red Sox so far is this: When they lose, it comes as a surprise. They have trained us to expect them to win every single day.
Francona's Indians, who bounced the Red Sox from the postseason two seasons ago, actually have a bigger lead in their division (they're 71-52, 12 games up on the Twins) than the Sox do in theirs. Even without the injured Trevor Bauer, they are a formidable opponent, and with obligatory apologies to the Phillies and Rays, the Red Sox haven't had to deal with many of those lately.
Of course, the story of Cora's first season is still a work in progress. The degree of difficulty gets more challenging with Cleveland in town, and it could grow even more if the Red Sox are as cautious with Chris Sale's inflamed shoulder as they should be.
I'll tell you, though, I trust Cora's ability to handle any bumps and roadblocks that attempt to slow his juggernaut. He reminds me of Francona in a couple of important ways. He's clearly the boss, but his general personality is upbeat in a dry-humor kind of way, and that approach can ease the burden of the long season.
And he not only admits his mistakes, he explains his thinking whenever he does something that can be second-guessed. Francona did that better than any manager I'd ever seen. Whenever Farrell tried to explain something, it sounded like he was reading from the rule book.
During an interview on WEEI last week, Cora explained that he doesn't like to use pinch hitters because relievers throw so hard and with such filthy stuff nowadays that he feels better about using a player who has been involved in the game than one who would be jumping into the batter's box cold. I hadn't thought of that, and whether or not you agree with the reasoning, at least he has reasoning.
He'll probably win the AL Manager of the Year award, though Bob Melvin might swoop in and steal it with what his A's are accomplishing. But that's not an award that matters to Sox fans, or probably even much to Cora compared with the real goal: winning that World Series trophy.
The Red Sox' performance has made this a World Series-or-bust season, even more so than in most seasons. And that's how it should be. Many among us like to bring up 1978 because . . . well, I don't know why, because the only thing that team has in common with this year is that the Red Sox had a loaded lineup and a big lead over the Yankees.
This Red Sox team is not going to collapse like that one (or like the '11 Red Sox), or even fade like Dave Roberts's Dodgers did late last season, and Cora is one of the major reasons why.
He is the anti-Zimmer, resting his best players even when they don't seem to need it, building camaraderie with his troops rather than feuding with them, refusing to allow the brightness of the presence to blind him to the big picture.
I don't know how this thus-far-delightful season ends. Neither do you, and neither does Cora. But finding out should be fun, not something to fear.
Terry Francona is the best manager the Red Sox have had in my lifetime. But this is the first time he has returned to Boston since his firing that I didn't believe he could be doing a better job than the current Red Sox manager.